american universities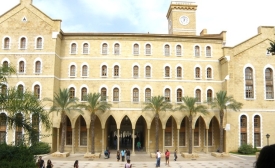 CPD Dissertation Grantee Kyle Long is featured in a new book on the globalization of American liberal arts education.
Efforts to bring international students to U.S. campuses and send American students overseas has accelerated in the past five years, according to an American Council on Education (ACE) survey of U.S. colleges. International engagement was "high" or "very high," ACE said of the more than 70 percent of 1,100 American colleges and universities it polled in 2016. Schools have stepped up efforts to "internationalize" campuses in the face of globalization, the report said, but "efforts are still focused first and foremost on the external[.]"
Officially, the Confucius Institute (CI) is a non-profit educational initiative which partners with schools across the globe to provide Chinese language instruction, scholarships for students to study in China, and to promote greater understanding and appreciation of Chinese culture.