electronic music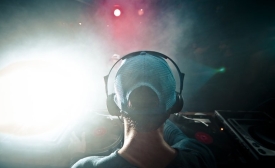 Trailer for "Give me Future," a film documenting Diplo's unprecedented electronic music diplomacy in Havana, Cuba.
"There's something young happening here," DJ Walshy Fire says late into the sprawling, inspiring concert documentary Give Me Future. [...] They're talking with reverent awe about Cuba's music scene, and how rapidly it's changing. A little over a year after President Obama eased the 54-year trade sanction against Cuba, Major Lazer went to Havana for an unprecedented mega-scale outdoor concert. 
Omar Souleyman, a 49-year-old farmer-turned-wedding-singer from north-eastern Syria and a father of 9, is an unlikely electronic music star. This month he drew big crowds to KOKO, one of London's most iconic music venues. Donning the jalabiya andkeffiyeh, traditional Arab garments, along with his signature aviator shades, he performed to a packed out venue full of white middle-class youth.