Hurricane Irma
MORE than 1,000 British troops are in a race against time to get aid to the Caribbean as yet another hurricane headed towards the batters the region. Royal Marine Commandos and engineers are continuing to gather medical supplies, food, water and building materials to send to the British Virgin Islands (BVIs), Anguilla, and Turks and Caicos after Storm Maria was upgraded to a hurricane overnight.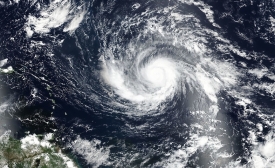 How has the coverage of natural disasters changed in the social media age?
A Venezuelan army plane carrying 7.3 tons of humanitarian aid arrived in Havana on Tuesday, becoming the first foreign relief to arrive in Cuba after Hurricane Irma battered the island over the weekend. The Chinese-made Y-8 plane touched down at Jose Marti International Airport with a message of solidarity from the people and government of Venezuela, Havana's main political and economic ally in the region.