stockholm
There are no I  [❤]  North Korea bumper stickers, no shot glasses with North Korean city names. But imagine a reality where the 69-year-old totalitarian state was a free and open country that welcomed tourists to frolic in its streets. This improbable reverie inspired the Swedish design agency Snask to create a ready-to-use nation brand identity kit, complete with a new North Korean flag brandishing a message of love.
Over the past decade, Sweden's public diplomacy has been quick to affirm the low-hanging fruit of cosmopolitan global public opinion, which might be summarized as the belief that Sweden could well be the most fairly organized society in the world. It is the country that, according to the Good Country Index, makes the most prolific contribution to the global commons. Its feminist foreign policy is currently making waves at the UN Security Council.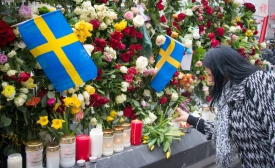 James Pamment on why Sweden needs to show "its human side, warts and all."