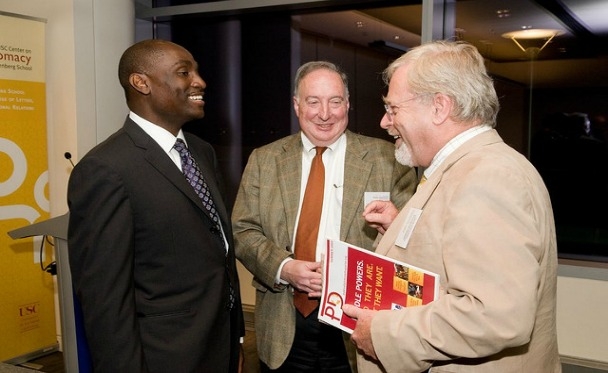 CPD in DC: A New Public Diplomacy
The USC Center on Public Diplomacy was proud to host an evening at the Newseum to consider "A New Public Diplomacy." The evening began with a panel discussion to celebrate a new book, Toward a New Public Diplomacy: Redirecting U.S. Foreign Policy, and a new book series, The Palgrave Macmillan Series in Global Public Diplomacy.
Introductory remarks by Dean Ernest J. Wilson III, USC Annenberg School for Communication
Panelists included:
Moderator: Philip Seib, Director, USC Center on Public Diplomacy
• Nicholas Cull, Director, USC Master of Public Diplomacy program
• Thomas Farr, Visiting Professor, Edmund A Walsh School of Foreign Service at Georgetown University
• Kathy Fitzpatrick, Professor of Public Relations, Quinnipiac University
• Abiodun Williams, Vice President, Center for Conflict Analysis and Prevention, United States Institute of Peace
If you missed the event, watch it here:
Photos from the event:

The panel discussion was followed by a reception. Copies of Toward a New Public Diplomacy: Redirecting U.S. Foreign Policy are available for purchase.
About Toward a New Public Diplomacy
Proponents of American public diplomacy sometimes find it difficult to be taken seriously. Everyone says nice things about relying less on military force and more on soft power, but it has been hard to break away from the longtime conventional wisdom that America owes its place in the world primarily to its muscle. Today, however, policy makers are recognizing that merely being a "superpower"--whatever that means now--does not ensure security or prosperity in a globalized society. Toward a New Public Diplomacy explains public diplomacy and makes the case for why it will be the crucial element in the much-needed reinvention of American foreign policy.
Newseum
Knight Conference Center
6th Street Freedom Forum Entrance
555 Pennsylvania Avenue NW
Washington, DC 20001
 
When
Monday, September 14, 2009 - 6:30pm
Stay in the Know
Public Diplomacy is a dynamic field, and CPD is committed to keeping you connected and informed about the critical developments that are shaping PD around the world. 
Depending on your specific interests, you can subscribe to one or more of CPD's newsletters >.
To receive PD News digests directly to your inbox on a daily or weekly basis, click here >.