Russian-American relations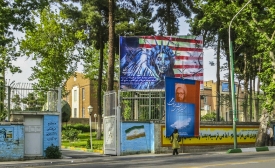 Olga Krasnyak delves into embassy tensions and public response, per the recent strife between Russian and U.S. diplomatic residences.
On September 2, 2017, U.S. authorities seized the buildings of the General Consulate of the Russian Federation in San Francisco and the Russian Trade Mission in Washington, D.C. Simultaneously, Russian representatives were denied access to the rented premises of the Russian Trade Mission in New York...Despite emotional coloring and personification, this situation suggests a "tit for tat" of diplomatic expulsions. The diplomats of both countries should know where to draw the line.
Russian President Vladimir Putin called for dialogue based on equal treatment and mutual respect with the United States on Saturday in a congratulatory message to President Barack Obama marking U.S. Independence Day. Putin said U.S.-Russian relations remained important for solving global crises.