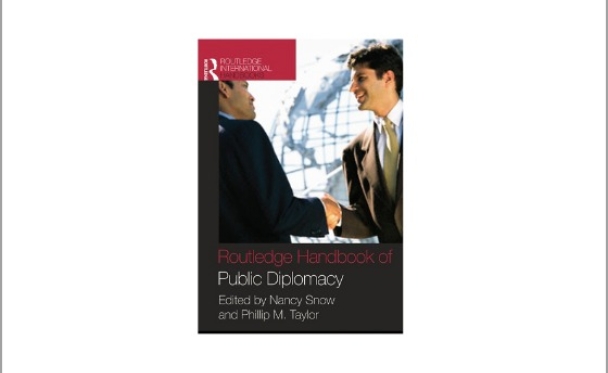 "Routledge Handbook of Public Diplomacy" Roundtable Book Discussion with Contributors
The USC Center on Public Diplomacy welcomed contributors to The Routledge Handbook of Public Diplomacy to USC for a discussion on this major new publication, published in association with the USC Center on Public Diplomacy at the Annenberg School.
Guest speakers included:
Nancy Snow - CPD Senior Fellow and Associate Professor of Public Diplomacy - SI Newhouse School of Public Communications, Syracuse University
Robert H. Gass - Professor of Human Communication Studies - California State University, Fullerton
Matthew Armstrong - MPD Graduate, Analyst and publisher of the Mountainrunner blog
The Routledge Handbook of Public Diplomacy provides a comprehensive overview of public diplomacy and national image and perception management, from the efforts to foster pro-West sentiment during the Cold War to the post-9/11 campaign to "win the hearts and minds" of the Muslim world. Editors Nancy Snow and Philip Taylor present materials on public diplomacy trends in public opinion and cultural diplomacy as well as topical policy issues. The latest research in public relations, credibility, soft power, advertising, and marketing is included and institutional processes and players are identified and analyzed. While the field is dominated by American and British research and developments, the book also includes international research and comparative perspectives from other countries.
For more information about the publication click HERE
Reviews:
"Snow, Taylor and a distinguished group of scholars have produced the definitive sourcebook on one of the most important subjects of our time. This collection offers a highly readable and comprehensive look at how the U.S. has veered off course in the battle for the hearts and minds of much of the world. This is a must read for students and scholars, and should be placed in the hands of the policymakers who inherit the challenge of restoring the public image and credibility of this wayward superpower."
--Lance Bennett, Professor of Political Science & Ruddick C. Lawrence Professor of Communication, Director, Center for Communication and Civic Engagement, University of Washington
"Since 9/11 public diplomacy has emerged as a critical, but little understood, component of foreign policy. This Handbook explains what it is, what it isn't, who does it well, and who doesn't. In short, it is essential to understanding how countries present themselves to the world."
--Ambassador Cynthia P. Schneider, PhD, Distinguished Fellow in the Practice of Diplomacy, Georgetown University, Senior Non Resident Fellow, Brookings Institution
Visit CPD's Online Library
Explore CPD's vast online database featuring the latest books, articles, speeches and information on international organizations dedicated to public diplomacy.