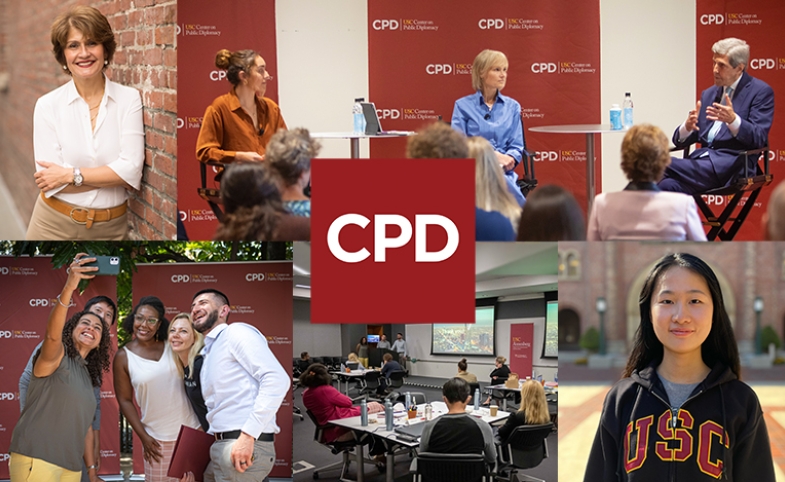 Housed at a world-class university with Los Angeles' rich cultural diversity at our fingertips, the USC Center on Public Diplomacy (CPD) is the leading academic center dedicated to the study and practice of public diplomacy. Since our founding in 2003, CPD has served as a valuable resource to practitioners, scholars and students alike through our cutting-edge research, timely analysis, impactful events and one-of-a-kind professional training.
CPD relies on the philanthropic contributions of individuals, foundations and corporations to produce forward-looking research, public events, convenings and editorial content. We invite you to explore the many opportunities to support CPD's efforts to strengthen the field of public diplomacy around the globe.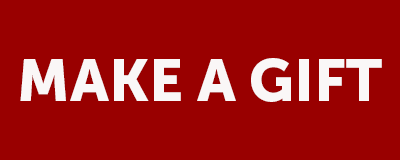 Gifts may be made online, by check or by wire transfer. CPD can also accept contributions in the form of stock, real estate or bequests. For additional information about how you can support CPD, please contact cpd@usc.edu or (213) 821-2078.
---
Here are some real-world stories of how we translate public diplomacy education, research and training into practice.
These stories are featured in our 2021–2022 Annual Report (download here).
Accelerating PD Careers Through Education

Jesús Fernandez, Master of Public Diplomacy ('21) and former CPD Assistant Programming Coordinator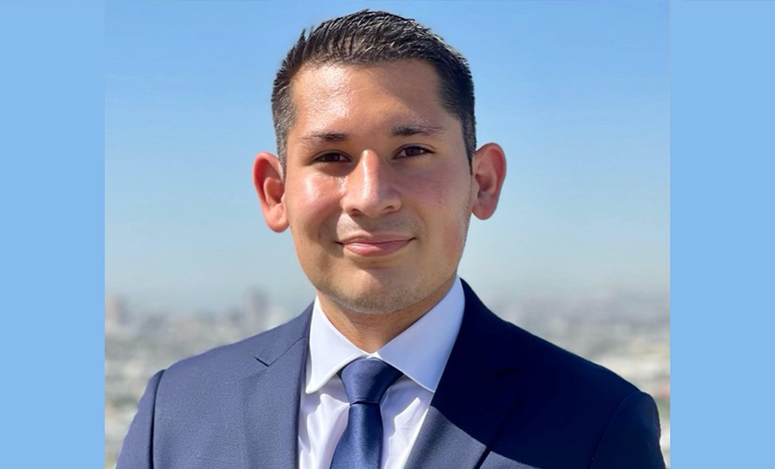 In April 2022, I completed my six-month service as a Youth Ambassador for the USA Pavilion at Expo 2020 Dubai representing my country and the greater Southern California region. Looking back on this experience, I find that one of my greatest treasures from my time at the World Expo is my pavilion name tag.

In Southern California the name Jesús is nothing unique. In fact, in California it may be more common than names like Christian, Thomas or John. However at the World Expo in Dubai, my name caught much attention. In the United Arab Emirates and surrounding countries, the name "Jesus" is extremely uncommon but very well-known because of its religious connotation. Naturally, people referred to me using the English version: "Jesus." This experience was something completely new to me. My entire life I had lived in Spanish-speaking communities where the name Jesús was not unusual.

Instead of hiding my name tag to avoid having to correct people, I embraced it and wore it proudly. I took those moments as the opportunity of a lifetime to bring awareness and advocate for my community back home. As a Mexican American, I am part of one of the largest ethnic communities in the United States. In Dubai, I realized not many people outside of the Americas are familiar with the Mexican diaspora in the U.S. The interest that visitors took in my name empowered me to highlight the beauty of my blended culture and inform them about the struggles my community faces. Furthermore, my name served as the perfect conversation starter for me to share my family's immigration story and reaffirm to people all over the world that the U.S., despite its imperfections, is a place for all.

As I shared my culture with the 1.2 million visitors to the USA Pavilion, I kept in mind one of the most important lessons from my studies in the USC Master of Public Diplomacy program: public diplomacy is true; it is authentic. Being a Youth Ambassador allowed me to be a true and authentic voice for my community.
Beyond-the-Classroom Student Learning

Xiao "Alicia" Liu, CPD Digital Marketing Intern & B.A., Communication Student ('24)
CPD has been a truly enriching experience for me and provides multifarious opportunities to gain insights into areas of communication, international relations and culture. As a digital marketing intern, I obtain hands-on experience in social media management and put the theories I learned in classes into practice. I copyedit some of the latest works and research in public diplomacy and have gradually started to gain a better understanding of the important role of this field in the modern day.

Another valuable part about CPD is that it offers me the opportunity to meet public diplomacy experts and hear their firsthand accounts of PD and global affairs. I attended CPD's event with U.S. Special Presidential Envoy for Climate John Kerry and learned about possible sustainable developments in response to the environmental challenges faced by the U.S. and the world. At CPD Summer Institute, I met PD scholars and practitioners from different countries and learned about the most frontline PD skills. Besides, I furthered my understanding of digital media analytics and content strategy for multi-platform campaigns, which are all-important for increasing the impact of PD.

I find all of these skills and knowledge to be beneficial and applicable, and I believe they will continue to be a valuable support to my academic interests and career going forward.
The Ameri Prize for Innovation in Public Diplomacy

The annual Ameri Prize honors U.S. foreign and civil service officers for creative and scalable initiatives that advance global public diplomacy.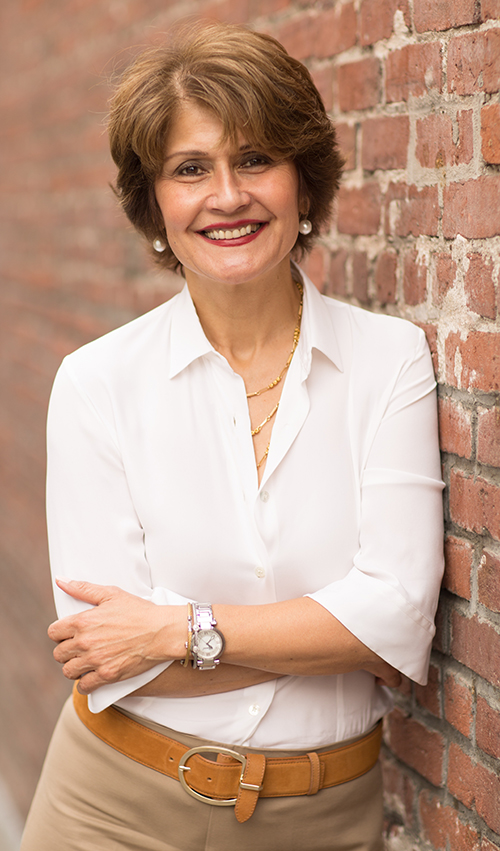 As global trust and mutual understanding become ever more critical to widespread peace and prosperity, public diplomacy knowledge, understanding and technical ability have become key tools for effective conduct of foreign policy by any nation.
To further this expanding practice, CPD Advisory Board member, entrepreneur and experienced diplomat Goli Ameri has endowed the Ameri Prize for Innovation in Public Diplomacy. In 2021, CPD joined with the U.S. Department of State to launch the annual prize, which honors mid-career public diplomacy professionals who devise innovative and scalable strategies for advancing foreign policy and international cooperation. As a former U.S. Assistant Secretary of State for Educational and Cultural Affairs who served on CPD's inaugural prize committee, Ameri was so impressed by the award's possibilities that she wanted to ensure it could continue in perpetuity.
Ameri, who was born in Iran, describes herself as a first-generation immigrant who continues to be inspired by the ideals of the United States. "This country—and everything it stands for—empowered me and helped me understand what truly matters in an ideal society: freedom, democracy, human rights, inclusion and equality, helping those in need and always thinking of the greater good," she said.
Promoting such ideals, Ameri notes, is why "public diplomacy has always sung to me. I want the rest of the world to experience America and American values the way I have, and to see how a society that questions itself and that is consistently on the path to self-improvement can serve its constituents in the best possible manner."
The innovations recognized by the Ameri Prize will not only demonstrate public diplomacy leadership on behalf of the United States but also further bolster the field at a moment when public diplomacy is needed more than ever. The inaugural awardees Gretchen M. Franke and Chad D. Houghton, both mid-career members of the U.S. Foreign Service, were selected for exceptional innovation and creativity in a program to counter disinformation in Poland.
---
Visit CPD's Online Library
Explore CPD's vast online database featuring the latest books, articles, speeches and information on international organizations dedicated to public diplomacy.