CPD Perspectives on Public Diplomacy is a series of papers by CPD staff and fellows as well as public diplomacy scholars and practitioners from around the world which showcase critical thinking about the study and practice of public diplomacy.
To view the guidelines for submissions to CPD Perspectives, click here.
To order hard copies, please send an email to cpd@usc.edu.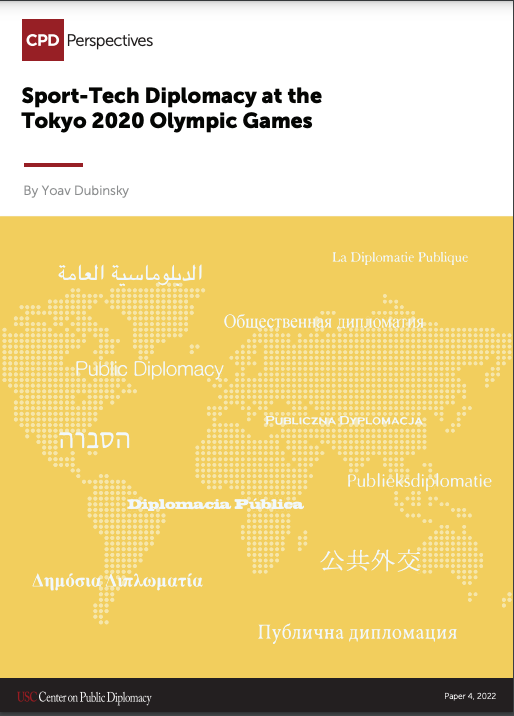 SPORT-TECH DIPLOMACY AT THE TOKYO 2020 OLYMPIC GAMES
Yoav Dubinsky
Paper 4, 2022 (November)
---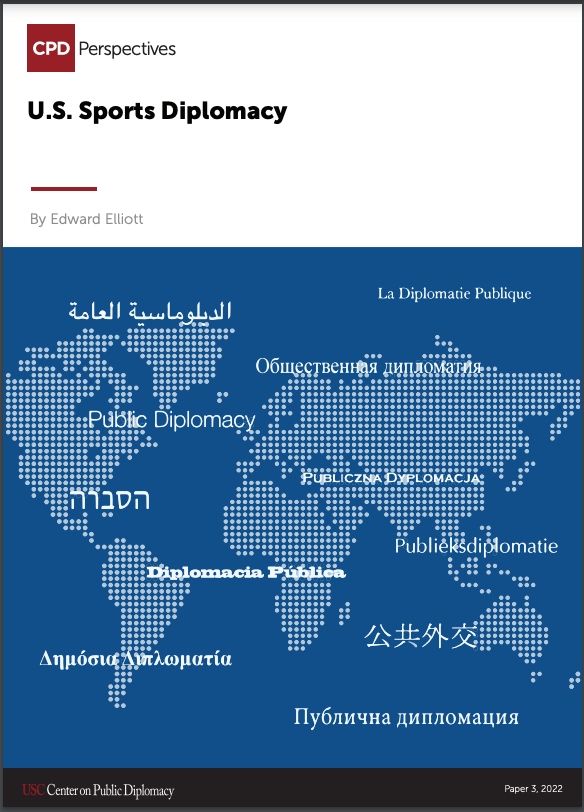 U.S. SPORTS DIPLOMACY
Edward Elliott
Paper 3, 2022 (August)
---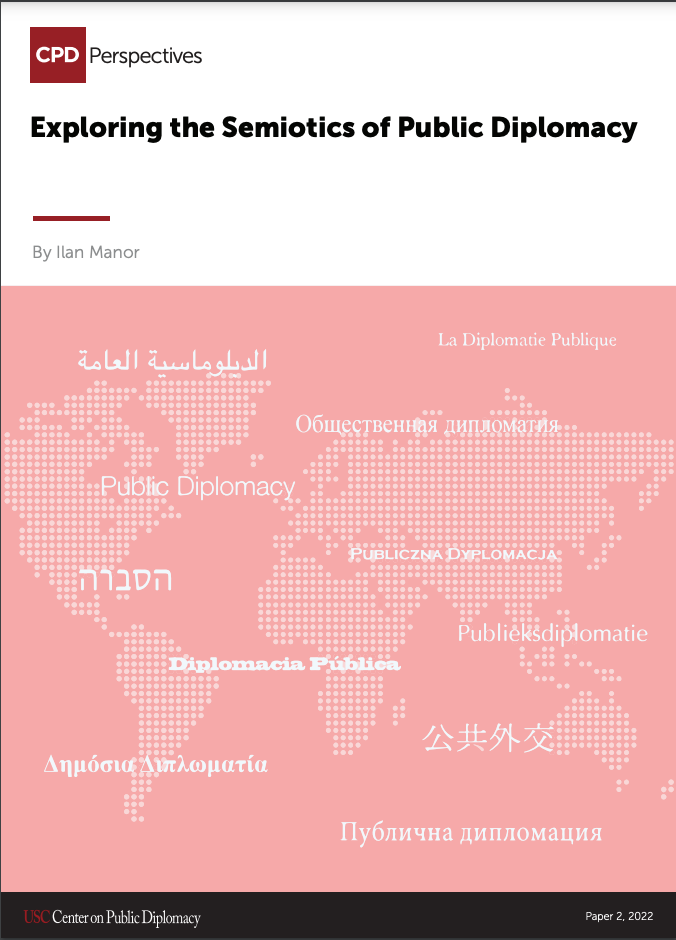 EXPLORING THE SEMIOTICS OF PUBLIC DIPLOMACY
Ilan Manor
Paper 2, 2022 (April)
---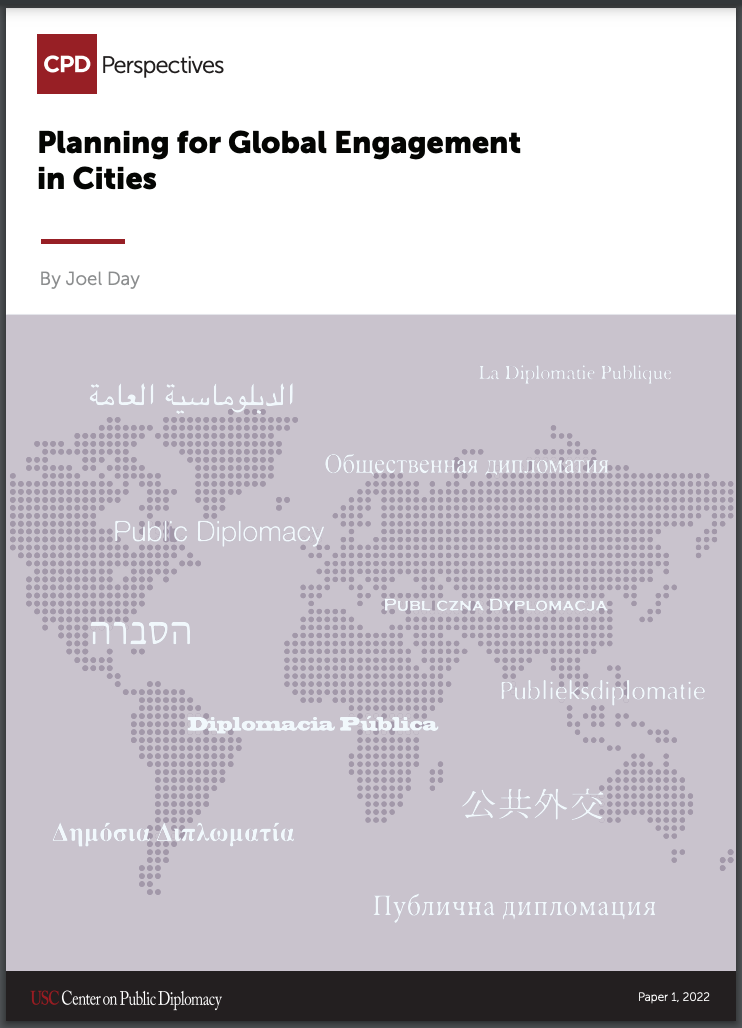 PLANNING FOR GLOBAL ENGAGEMENT IN CITIES
Joel Day
Paper 1, 2022 (February)
---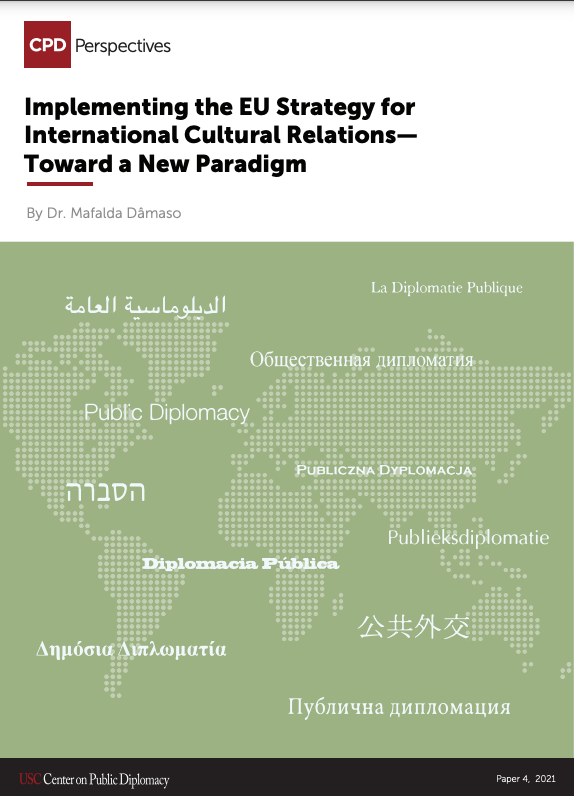 IMPLEMENTING THE EU STRATEGY FOR INTERNATIONAL CULTURAL RELATIONS — TOWARD A NEW PARADIGM
Mafalda Dâmaso
Paper 4, 2021 (December)
---
COMMUNICATING EUROPE ABROAD: EU DELEGATIONS AND PUBLIC DIPLOMACY
Julien Abratis
Paper 3, 2021 (August)
---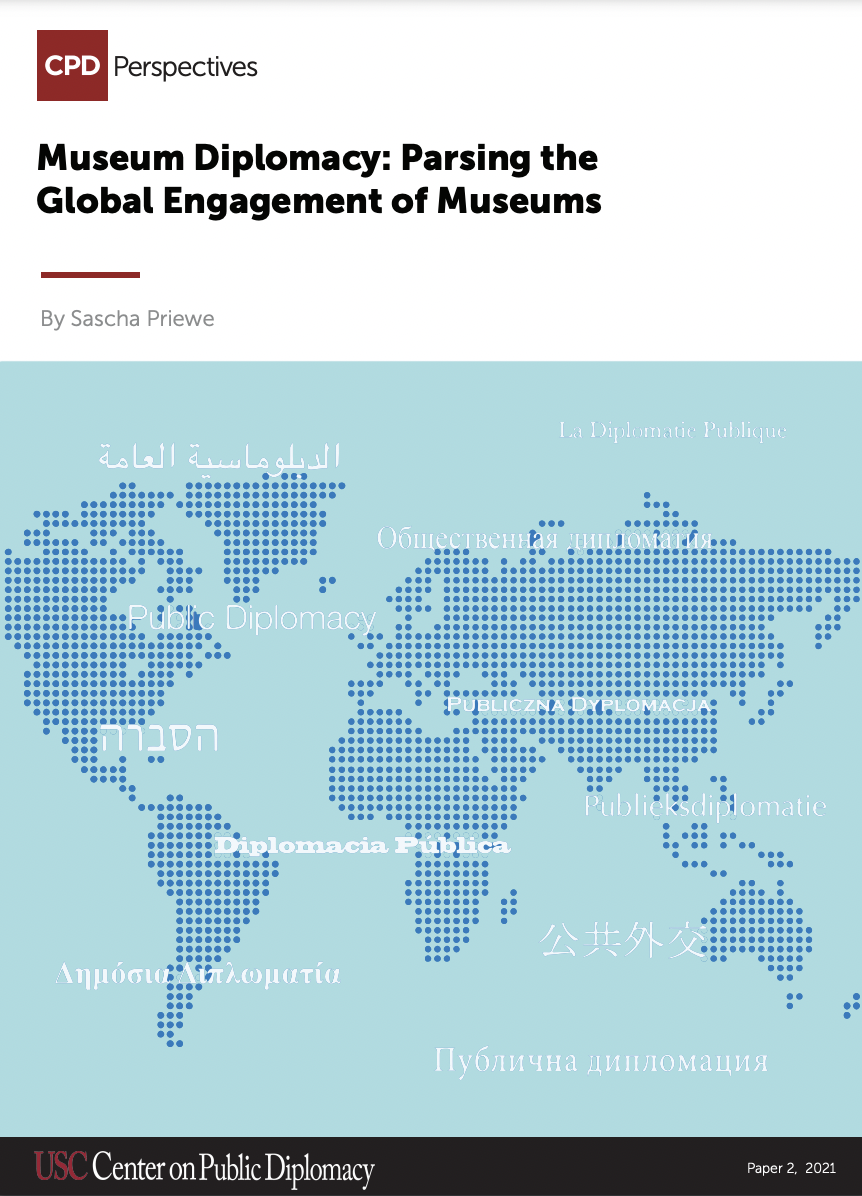 MUSEUM DIPLOMACY: PARSING THE GLOBAL ENGAGEMENT OF MUSEUMS
Sascha Priewe
Paper 2, 2021 (August)
---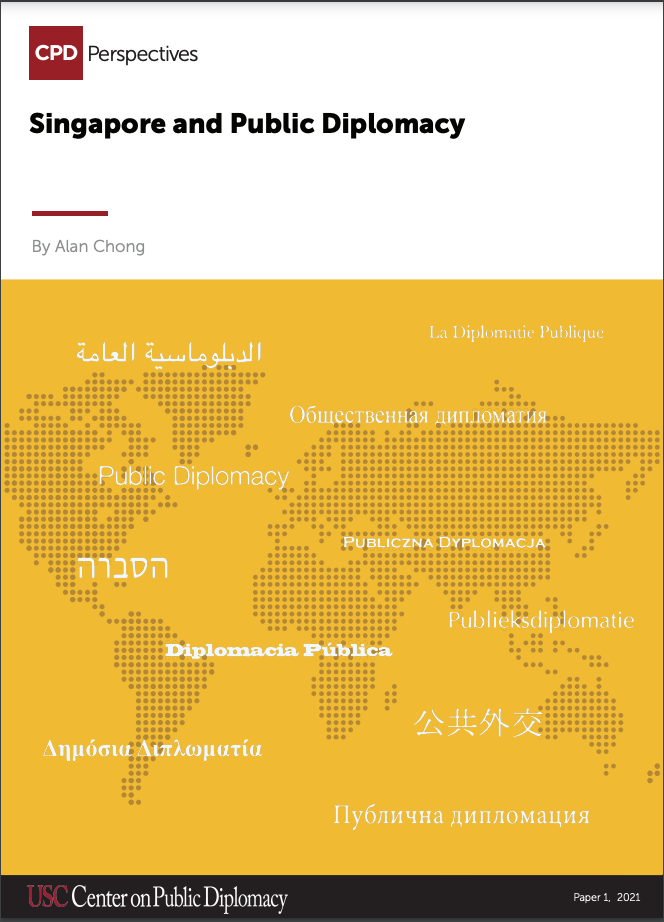 SINGAPORE AND PUBLIC DIPLOMACY
Alan Chong
Paper 1, 2021 (June)
---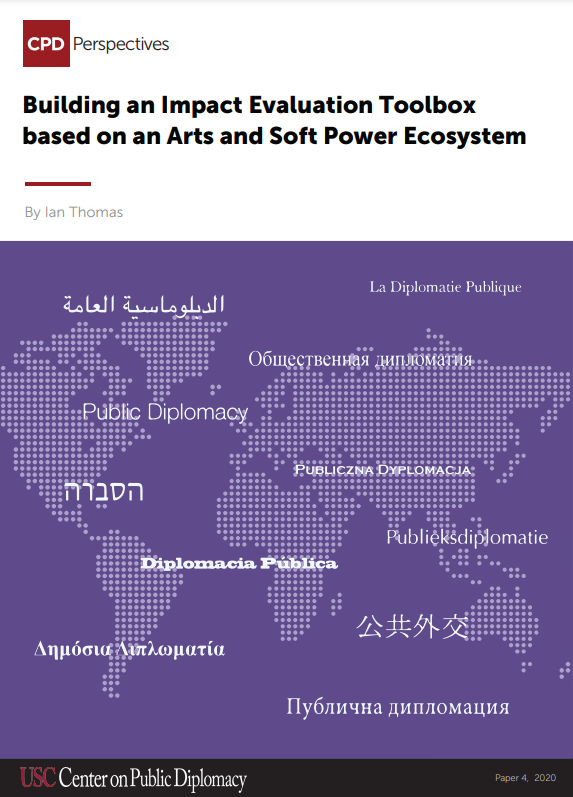 BUILDING AN IMPACT EVALUATION TOOLBOX BASED ON AN ARTS AND SOFT POWER ECOSYSTEM
Ian Thomas
Paper 4, 2020 (December)
---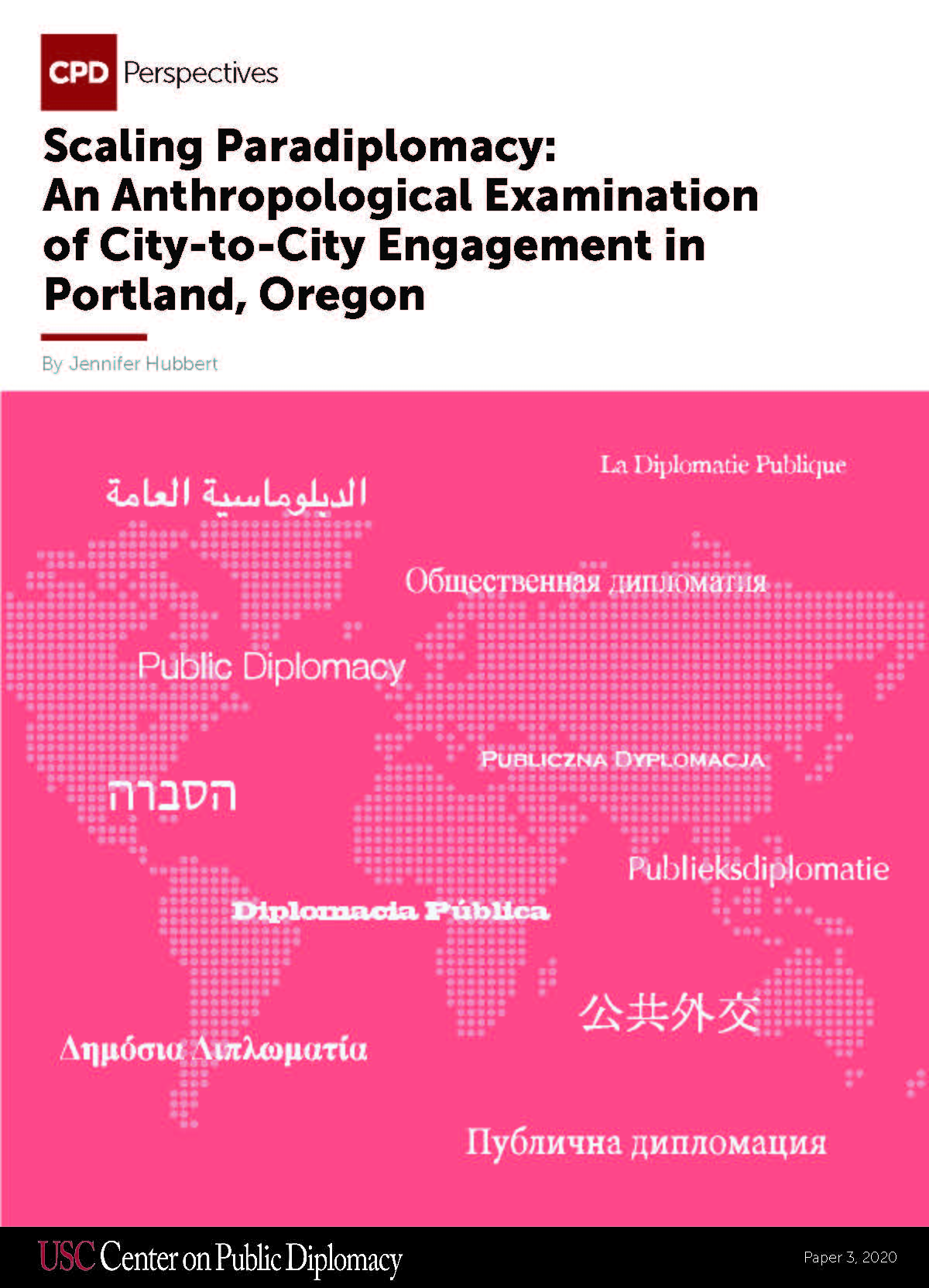 SCALING PARADIPLOMACY: AN ANTHROPOLOGICAL EXAMINATION OF CITY-TO-CITY ENGAGEMENT IN PORTLAND, OREGON
Jennifer Hubbert
Paper 3, 2020 (December)
---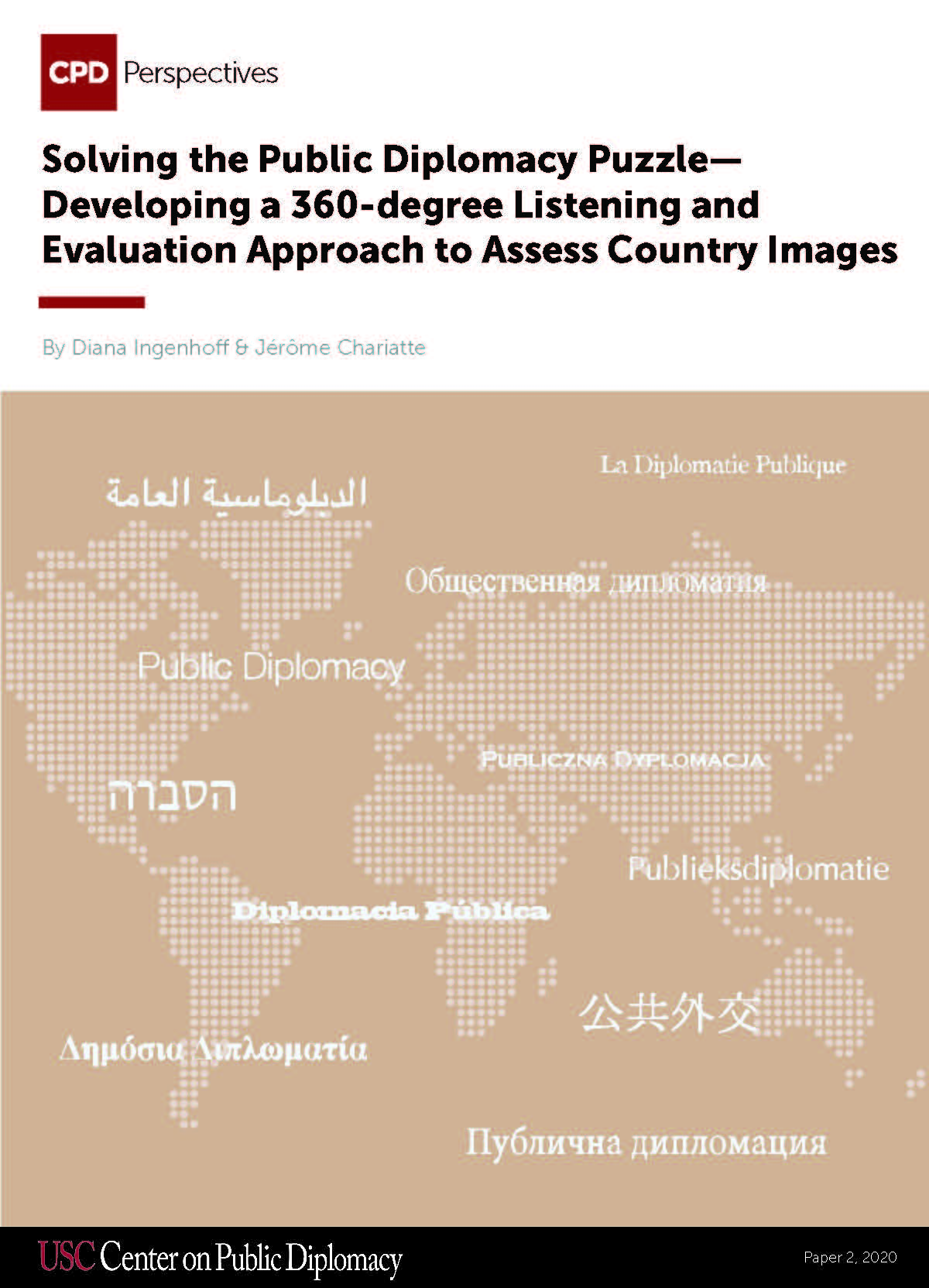 SOLVING THE PUBLIC DIPLOMACY PUZZLE— DEVELOPING A 360-DEGREE LISTENING AND EVALUATION APPROACH TO ASSESS COUNTRY IMAGES
Diana Ingenhoff & Jérôme Chariatte
Paper 2, 2020 (November)
---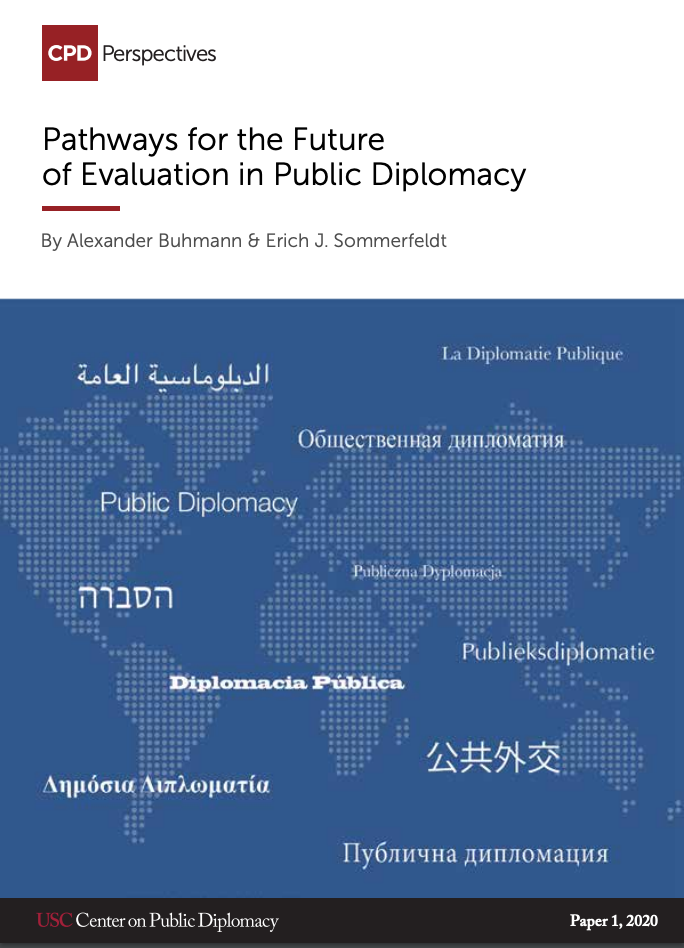 PATHWAYS FOR THE FUTURE OF EVALUATION IN PUBLIC DIPLOMACY
Alexander Buhmann & Erich J. Sommerfeldt
Paper 1, 2020 (August)
---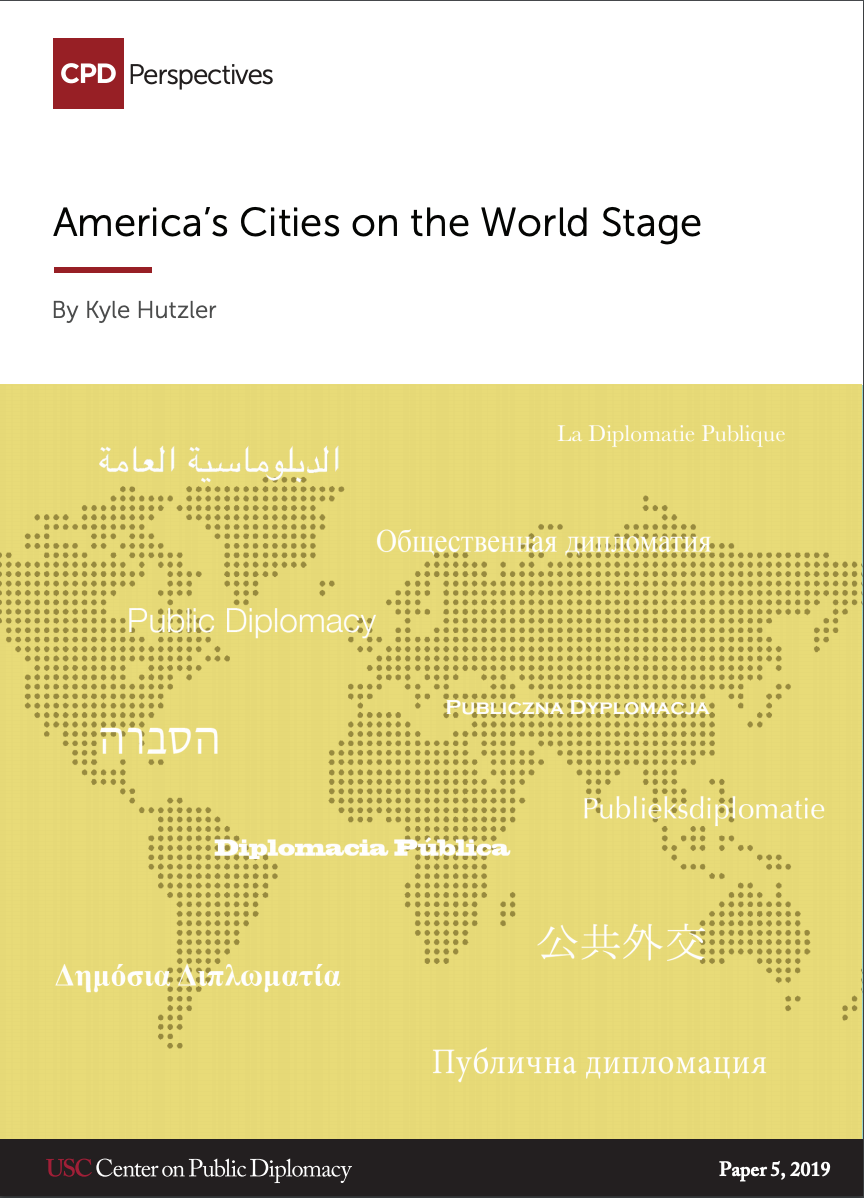 AMERICA'S CITIES ON THE WORLD STAGE
Kyle Hutzler
Paper 5, 2019 (December)
---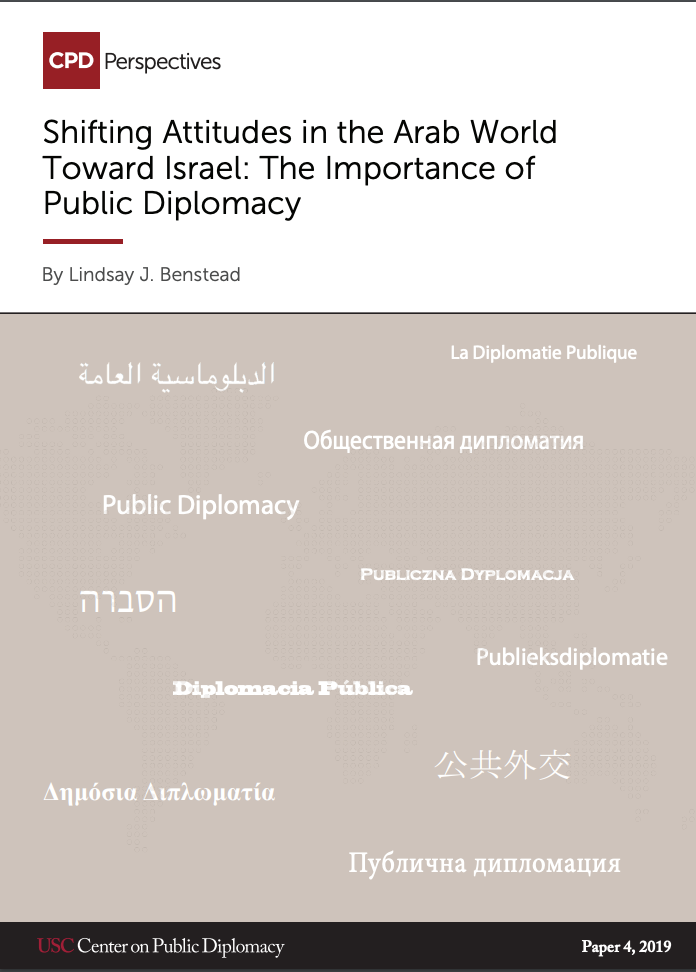 SHIFTING ATTITUDES IN THE ARAB WORLD TOWARD ISRAEL: THE IMPORTANCE OF PUBLIC DIPLOMACY
Lindsay J. Benstead
Paper 4, 2019 (November)
---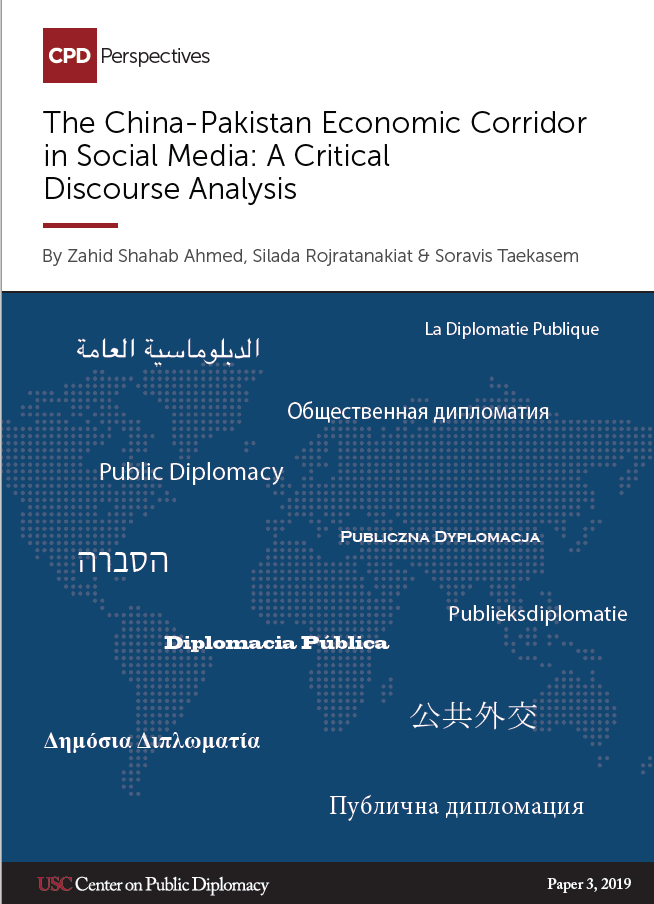 THE CHINA-PAKISTAN ECONOMIC CORRIDOR IN SOCIAL MEDIA: A CRITICAL DISCOURSE ANALYSIS
Zahid Shahab Ahmed, Silada Rojratanakiat & Soravis Taekasem
Paper 3, 2019 (October)
---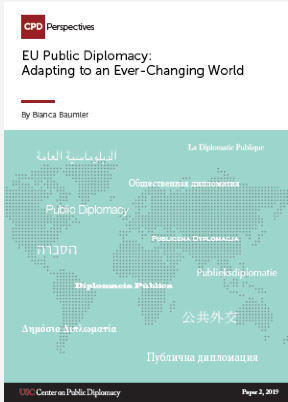 EU PUBLIC DIPLOMACY: ADAPTING TO AN EVER-CHANGING WORLD
Bianca Baumler
Paper 2, 2019 (April)
---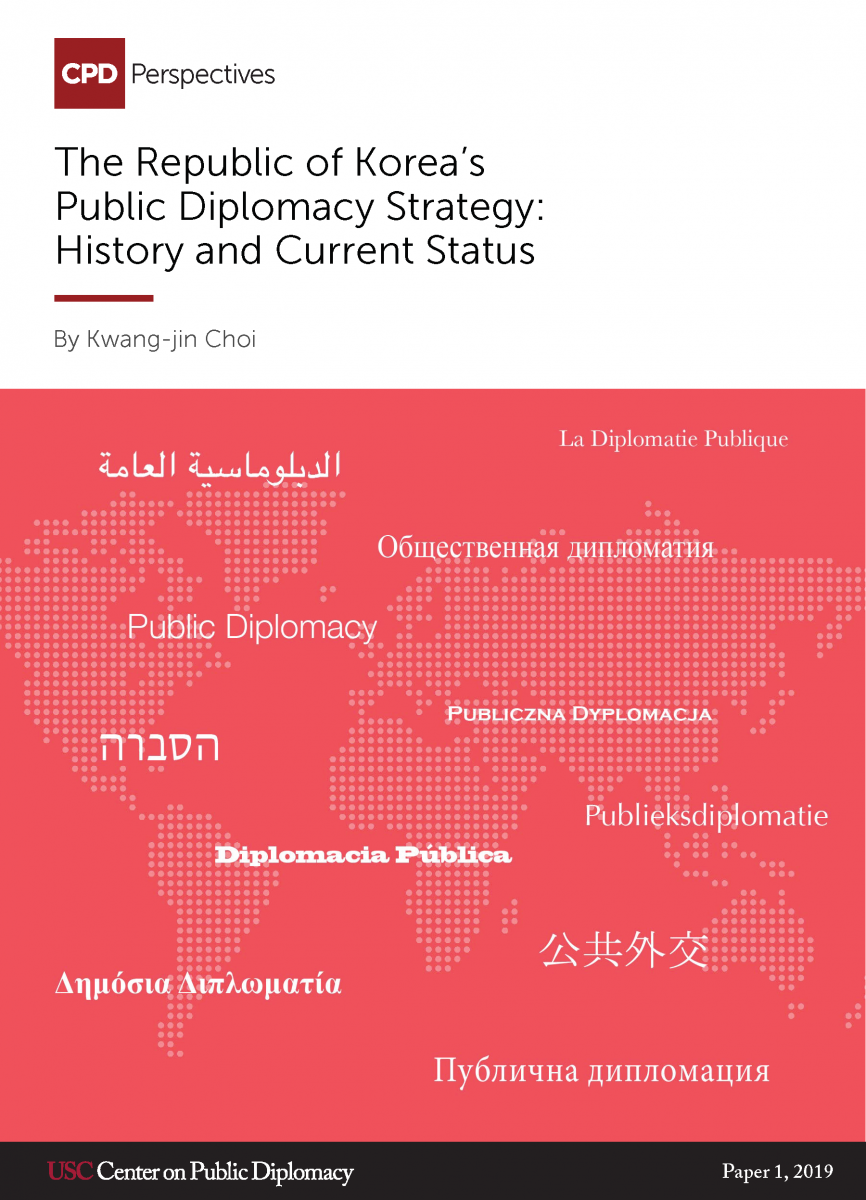 THE REPUBLIC OF KOREA'S PUBLIC DIPLOMACY STRATEGY: HISTORY AND CURRENT STATUS
Kwang-jin Choi
Paper 1, 2019 (January)
---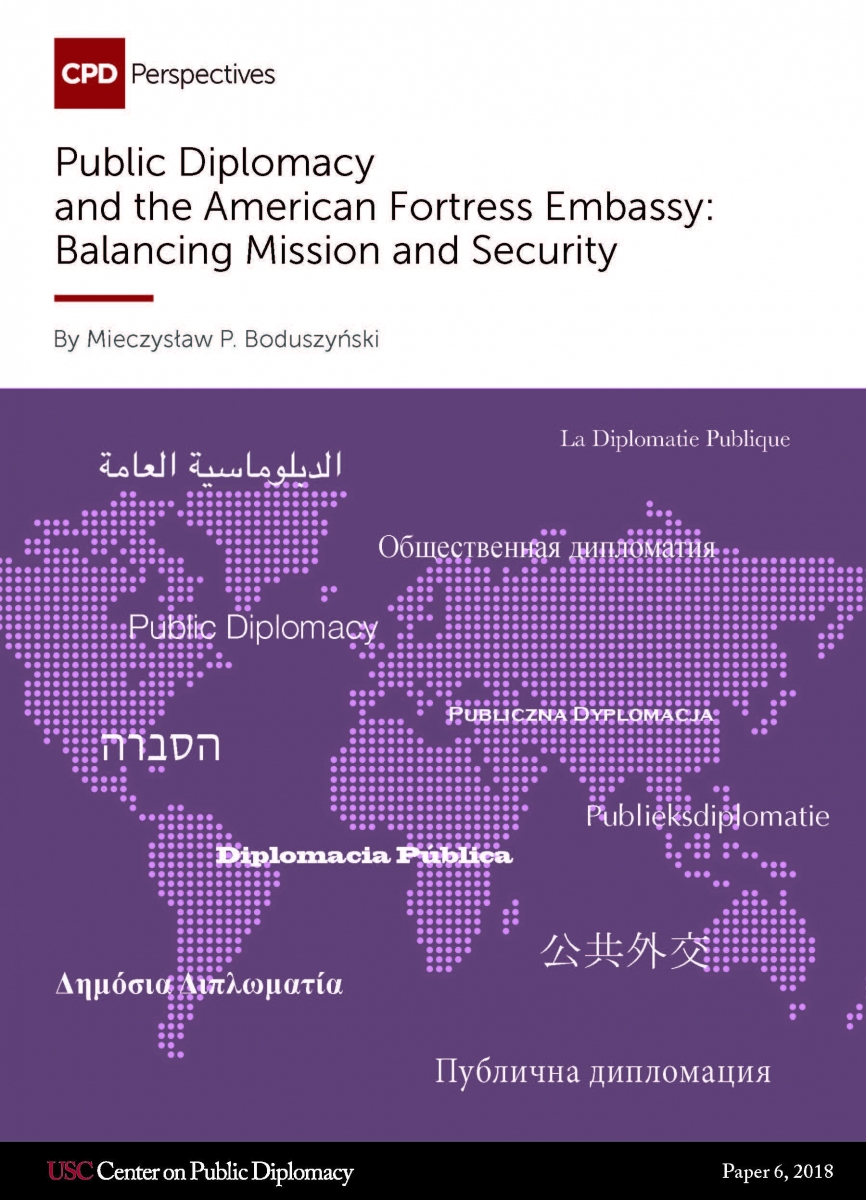 PUBLIC DIPLOMACY AND THE AMERICAN FORTRESS EMBASSY: BALANCING MISSION AND SECURITY
Mieczyslaw P. Boduszyński
Paper 6, 2018 (December)
---
NETWAR IN CYBERIA: DECODING THE MEDIA MUJAHIDIN
Ali Fisher
Paper 5, 2018 (October)
---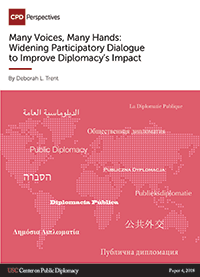 MANY VOICES, MANY HANDS: WIDENING PARTICIPATORY DIALOGUE TO IMPROVE DIPLOMACY'S IMPACT
Deborah L. Trent
Paper 4, 2018 (May)
---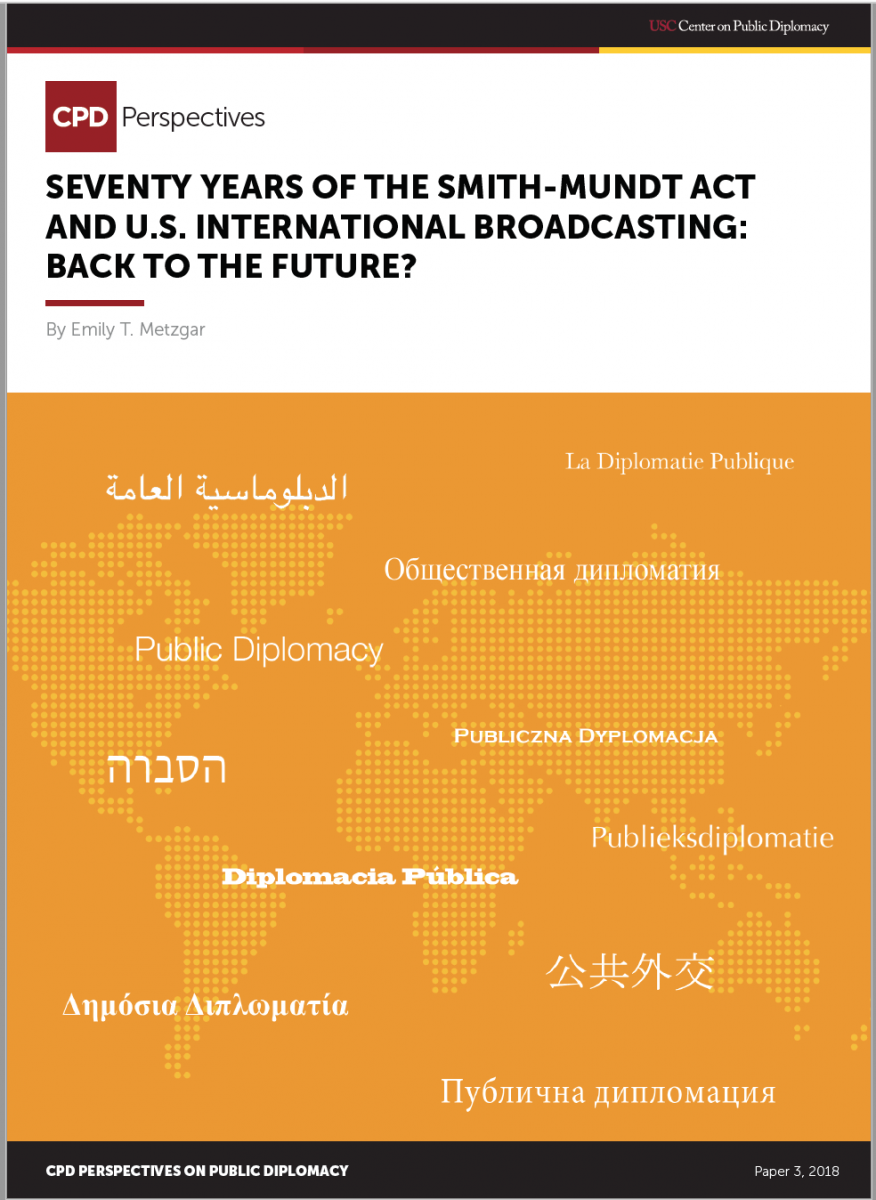 SEVENTY YEARS OF THE SMITH-MUNDT ACT AND U.S. INTERNATIONAL BROADCASTING: BACK TO THE FUTURE?
Emily T. Metzgar
Paper 3, 2018 (April)
---

ORGANIZING PUBLIC DIPLOMACY: A LAYERED APPROACH
Barry A. Sanders
Paper 2, 2018 (March)
---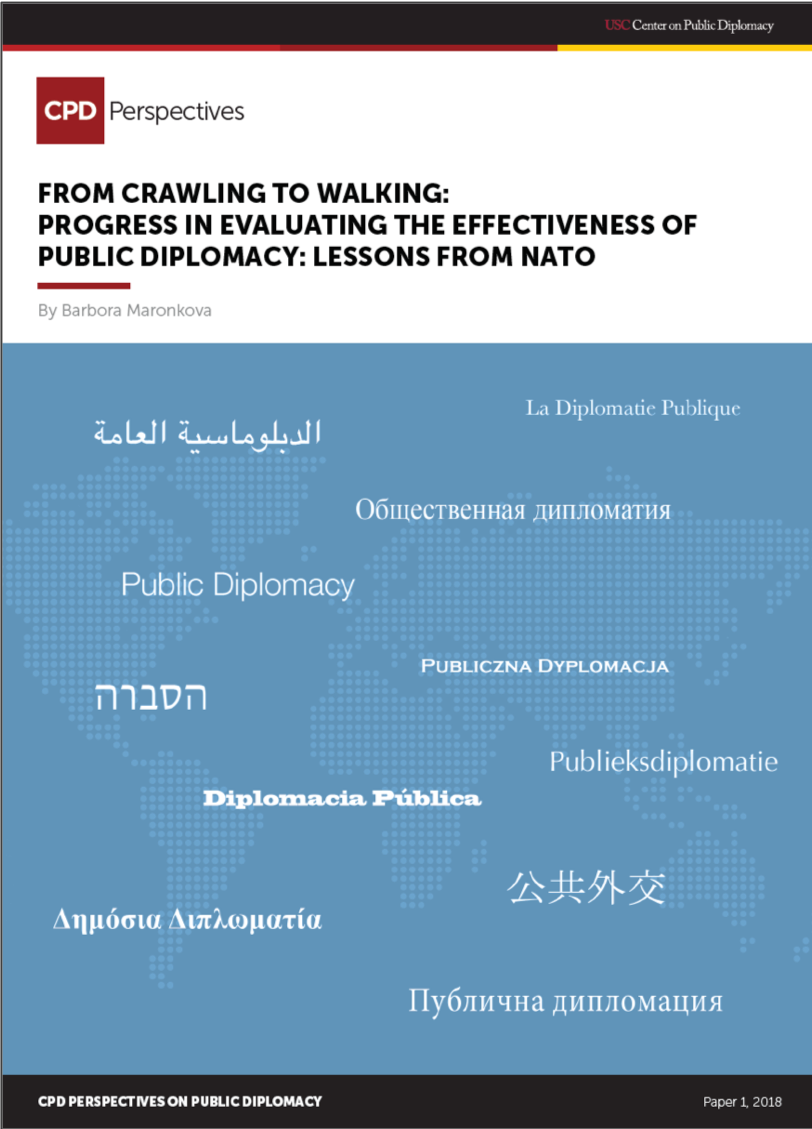 FROM CRAWLING TO WALKING: PROGRESS IN EVALUATING THE EFFECTIVENESS OF PUBLIC DIPLOMACY: LESSONS FROM NATO
Barbora Maronkova
Paper 1, 2018 (February)
---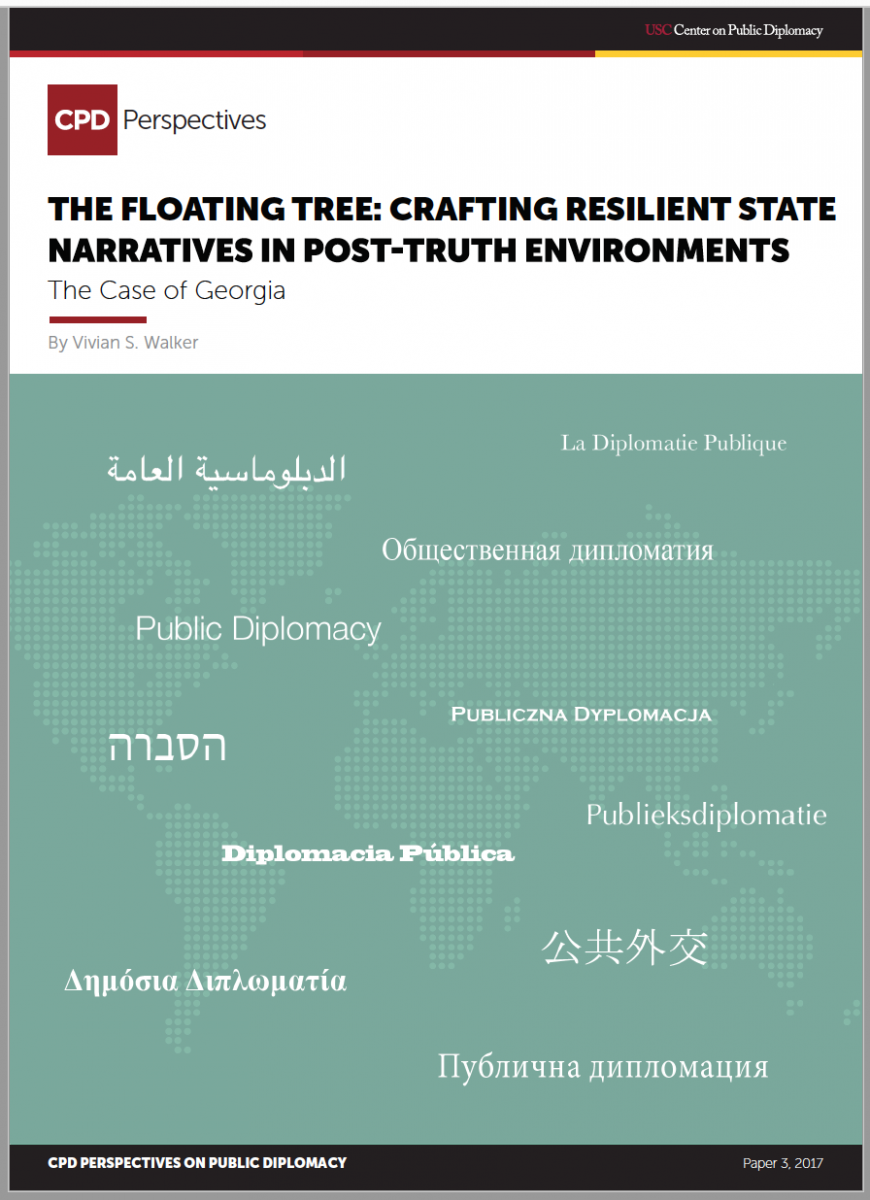 THE FLOATING TREE: CRAFTING RESILIENT STATE NARRATIVES IN POST-TRUTH ENVIRONMENTS
Vivian S. Walker
Paper 3, 2017 (October)
---

SINO-VATICAN FAITH DIPLOMACY: MAPPING THE FACTORS AFFECTING BILATERAL RELATIONS
Juyan Zhang
Paper 2, 2017 (April)
---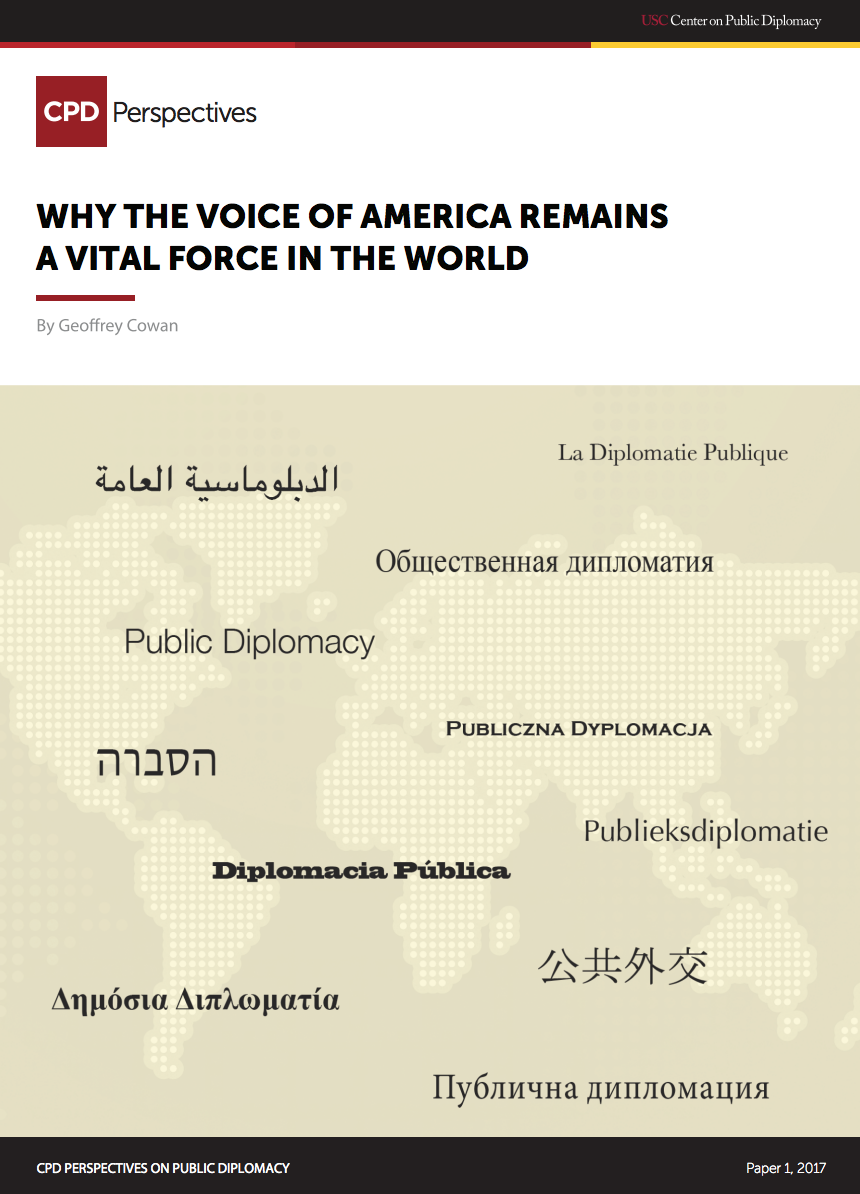 WHY THE VOICE OF AMERICA REMAINS A VITAL FORCE IN THE WORLD
Geoffrey Cowan
Paper 1, 2017 (March)
---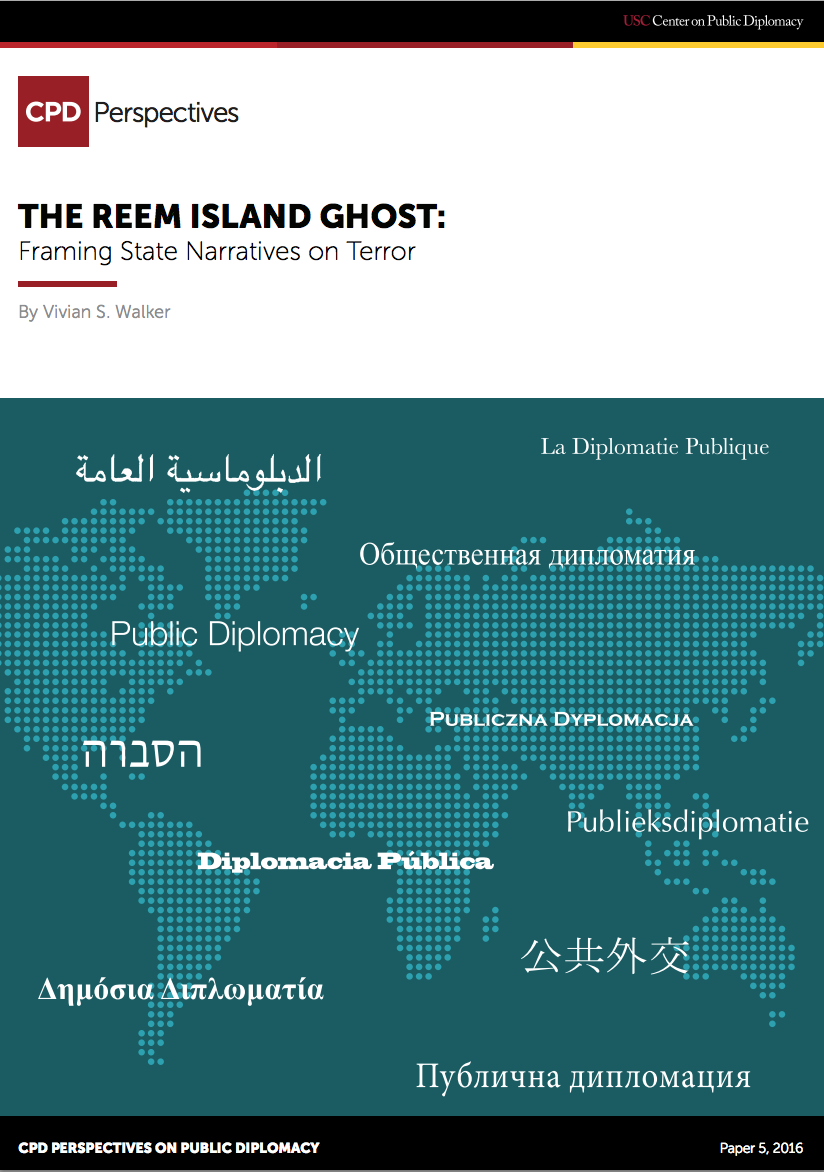 THE REEM ISLAND GHOST: FRAMING STATE NARRATIVES ON TERROR
Vivian Walker
Paper 5, 2016 (August)
---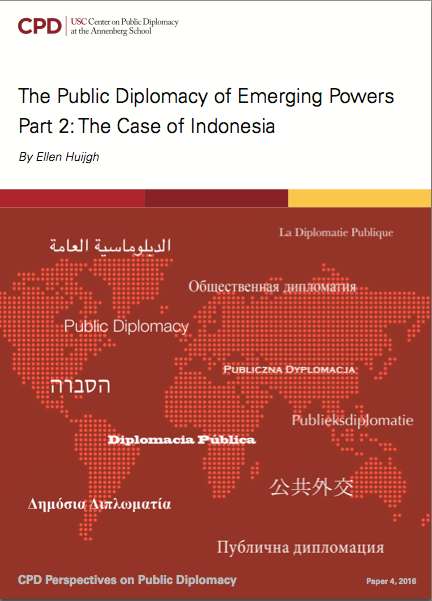 THE PUBLIC DIPLOMACY OF EMERGING POWERS PART 2: THE CASE OF INDONESIA
Ellen Huijgh
Paper 4, 2016 (April)
---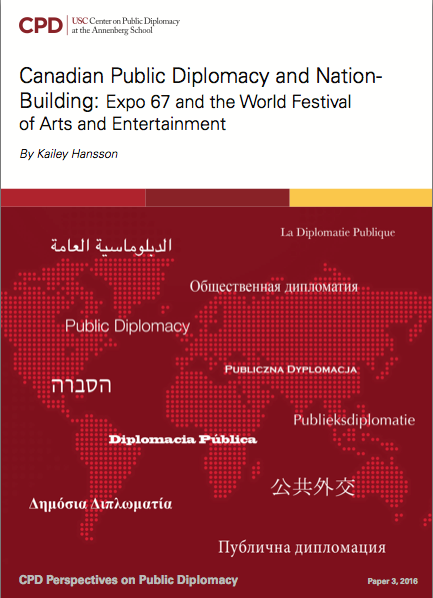 CANADIAN PUBLIC DIPLOMACY AND NATION-BUILDING: EXPO 67 AND THE WORLD FESTIVAL OF ARTS AND ENTERTAINMENT
Kailey Hansson
Paper 3, 2016 (March)
---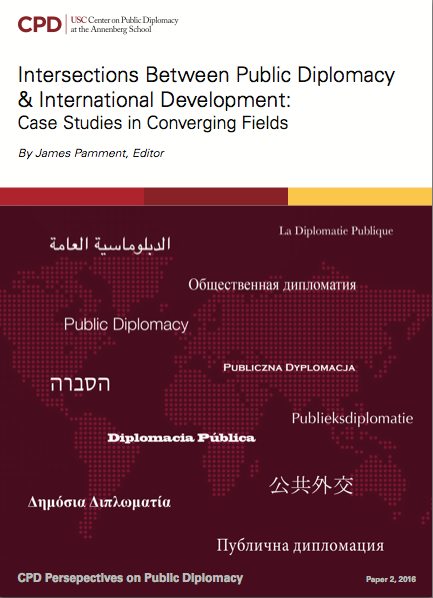 INTERSECTIONS BETWEEN PUBLIC DIPLOMACY & INTERNATIONAL DEVELOPMENT: CASE STUDIES IN CONVERGING FIELDS
James Pamment
Paper 2, 2016 (February)
---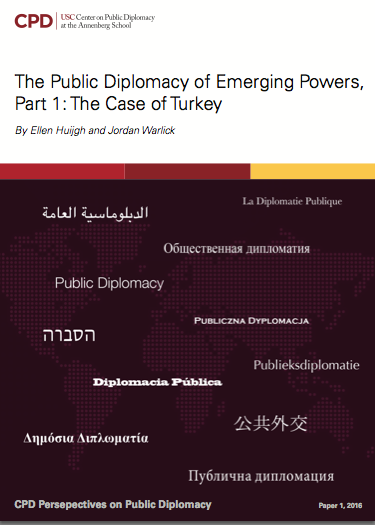 THE PD OF EMERGING POWERS PART 1: THE CASE OF TURKEY
Ellen Huijgh and Jordan Warlick
Paper 1, 2016 (January)
---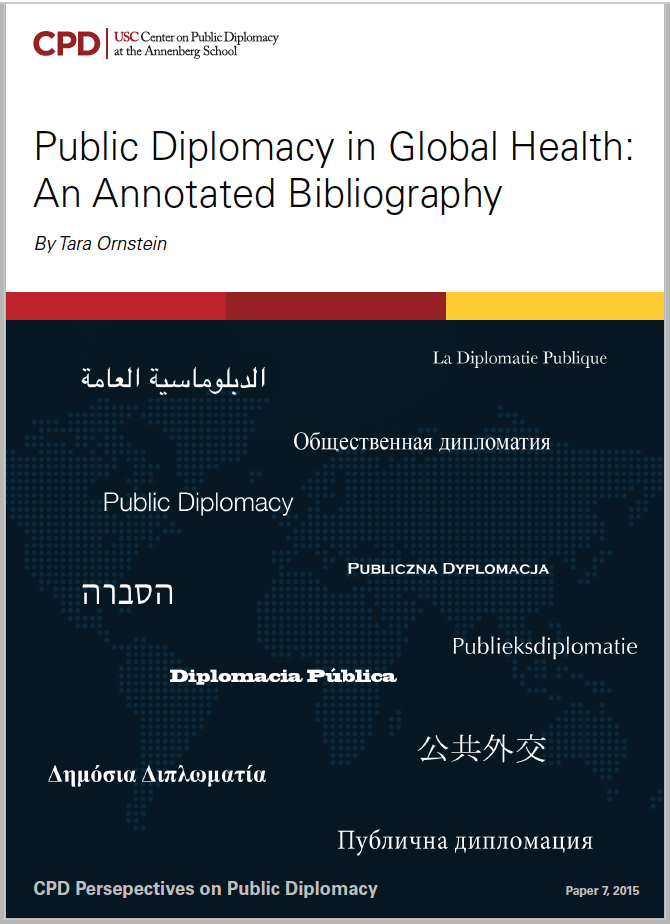 PUBLIC DIPLOMACY IN GLOBAL HEALTH: AN ANNOTATED BIBLIOGRAPHY
Tara Ornstein
Paper 7, 2015 (December)
---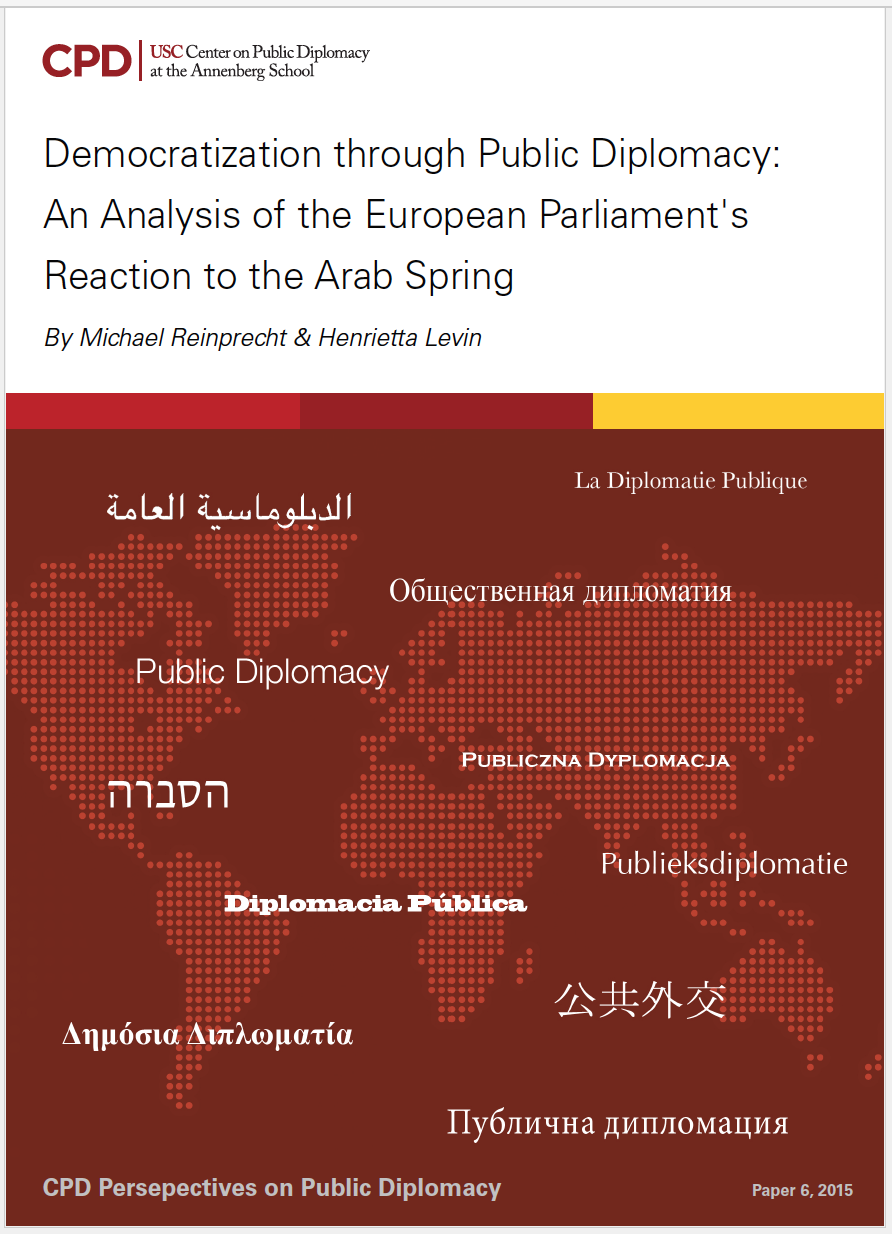 DEMOCRATIZATION THROUGH PUBLIC DIPLOMACY: AN ANALYSIS OF THE EUROPEAN PARLIAMENT'S REACTION TO THE ARAB SPRING
Michael Reinprecht and Henrietta Levin
Paper 6, 2015 (October)
---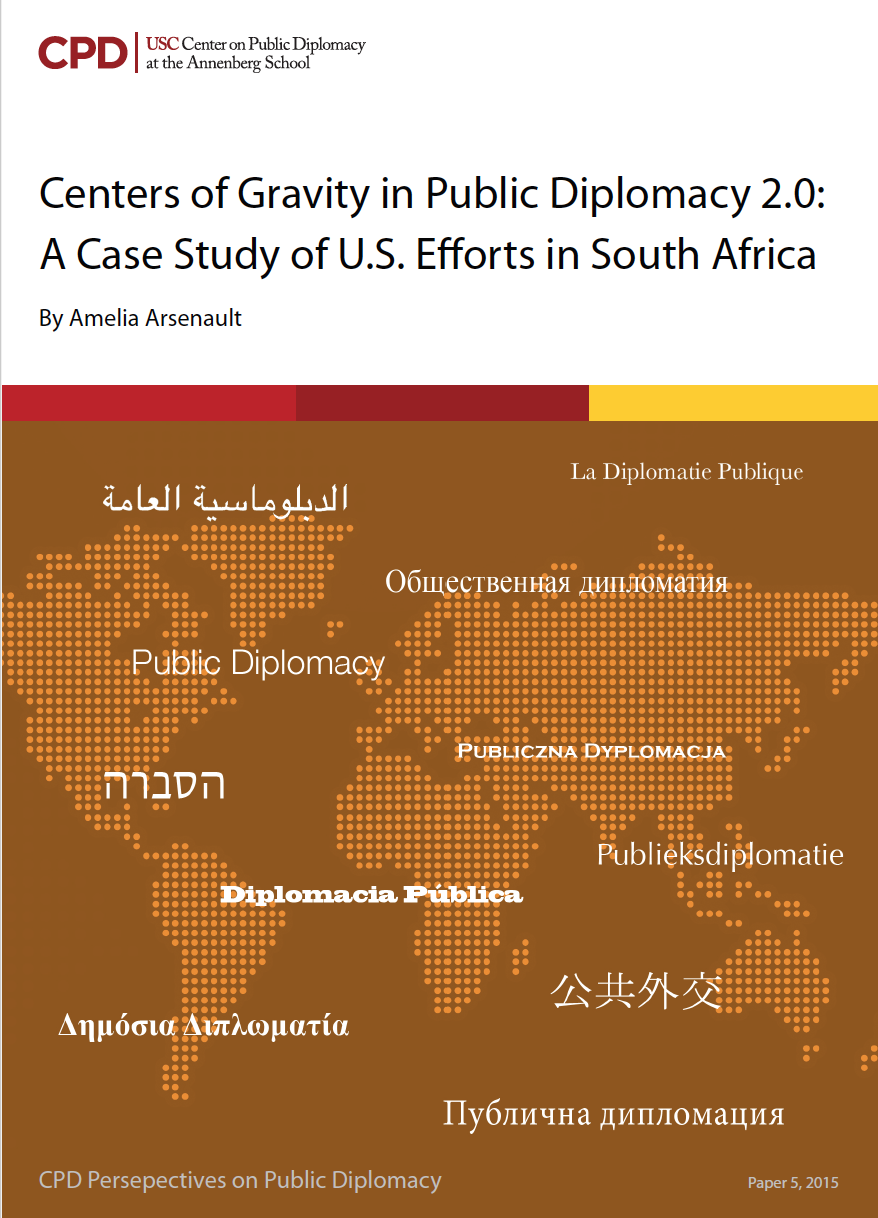 CENTERS OF GRAVITY IN PUBLIC DIPLOMACY 2.0: A CASE STUDY OF U.S. EFFORTS IN SOUTH AFRICA
Amelia Arsenault
Paper 5, 2015 (September)
---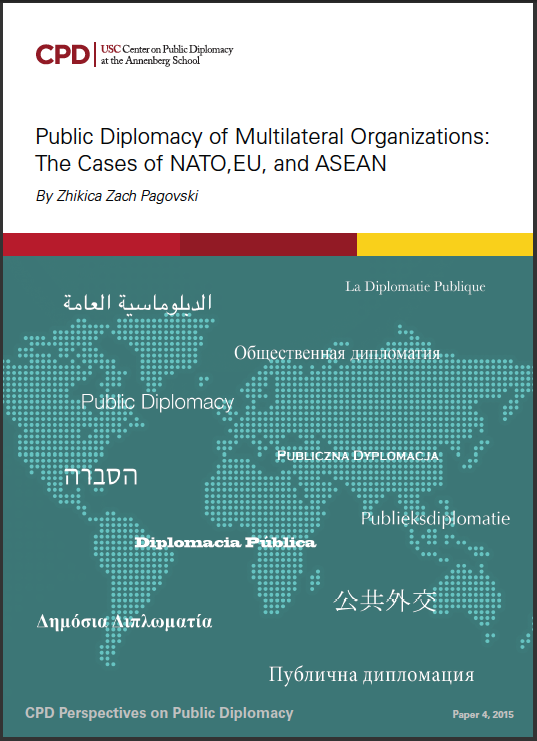 PUBLIC DIPLOMACY OF MULTILATERAL ORGANIZATIONS: THE CASES OF NATO, EU, AND ASEAN
Zhikica Zach Pagovski
Paper 4, 2015 (June)
---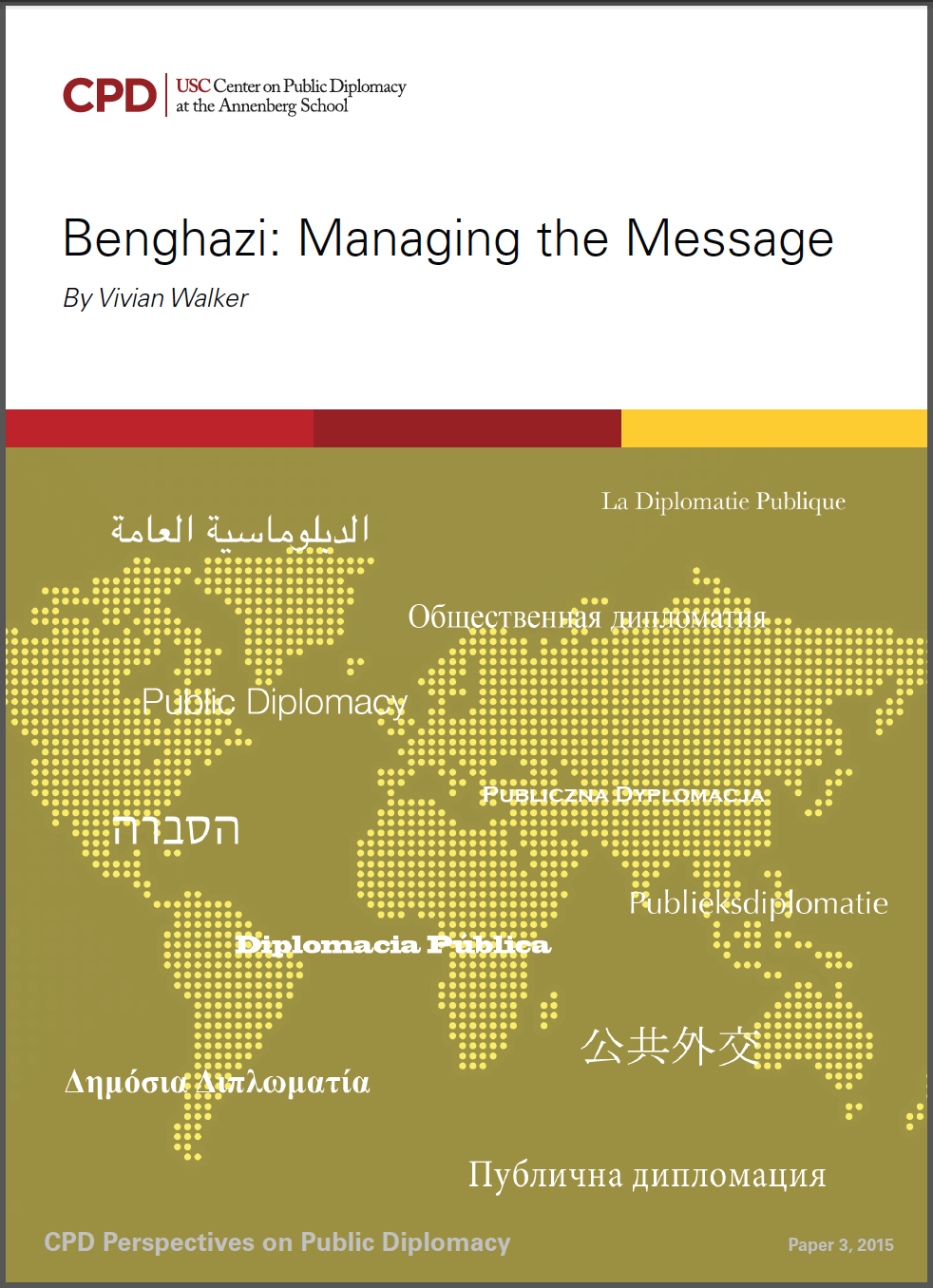 BENGHAZI: MANAGING THE MESSAGE
Vivian Walker
Paper 3, 2015 (April)
---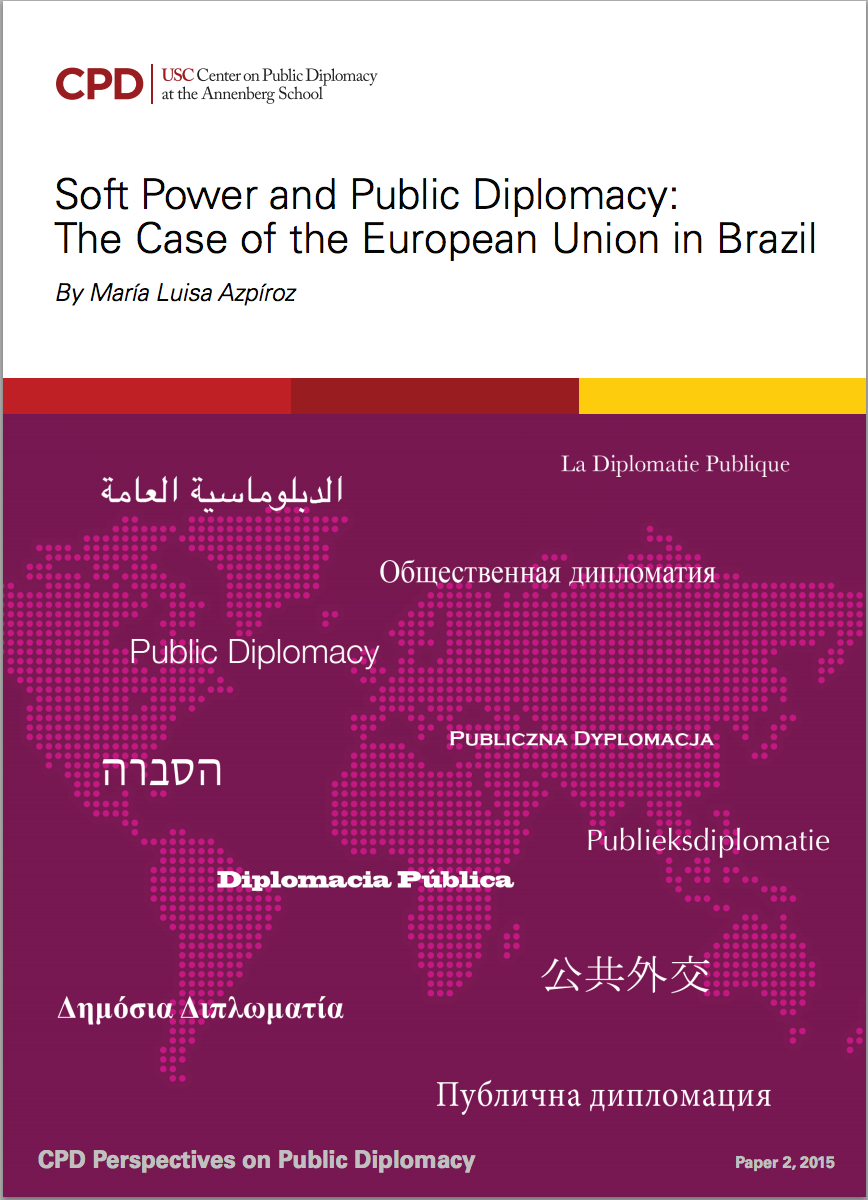 SOFT POWER AND PUBLIC DIPLOMACY: THE CASE OF THE EUROPEAN UNION IN BRAZIL
María Luisa Azpíroz
Paper 2, 2015 (March)
---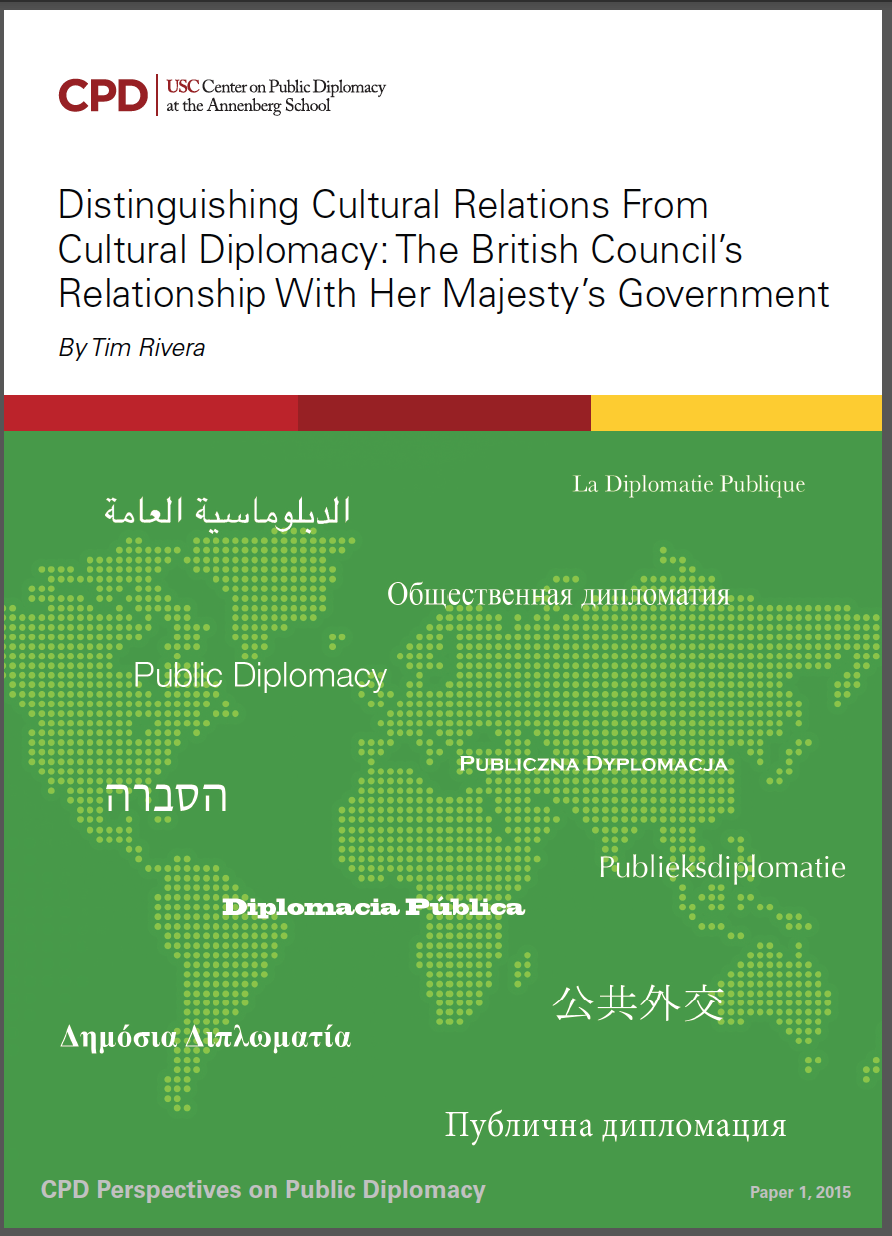 DISTINGUISHING CULTURAL RELATIONS FROM CULTURAL DIPLOMACY: THE BRITISH COUNCIL'S RELATIONSHIP WITH HER MAJESTY'S GOVERNMENT
Tim Rivera
Paper 1, 2015 (January)
---
CONFUCIUS INSTITUTES AND THE GLOBALIZATION OF CHINA'S SOFT POWER
R.S. Zaharna, Jennifer Hubbert, and Falk Hartig
Paper 3, 2014 (September)
---
DE-AMERICANIZING SOFT POWER DISCOURSE?
Daya Thussu
Paper 2, 2014 (April)
---
BRITAIN'S INTERNATIONAL BROADCASTING
Rajesh Mirchandani and Abdullahi Tasiu Abubakar
Paper 1, 2014 (January)
---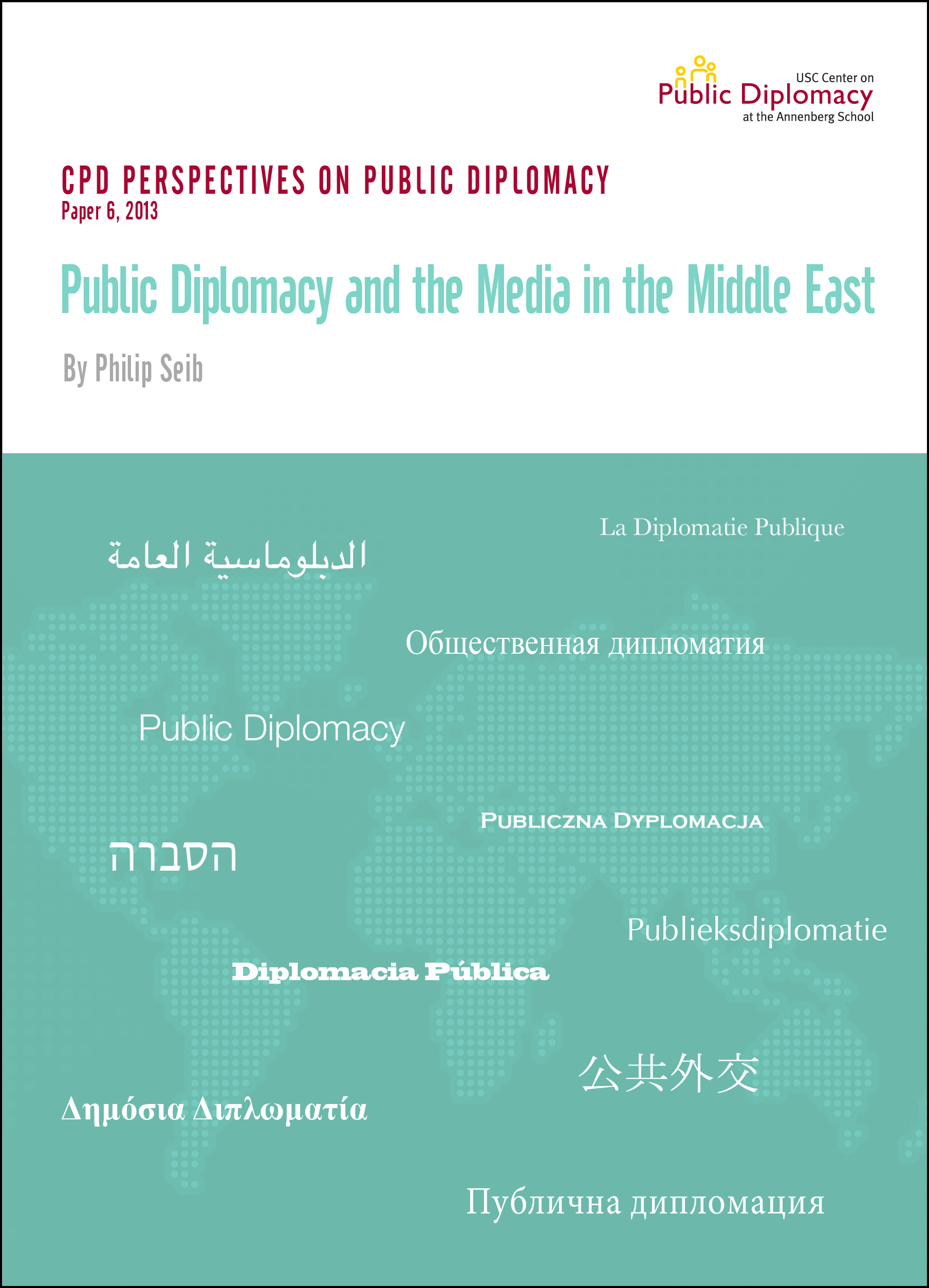 PUBLIC DIPLOMACY AND THE MEDIA IN THE MIDDLE EAST
Philip Seib
Paper 6, 2013 (August)
---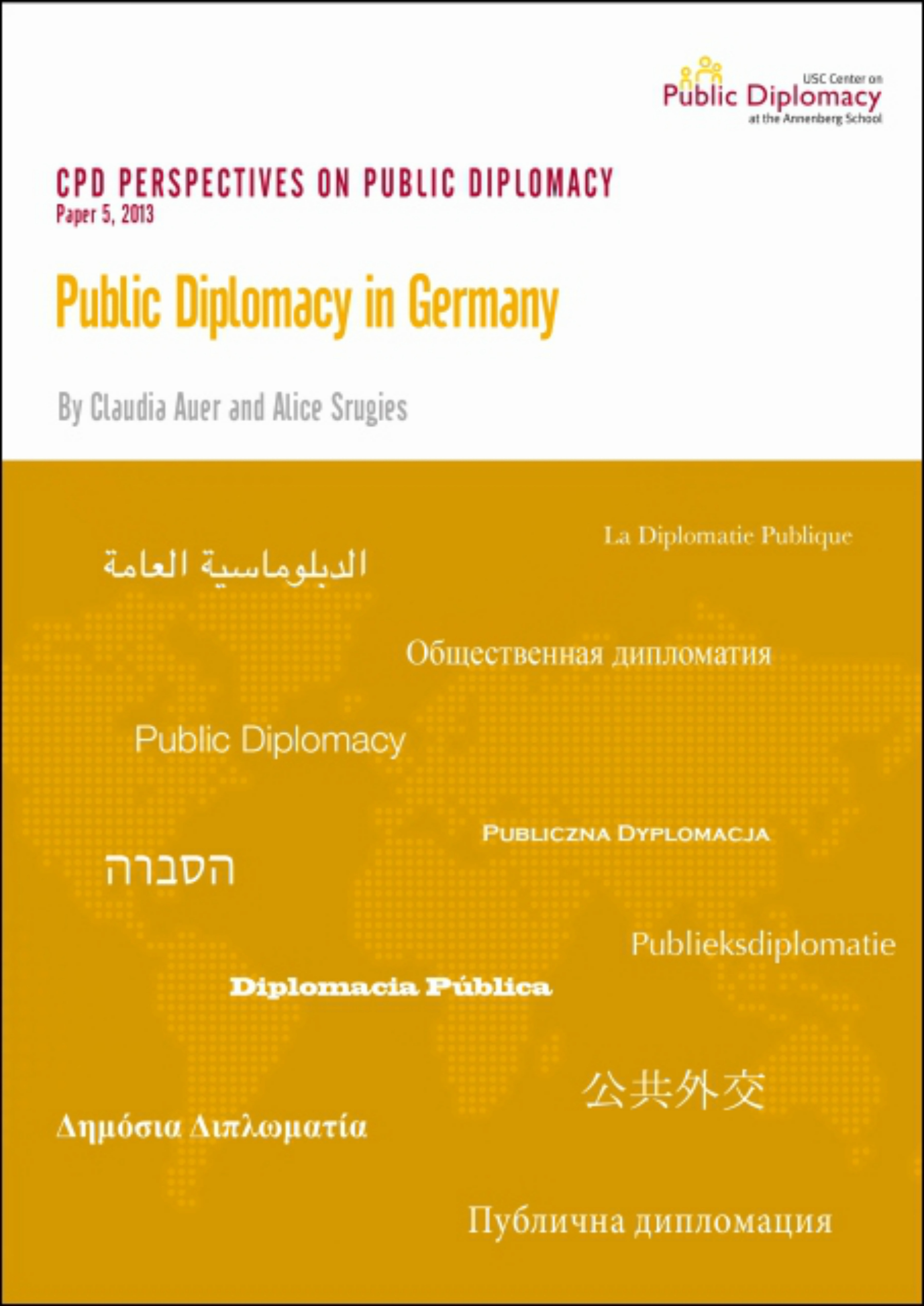 PUBLIC DIPLOMACY IN GERMANY
Claudia Auer and Alice Srugies
Paper 5, 2013 (June)
---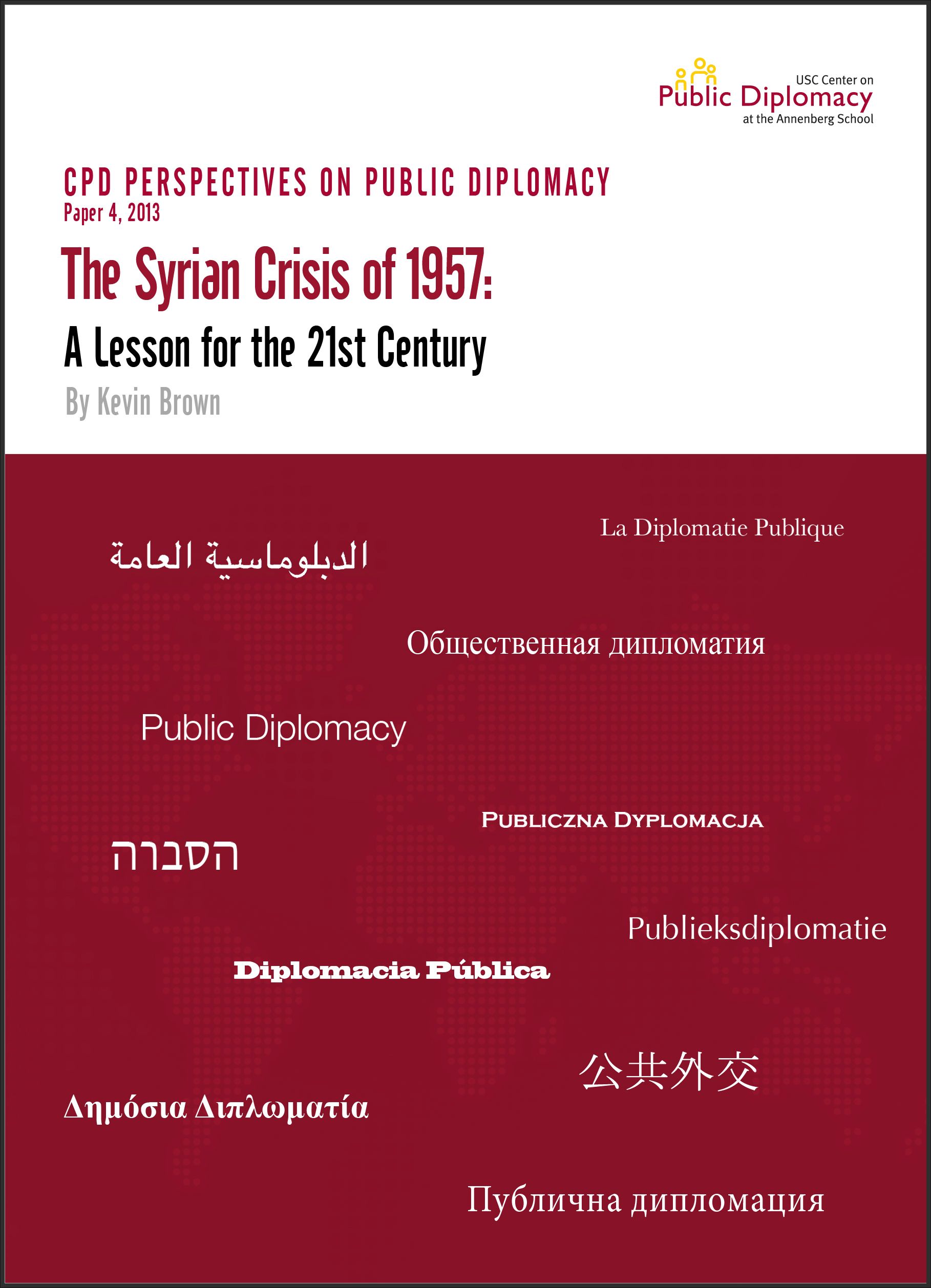 THE SYRIAN CRISIS OF 1957: A LESSON FOR THE 21st CENTURY
Kevin Brown
Paper 4, 2013 (May)
---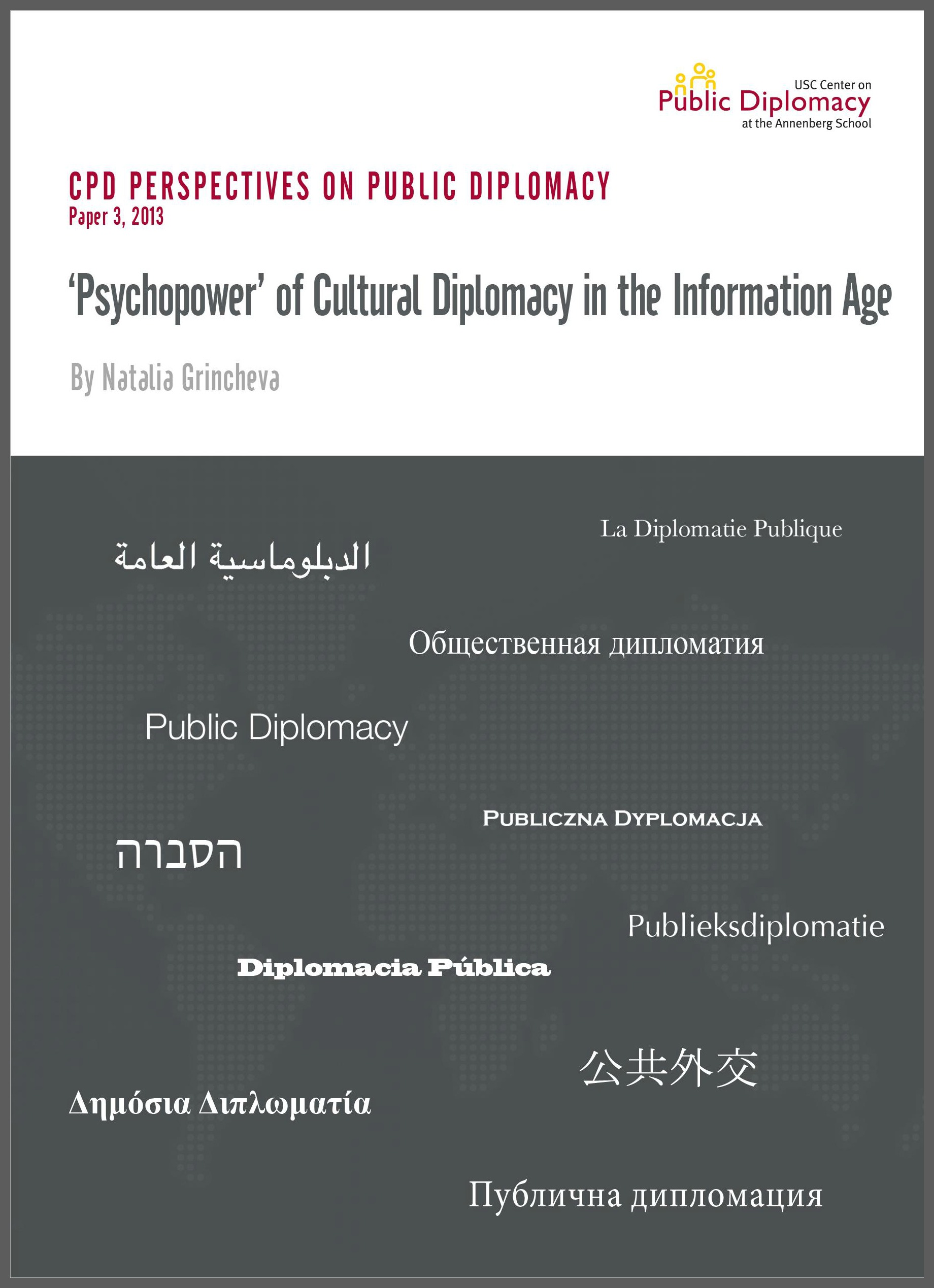 'PSYCHOPOWER' OF CULTURAL DIPLOMACY IN THE INFORMATION AGE
Natalia Grincheva
Paper 3, 2013 (April)
---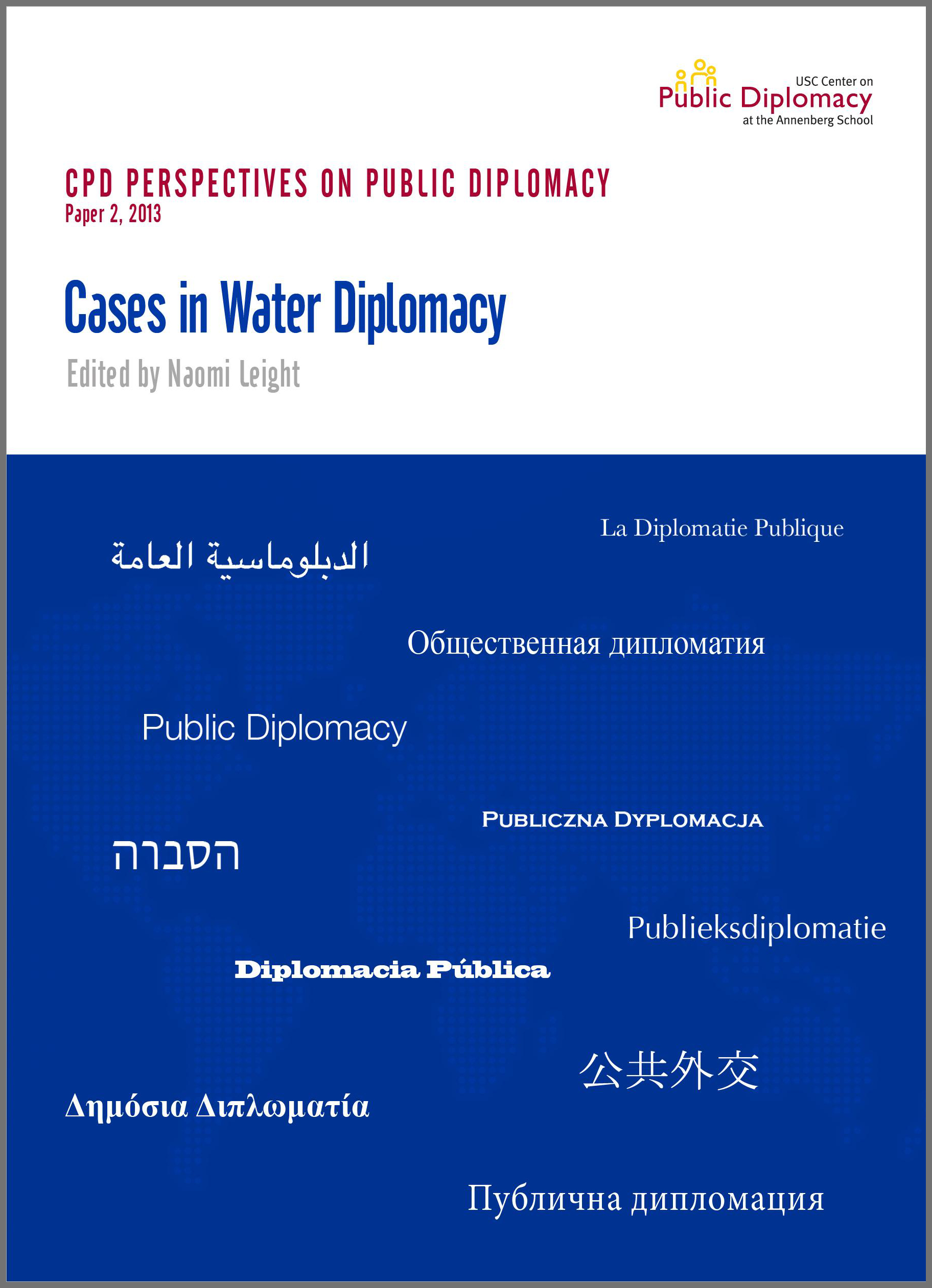 CASES IN WATER DIPLOMACY
Edited by Naomi Leight
Paper 2, 2013 (March)
---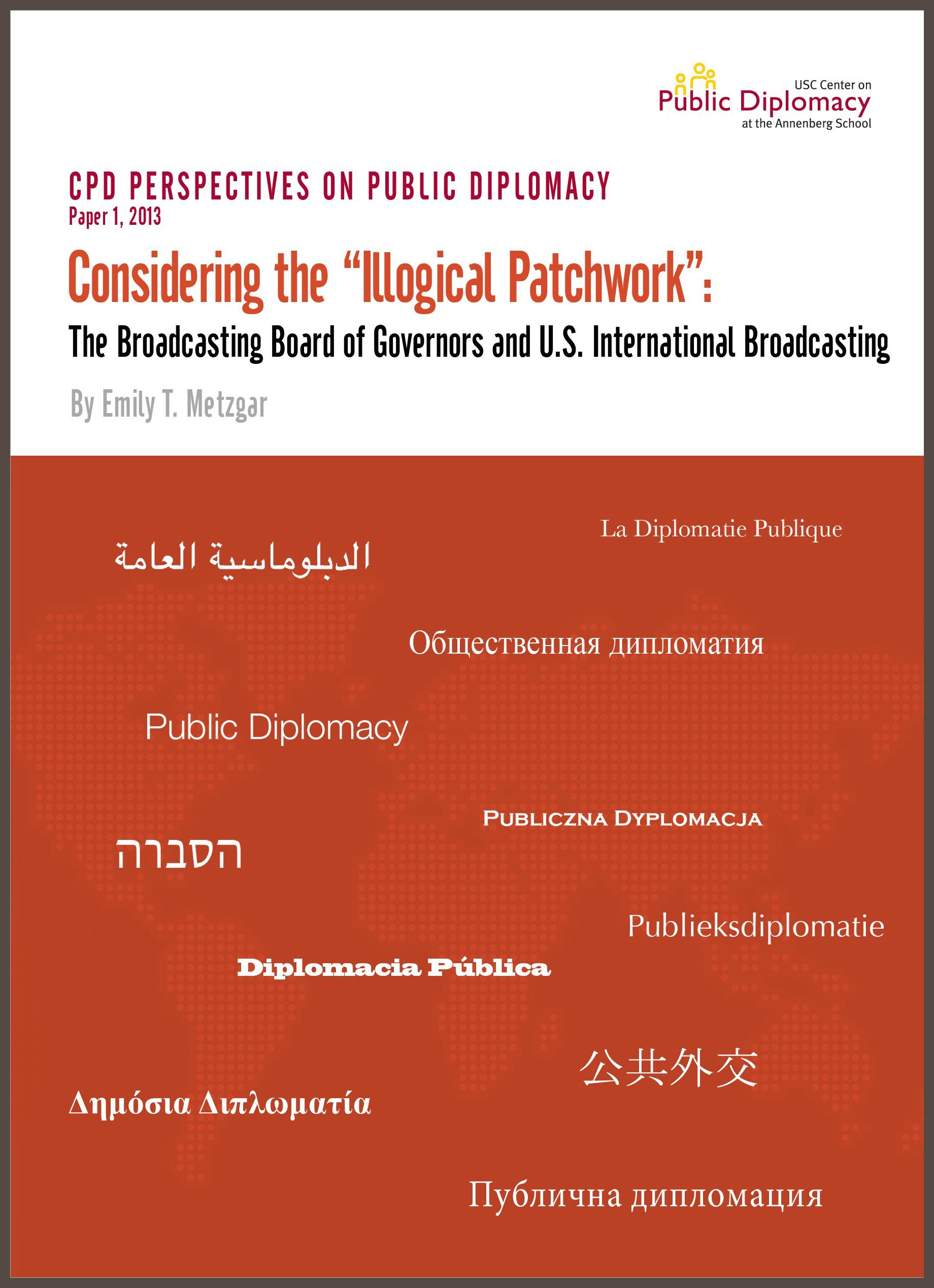 CONSIDERING THE "ILLOGICAL PATCHWORK": THE BROADCASTING BOARD OF GOVERNORS AND U.S. INTERNATIONAL BROADCASTING
Emily T. Metzgar
Paper 1, 2013 (February)
---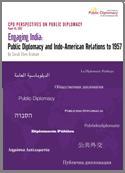 ENGAGING INDIA: PUBLIC DIPLOMACY AND INDO-AMERICAN RELATIONS TO 1957
Sarah Ellen Graham
Paper 10, 2012 (November)
---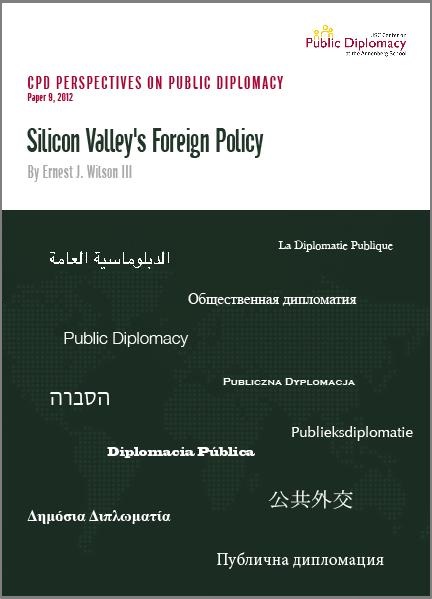 SILICON VALLEY'S FOREIGN POLICY
Ernest J. Wilson III
Paper 9, 2012 (October)
---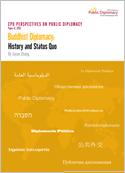 BUDDHIST DIPLOMACY: HISTORY AND STATUS QUO
Juyan Zhang
Paper 8, 2012 (September)
---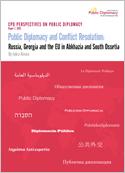 PUBLIC DIPLOMACY AND CONFLICT RESOLUTION: RUSSIA, GEORGIA AND THE EU IN ABKHAZIA AND SOUTH OSSETIA
Iskra Kirova
Paper 7, 2012 (August)
---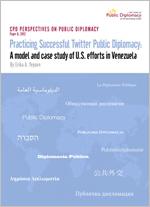 PRACTICING SUCCESSFUL TWITTER PUBLIC DIPLOMACY: A MODEL AND CASE STUDY OF U.S. EFFORTS IN VENEZUELA
Erika A. Yepsen
Paper 6, 2012 (July)
---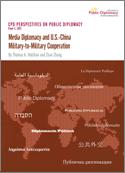 MEDIA DIPLOMACY AND U.S.-CHINA MILITARY-TO-MILITARY COOPERATION
Thomas Hollihan and Zhan Zhang
Paper 5, 2012 (June)
---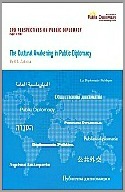 THE CULTURAL AWAKENING IN PUBLIC DIPLOMACY
R.S. Zaharna
Paper 4, 2012 (April)
---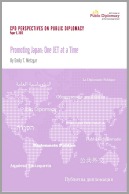 PROMOTING JAPAN: ONE JET AT A TIME
Emily T. Metzgar
Paper 3, 2012 (March)
---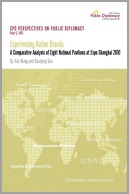 EXPERIENCING NATION BRANDS: A COMPARATIVE ANALYSIS OF EIGHT NATIONAL PAVILIONS AT EXPO SHANGHAI 2010
Jay Wang and Shaojin Sun
Paper 2, 2012 (February)
---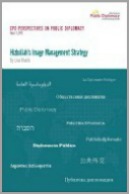 HIZBULLAH'S IMAGE MANAGEMENT STRATEGY
Lina Khatib
Paper 1, 2012 (January)
---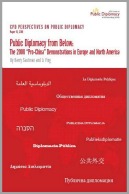 PUBLIC DIPLOMACY FROM BELOW: THE 2008 "PRO-CHINA" DEMONSTRATIONS IN EUROPE AND NORTH AMERICA
Barry Sautman and Li Ying
Paper 11, 2011 (December)
---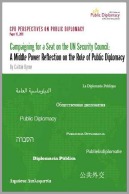 CAMPAIGNING FOR A SEAT ON THE UN SECURITY COUNCIL: A MIDDLE POWER REFLECTION ON THE ROLE OF PUBLIC DIPLOMACY
Caitlin Byrne
Paper 10, 2011 (December)
---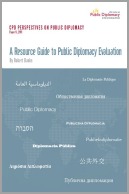 A RESOURCE GUIDE TO PUBLIC DIPLOMACY EVALUATION
Robert Banks
Paper 9, 2011 (November)
---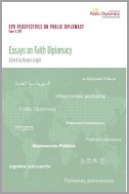 ESSAYS ON FAITH DIPLOMACY
Edited by Naomi Leight
Paper 8, 2011 (November)
---
A STRATEGIC APPROACH TO U.S. PUBLIC DIPLOMACY
Barry A. Sanders
Paper 7, 2011 (October)
---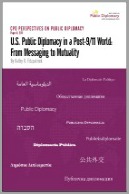 U.S. PUBLIC DIPLOMACY IN A POST-9/11 WORLD: FROM MESSAGING TO MUTUALITY
Kathy R. Fitzpatrick
Paper 6, 2011 (September)
---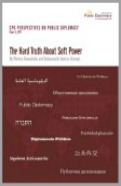 THE HARD TRUTH ABOUT SOFT POWER
Markos Kounalakis and Ambassador Andras Simonyi
Paper 5, 2011 (August)
---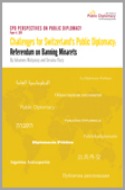 CHALLENGES FOR SWITZERLAND'S PUBLIC DIPLOMACY: REFERENDUM ON BANNING MINARETS
Ambassador Johannes Matyassy and Seraina Flury
Paper 4, 2011 (June)
---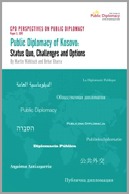 PUBLIC DIPLOMACY OF KOSOVO: STATUS QUO, CHALLENGES AND OPTIONS
Martin Wählisch and Behar Xharra
Paper 3, 2011 (April)
---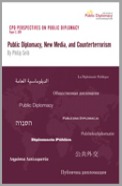 PUBLIC DIPLOMACY, NEW MEDIA, AND COUNTERTERRORISM
Philip Seib
Paper 2, 2011 (March)
---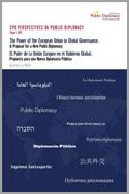 THE POWER OF THE EUROPEAN UNION IN GLOBAL GOVERNANCE: A PROPOSAL FOR A NEW PUBLIC DIPLOMACY (Bilingual EN/SP)
Teresa La Porte
Paper 1, 2011 (February)
---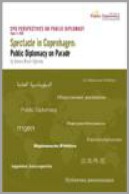 SPECTACLE IN COPENHAGEN: PUBLIC DIPLOMACY ON PARADE
Donna Marie Oglesby
Paper 4, 2010 (December)
---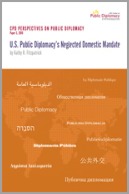 U.S. PUBLIC DIPLOMACY'S NEGLECTED DOMESTIC MANDATE
Kathy R. Fitzpatrick
Paper 3, 2010 (October)
---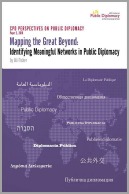 MAPPING THE GREAT BEYOND: IDENTIFYING MEANINGFUL NETWORKS IN PUBLIC DIPLOMACY
Ali Fisher
Paper 2, 2010 (April)
---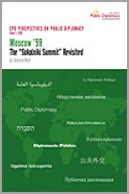 MOSCOW '59: THE "SOKOLNIKI SUMMIT" REVISITED
Andrew Wulf
Paper 1, 2010 (January)
---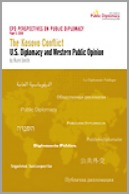 THE KOSOVO CONFLICT: U.S. DIPLOMACY AND WESTERN PUBLIC OPINION
Mark Smith
Paper 3, 2009 (December 2009)
---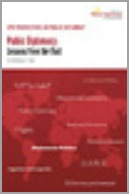 PUBLIC DIPLOMACY: LESSONS FROM THE PAST
Nicholas J. Cull
Paper 2, 2009 (October 2009)
---
AMERICA'S NEW APPROACH TO AFRICA: AFRICOM AND PUBLIC DIPLOMACY
Philip Seib
Paper 1, 2009 (September 2009)