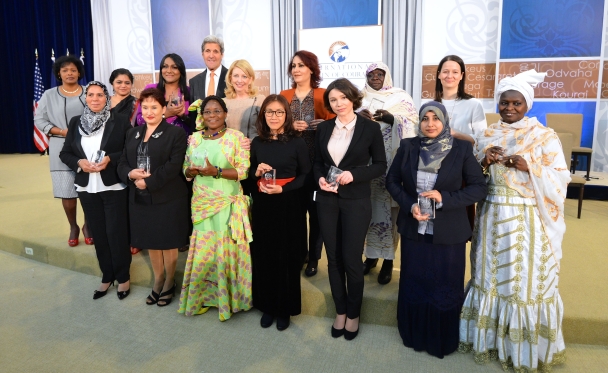 2016 International Women of Courage Awards
Co-sponsored with IVCLA and USC IDEA
Established in 2007, the annual Secretary of State's International Women of Courage Award honors women around the globe who have exemplified exceptional courage and leadership in advocating for human rights, women's equality, and social progress, often at great personal risk. This is the only U.S. Department of State award that pays tribute to emerging women leaders worldwide.
This year, eleven of the 14 recipients of the International Women of Courage Award, from various regions of the world including Africa, East Asia and the Pacific Islands, Europe and Eurasia, the Near East, South and Central Asia, and Latin America, came to CPD. Three of the honorees shared their experiences about overcoming challenges they face as women in their countries, their triumphs and accomplishments, and their future goals. Ambassador Catherine M. Russell of the U.S. Department of State Office of Global Women's Issues provided remarks at the event. Her office works to promote stability, peace, and development by empowering women politically, socially, and economically around the world.  Click here to read the full announcement.
To find out more about these women follow this link to read their bios.
Stefanie von Hlatky, Canada-U.S. Fulbright Visiting Research Chair in Public Diplomacy, assistant professor of political studies at Queen's University, and Director of the Queen's Centre for International and Defence Policy (CIDP) moderated the discussion.
Visit CPD's Online Library
Explore CPD's vast online database featuring the latest books, articles, speeches and information on international organizations dedicated to public diplomacy.