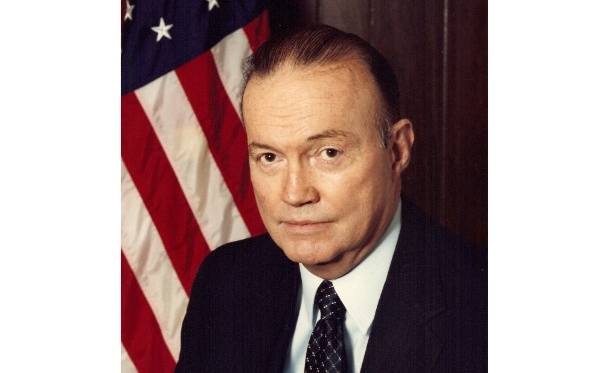 Breakfast with David M. Abshire
David Abshire describes strategy for successful Public Diplomacy at CPD Breakfast
>>> Watch a video of the event here <<<
Download talk Real Player version (streaming)
Download talk Windows Media version
February 3, 2005: More direct personal leadership and an eye to lessons from the past were foremost among many needed changes laid out by the former diplomat in a talk entitled "A Success Strategy for Winning Minds in the War on Terror."
Ambassador David Abshire, president of the Center for the Study of the Presidency and former US ambassador to NATO, presented his talk to a packed room at the Public Diplomacy Breakfast held at the USC Annenberg School for Communication.
He proposed that the government needs to create a 'strategic counselor' to the president akin to the former role of Director of the US Information Agency as one way to regain the "special culture" of public diplomacy that used to exist during the Cold War. "We changed attitudes," Abshire said, "and we've lost that."
Other important "pillars" of the Ambassador's strategy for successful public diplomacy include investment in technology and education to create more specialists in the discipline, embracing the vibrant Muslim community in the US, and making better use of allies and international organizations abroad.
Lastly, Ambassador Abshire argued that we must overcome our differences here at home. "You cannot give international leadership if you are as divided as we are today," he said.
Overall more than 50 faculty, staff and students of the USC School of International Relations, Annenberg School for Communication, and other university departments listened to the talk and joined in the discussion that followed. Ambassador Abshire also took questions from representatives of the consulates of Canada, Turkey, Israel and Romania, who were in attendance.
Ambassador David M. Abshire is president of the Center for the Study of the Presidency and vice chairman of the board of the bipartisan Center for Strategic and International Studies in Washington, D.C., for which he is also chairman of the Capital Development Committee. He served as U.S. Ambassador to NATO from 1983-1987 and as special counselor to President Reagan.
-- Report by Gordon Douglas
Visit CPD's Online Library
Explore CPD's vast online database featuring the latest books, articles, speeches and information on international organizations dedicated to public diplomacy.