Consul General of Egypt, Abderahman Salaheldin
USC Center on Public Diplomacy
welcomed
Ambassador Abderahman Salaheldin, Consul General of Egypt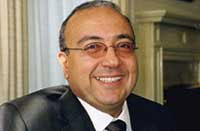 for a discussion on
"The Role of Cultural and Educational Interactions in Building Egyptian-American Partnerships"
Listen to this event (111:03) | download .mp3 (19MB) |

iTunes podcast

Click here to view photos of this event.
The USC Center on Public Diplomacy welcomed Ambassador Abderahman Salaheldin, the Consul General of Egypt based in San Francisco, for a discussion on the role of cultural and educational interactions in building Egyptian-American partnerships.

Visit CPD's Online Library
Explore CPD's vast online database featuring the latest books, articles, speeches and information on international organizations dedicated to public diplomacy.