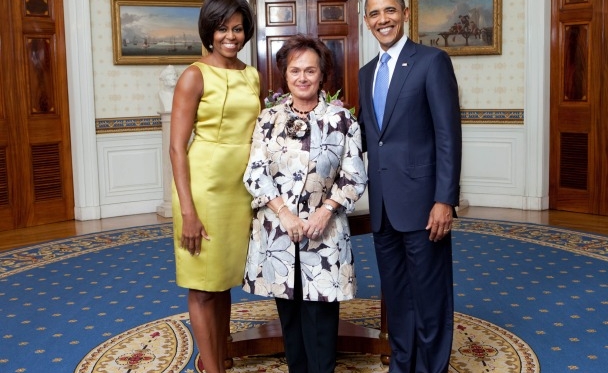 Conversations in Public Diplomacy: Ambassador Claudia Fritsche
Trust and Transparency in a Changing Global Financial Order: the Role of Liechtenstein
On October 20, 2009, the USC Center on Public Diplomacy hosted Claudia Fritsche, Ambassador of the Principality of Liechtenstein to the United States, for a private discussion on the trust and transparency in a changing global financial order and the role of Liechtenstein. The session was attended by graduate students and faculty of the Master of Public Diplomacy program. A summary of the discussion is included below.
To read the full transcript of her talk, follow this link.
SUMMARY
Ambassador Fritsche began her talk by saying that she did not blame anyone for not knowing too much about Liechtenstein. (It is the size of Washington DC, and has a population of about 36,000.) But, as she said, "size is relative." The Ambassador explained her country's contribution to the global financial economy. Liechtenstein is probably best known as an international financial center. Private banking, wealth management and related services are key to its economy. But she assured her audience that it is not Liechtenstein's only industry. In fact, 40% of the country's GDP is generated by manufacturing, while close to 30% by financial services. Ambassador Fritsche explained the importance of ensuring that the financial services offered by Liechtenstein are not being misused. Following September 11, the country has focused on doing its part to stop the financing of terrorism. She also highlighted its commitment to "transparency and exchange of information in tax matters as developed by the OECD (Organization for Economic Cooperation and Development) and its mission to advance its participation in international efforts to counteract non-compliance with foreign tax laws."
Ambassador Fritsche also highlighted Liechtenstein's cooperation with the US Government in fighting financial crimes, corruption, money-laundering and asset forfeiture. "Our Financial Intelligence Unit (FIU) has been engaged in disclosing the financial network of Abdul Qadeer Kahn, the founder of Pakistan's nuclear weapons program. We have successfully worked to return to the Iraqi government a Falcon 50 airplane that used to belong to Saddam Hussein."
In discussion diplomacy and public diplomacy, Ambassador Fritsche explained her view that diplomatic relations does not merely consist of one country explaining its policies and interests to the other. She stated that it serves as an opportunity to deepen a country's knowledge of the host country. "In order to have a fruitful relationship and an effective partnership, it is essential to understand what makes a nation 'tick'. Part of our goal as an embassy in Washington is to better understand the dichotomy of the US - to better understand who you are as a people. We believe that this type of understanding plays a crucial role in conducting relations. Though we live in a time now where the Internet, not to speak of blackberries, text-messaging, blogging and twittering, all play a crucial role in communicating, nothing can outshine the importance of establishing and maintaining real people-to-people relationships. As our ability to access information grows, so does our ability to land on misinformation. Diplomacy allows nations to "cut through the static" – to mute all of this background noise, and develop and sustain channels of dialogue to foster a greater partnership."
----
ABOUT CLAUDIA FRITSCHE
Claudia Fritsche was the personal secretary of Prime Minister Dr. Alfred Hilbe from 1970 to 1974. Fritsche became a Diplomatic Officer in the Office of Foreign Affairs of the Principality of Liechtenstein in 1978. She became the Second Deputy of the Permanent Representative of Liechtenstein to the Council of Europe in Strasbourg in February 1983, First Secretary and intermittent Chargé d'Affairs a.i. of the Embassy of Liechtenstein in Berne in 1987, and First Secretary a.i. of the Embassy of Liechtenstein in Vienna in 1988. In September 1990, H.S.H. Prince Hans-Adam II of Liechtenstein appointed Claudia Fritsche as Ambassador to the United Nations in New York. She held this post until September 2002. In December 2000, she was additionally accredited as Liechtenstein Ambassador in Washington.
Visit CPD's Online Library
Explore CPD's vast online database featuring the latest books, articles, speeches and information on international organizations dedicated to public diplomacy.