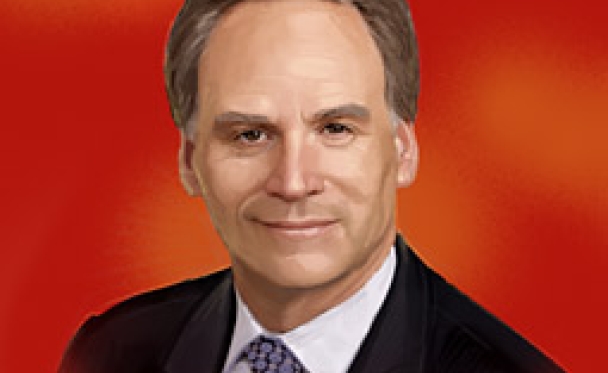 Conversations in Public Diplomacy: Harris Diamond
The Intersection of Public Relations and Public Diplomacy
On January 28, 2008, the USC Center on Public Diplomacy hosted Harris Diamond, CEO of Weber Shandwick Worldwide, for a private discussion on the intersection of public relations and public diplomacy. The session was attended by graduate students in the Master of Public Diplomacy program.
In his talk, Mr. Diamond focused on the increasing need for both companies and governments to be able to communicate their ideas and values in an effective manner to a variety of publics throughout the world. He discussed the work his firm has undertaken on behalf of the U.S. government to repair America's image overseas, including facilitating the production of videos to help improve the visa and customs experience for foreigners visiting the United States. He also commented on several of Weber Shandwick's nation branding projects, and addressed the moral dilemmas he has faced in serving clients with messages that were contrary to the values of his staff.
Mr. Diamond noted that although public diplomacy is traditionally considered to be a government-led activity, multinational corporations, international NGOs, and the American film and music industries must also remain cognizant of how they are shaping perceptions and communicating with publics abroad. As a result, those with a degree in public diplomacy will find that their skill set meets a growing need for organizations in the private and non-profit sectors who operate on a transnational scale in the twenty first century.
----
ABOUT HARRIS DIAMOND
Harris Diamond serves as CEO of the Constituency Management Group of the Interpublic Group of Companies (NYSE: IPG). The group includes IPG companies in the areas of public relations, public affairs, sports and entertainment marketing, corporate/brand identity and experiential marketing. The group's companies include Jack Morton Worldwide, GolinHarris, FutureBrand, Octagon, DeVries Public Relations, MWW Group and Rogers & Cowan. They provide services on six continents, in more than 60 major cities and have approximately 5,000 employees.
Harris is also chief executive officer of Weber Shandwick Worldwide, the world's leading public relations firm. Weber Shandwick has received numerous industry honors and accolades for its work including being named Agency of the Year in the U.S., Europe and Asia. Weber Shandwick offers a full spectrum of communications services - corporate consulting, public relations, investor/financial relations, marketing communications, public affairs, government relations, attitudinal research and advocacy advertising. PRWeek has selected Harris as "PR Professional of the Year, 2000" and one of the "100 most influential PR people in the 20th century."
Regarded as one of the industry's leading experts in corporate and industry positioning, Harris has counseled Fortune 500 companies that were undergoing profound changes or facing intense public scrutiny. While specializing in crisis and change management, he also provides ongoing strategic communications counsel to an array of clients, including several industry and trade associations.
Harris is a member of the board of directors of the Business for Diplomatic Action, a not-for-profit group focused on how businesses can work together to enhance America's image abroad; and the Ronald McDonald House of New York. He is also on the board of councilors of the University of Southern California's Annenberg School for Communication and is the past chairman of the Council of Public Relations Firms, the U.S. trade association for public relations agencies.
Previously, he served as a political campaign consultant, working on U.S. gubernatorial and senatorial campaigns, and advising foreign governments and political parties. He has held senior positions in the public sector. Harris holds both MBA and JD degrees, and is a member of the New York State Bar. He frequently speaks on management of corporate reputation and crises at industry and company forums.
Visit CPD's Online Library
Explore CPD's vast online database featuring the latest books, articles, speeches and information on international organizations dedicated to public diplomacy.