Duncan MacInnes, Director of the State Dept's Foreign Press Centers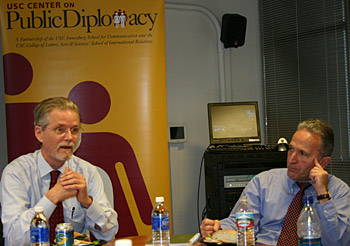 Director of State Dept. Foreign Press Centers Duncan MacInnes and USC diplomat-in-residence Stephen Seche
The USC Center on Public Diplomacy presented a lunchtime conversation with Duncan MacInnes, the director of the U.S. State Department's Foreign Press Centers.
The State Deptartment's Foreign Press Centers, the largest of which is in Washington, with smaller versions in LA and NY. The centers provide resources to intl. journalists working in the US, including regular briefings by senior USG officials, organized trips throughout the U.S. to familiarize them with important issues and, where needed, work space. Duncan is a career diplomat and a senior Public Diplomacy officer with extensive field experience. He has recently been asked by Karen Hughes to lead an inter-agency effort to come up with a reinvigorated PD counter-terrorism strategy.
Visit CPD's Online Library
Explore CPD's vast online database featuring the latest books, articles, speeches and information on international organizations dedicated to public diplomacy.