Karen Hughes and Dina Powell Visit USC Center on Public Diplomacy
The USC Center on Public Diplomacy welcomed U.S. Undersecretary of State for Public Diplomacy Karen Hughes and her deputy Dina Powell, the assistant secretary of state for educational and cultural affairs, at the CPD offices.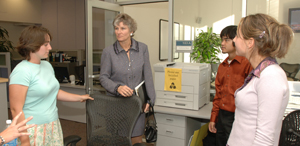 (l-r): Elizabeth Kuhn - CPD Intern; Karen Hughes; Adrian Santos - student; Iskra Kirova - CPD intern.

(l-r): Karen Hughes; Sherine Walton - Annenberg School for Communication Director of Development; Geoffrey Cowan - dean. Annenberg School for Communication.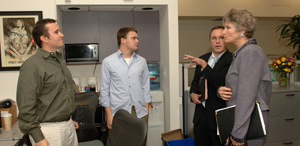 (l-r): Post-doctoral Fellow Craig Hayden; Ph.D student Shawn Powers; CPD Director Joshua Fouts; Karen Hughes.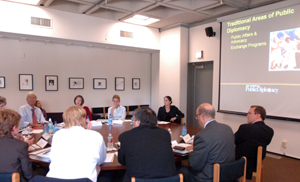 (clockwise from bottom right): Joshua Fouts; Adam Clayton Powell III - Director of Integrated Media Systems Center; Jeffrey Cole - Director of Center for the Digital Future; Jonathan Taplin - Professor, Annenberg School for Communication; Johanna Blakley - Assistant Director, Norman Lear Center; Geoffrey Cowan; Tori Horton - Assistant to the CPD Director; Amelia Arsenault - Wallis Annenberg Graduate Research Fellow; J.C. Herz - CPD Fellow.

Visit CPD's Online Library
Explore CPD's vast online database featuring the latest books, articles, speeches and information on international organizations dedicated to public diplomacy.