Literature & Diplomacy: Bringing Italian Literature to the U.S.
CPD Deputy Director Sherine B. Walton and U.S. Diplomat-in-Residence Stephen Seche hosted a discussion featuring:
Claudio Magris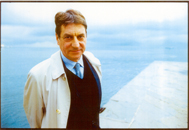 Magris, a critic, essayist, and scholar will be discussing his work Voices: Three Plays which has recently been translated into English. He is the recipient of several literary awards.
More information can be found on the flyer for this event.
Click here to RSVP.
Visit CPD's Online Library
Explore CPD's vast online database featuring the latest books, articles, speeches and information on international organizations dedicated to public diplomacy.