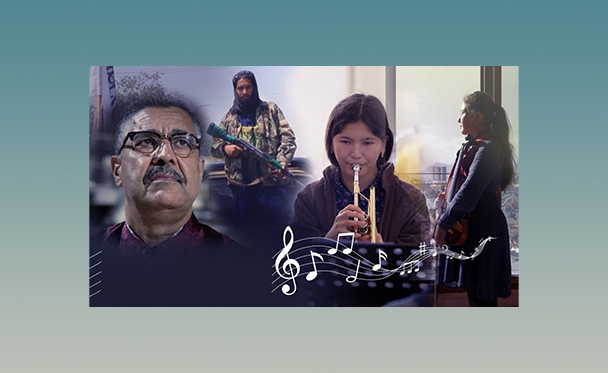 Music Diplomacy for Afghanistan: Symphony of Courage
In 2021, the Taliban gained control over the Afghan government and transformed the Afghanistan National Institute of Music (ANIM) into military barracks. Ahmad Sarmast, founder and director of ANIM, worked with an international team of philanthropists, politicians and musicians to bring young music students to safety.
Symphony of Courage, a 30-minute documentary film produced by Voice of America (VOA), tells the story of Farida and Zohra Ahmadi, the last students of ANIM to be evacuated from the country. ANIM was the country's only music school and home to the world-renowned Zohra Orchestra, Afghanistan's first all-female ensemble. After a brief period in Qatar, the group traveled together to Portugal, their new home, where they now perform their music in a free and open society.
On October 25 we hosted a screening of Symphony of Courage and a conversation with ANIM Director Ahmad Sarmast and the film's director Beth Mendelson.
Visit CPD's Online Library
Explore CPD's vast online database featuring the latest books, articles, speeches and information on international organizations dedicated to public diplomacy.