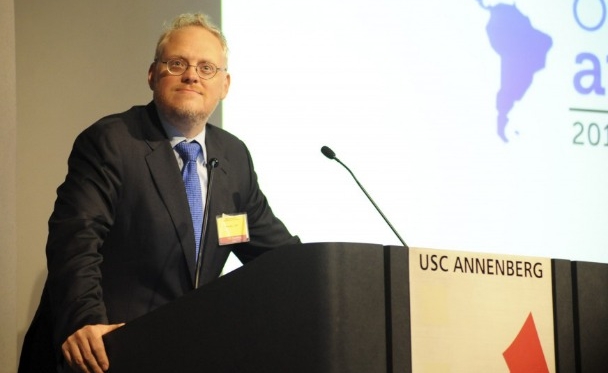 Nicholas J. Cull Lecture on Public Diplomacy
Nicholas Cull Spoke of Past Problems and New Hope
January 19, 2005: Despite some current worries and new challenges, there is great reason to be hopeful for the future of public diplomacy, said CPD special guest Dr. Nicholas Cull at USC Annenberg on Tuesday.
"We must be aware of new competitors, new alliances, new opportunities, new players, new methods of communication, and new ways of living," he said, arguing that in order to move public diplomacy into the future and confront current problems such as inadequate structure and methods we must be aware of its history.
A professor of American Studies at Britain's University of Leicester, Dr. Cull also said that public diplomacy must always aim for mutuality, with both sides speaking and listening, a always a goal of a better relationship.
The talk was titled "Rethinking Public Diplomacy: 10 Lessons from its History." Included among these lessons are that the US has often been skeptical of using it as a tool, that public diplomacy and that, while distinct in some ways, it cannot be separate from a broader foreign policy.
Dr. Cull also explained that successful public diplomacy requires a special sort of leadership, of the sort provided by former USIA director Charles Z. Wick, who was in attendance.
Overall more than 50 faculty, staff and students of the USC School of International Relations, Annenberg School for Communication, and other university departments and research centers listened to the talk and joined in the discussion that followed.
Dr. Nicholas J. Cull, director of the Centre for American Studies at the University of Leicester, is co-editor of Propaganda and Mass Persuasion: A Historical Encyclopedia and author of Selling War: The British Propaganda Campaign Against American 'Neutrality' in World War II and the forthcoming US Propaganda and Public Diplomacy Overseas Since 1945.
-- Report by Gordon Douglas
Visit CPD's Online Library
Explore CPD's vast online database featuring the latest books, articles, speeches and information on international organizations dedicated to public diplomacy.