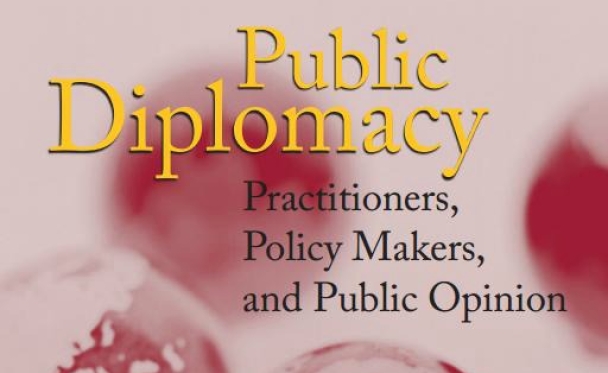 The Public Diplomacy and World Public Opinion Forum
The Public Diplomacy and World Public Opinion Forum evolved out of a desire to provide a platform for cross-fertilization between academics, practitioners and public opinion pollsters. The Forum took place between April 9-11, 2006 in Washington D.C. and was co-chaired by Geoffrey Cowan, former Dean of the Annenberg School; Joshua Fouts, former Executive Director of the Center on Public Diplomacy; and Andrew Kohut, President of the Pew Research Center.
The conference was attended by leading pollsters, politicians and academics working in the field of public Diplomacy including: Christine Kojac of the U.S. House of Representatives Appropriations Committee; Mark Helmke, Senior Professional Staff Member of the U.S. Senate Foreign Relations Committee; and Jeremy Curtin, Principal Deputy Coordinator for the Bureau of International Information Programs at the U.S. Department of State; among many others. Pollsters in attendance included: Angus Reid, President of Angus Reid Consultants; Mary McIntosh of Princeton Survey Research; Gerry Power, Director of the Research and Learning Group of the BBC World Service Trust; and Fares Braizat, Researcher and Coordinator for the Opinion Polling Unit of the Center for Strategic Studies in Amman, Jordan. Among those representing the academic community were Ernest Wilson, current dean of the Annenberg School and former senior staffer in the Clinton administration; Philip Seib, journalism professor and author of many books including Broadcasts from the Blitz: How Edward R. Murrow Helped Lead America to War (Potomac Books 2006); and Peter Mandaville, Director of the Center for Global Studies at George Mason University. Over these three days, these distinguished guests from around the world met in a series of seven sessions focusing on the following key themes:
The Relationship Between Polling and Public Diplomacy
How Pollsters View Public Diplomacy
How Practitioners View Public Opinion and Polling
How to Improve Public Opinion Research
Identifying the Target Audience
Degree Versus Direction
Disaggregate Objects of Opinion
Moving Beyond Polling
How Practitioners Can Better Utilize Public Opinion Research
"The Say-Do Gap"
Successfully Engage the Media
Drawing on Past Examples of Successful Practices
Develop a More Nuanced Understanding of Polling Data
Increase Polling Resources and Coordination
View the Center's full Conference Report here
Visit CPD's Online Library
Explore CPD's vast online database featuring the latest books, articles, speeches and information on international organizations dedicated to public diplomacy.