Public Diplomacy Fall Speaker Series
With John Brown, Ann Wright and Brady Kiesling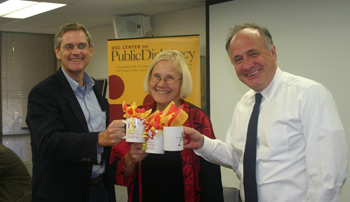 John Brown and his colleagues Brady Kiesling and Ann Wright visited the USC Center on Public Diplomacy for a roundtable discussion of "Anti-Americanism in the World Today." They explored why there is anti-Americanism in the world and what can be done about it -- including whether public diplomacy can be a tool in such an effort. Brown, Kiesling, and Wright, are career Foreign Service Officers who resigned over the war in Iraq in 2003. Brown is a Senior Fellow at USC Center on Public Diplomacy, where he regularly publishes the "
Public Diplomacy Press and Blog Review
."

Click here to listen to audio of this event (45mb MP3, 1:39:45)


Click here to download the podcast in iTunes.


Click here to view photos of this event.
Wednesday, September 27, 2006
12:00 pm
ASC 240
John Brown
John Brown is currently associated with the Institute for the Study of Diplomacy at Georgetown University, where he has taught courses about public diplomacy. A consultant for the Library of Congress's "Open World" exchange program with the Russian Federation, he has written for The Washington Post, The Nation on line, TomPaine.com, The Moscow Times, and American Diplomacy.
Brown, who received a Ph.D. in Russian History from Princeton University in 1977, was a member of the U.S. Foreign Service from 1981 until March 10, 2003 and has served in London, Prague, Krakow, Kiev, Belgrade and Moscow. He is co-author (with S. Grant) of The Russian Empire and the Soviet Union: A Guide to Archival and Manuscript Materials in the United States. His other published writings include research on Russian history as well as articles in the Polish and Serbian press. He is currently writing a book on Propaganda and U.S. Foreign Policy.
Ann Wright
Ann Wright resigned from the U.S. Foreign Service on March 19, 2003, while serving as Deputy Chief of Mission at the US Embassy in Mongolia. She resigned due to her disagreement with the Bush administration's decision to go to war in Iraq without the authorization of the UN Security Council, the lack of effort in resolving the Israel-Palestinian situation, the lack of policy on North Korea and unnecessary curtailment of civil liberties in the United States.
Ms. Wright joined the Foreign Service in 1987 and served as Deputy Chief of Mission of US Embassies in Sierra Leone, Micronesia and briefly in Afghanistan. She received the State Department's Award for Heroism for her actions during the evacuation of 2500 persons from the civil war in Sierra Leone, the largest evacuation since the evacuation of Saigon in 1974.
Ms. Wright was on the first State Department team to go to Kabul, Afghanistan. She helped reopen the US Embassy in Kabul in December, 2001 and worked in Afghanistan for five months, serving in the last month as Deputy Chief of Mission (Deputy Ambassador).
Ms. Wright's other overseas assignments include Somalia with both the US mission and as chief of the Justice Division (reconstituting the Somali police, judicial and prison systems) of the United Nations Mission to Somalia (UNOSOM). She also served in US Embassies in Uzbekistan, Kyrgyzstan, Grenada, Micronesia and Nicaragua.
Before entering the Foreign Service, she served in the Army and has a combined regular Army/Army Reserve service time of 29 years. She served primarily in special operations units and attained the rank of colonel. While on military duty in 1982 and 1983 in Grenada, she was on the US Army's International Law team and participated in civil reconstruction work following the U.S. "rescue" mission. Colonel Wright is airborne qualified.
Ms. Wright has Master's and Law Degrees from the University of Arkansas and a Master's Degree in National Security Affairs from the US Naval War College, Newport, Rhode Island. Ms. Wright has been featured in articles in the Washington Post magazine, Government Executive magazine, Foreign Service Journal, Ms magazine and has been interviewed by radio and TV networks. In 2003, she participated in the documentary film "Uncovered: The Truth About the Iraq War" and in June 2005 provided oral and written testimony to the U.S. Congressional hearing on the importance of the Downing Street memos.
In August 2005 Ms. Wright spent 26 days in the ditches at Camp Casey, Crawford, Texas with Cindy Sheehan putting pressure on President Bush to answer the question of why the war on Iraq is a "noble" cause. She was a speaker on one of three buses that left Crawford traveling though the eastern United States that met in Washington, DC for the September 24-26 anti-war weekend. Ms. Wright was arrested on September 27, 2005 with 372 others for demonstrating without a permit in a peaceful, non-violent end-the-war protest in front of the White House. She was also arrested on October 26 in front of the White House during the commemoration of the deaths of 2000 US service members and over 100,000 Iraqis. She was also arrested on November 23, 2005 in Crawford, TX to challenge a restrictive ordinance that prohibited use of the ditches for camping.
Ms. Wright lives in Honolulu, Hawaii. She writes on current US foreign policy and speaks to university classes and civic groups in the United States and internationally.
Brady Kiesling
Current Position: Freelance writer/lecturer, with a monthly foreign policy column in the Athens News (Greece).
Career: Joined the Foreign Service of the U.S. Department of State in April 1983. Resigned publicly in February 2003 to protest the damage done to U.S. interests and alliances by Bush Administration foreign policy, particularly the war with Iraq.
2003-2004 Visiting lecturer, Woodrow Wilson School of Public and International Affairs and fellow in the Hellenic Studies Program, Princeton University. Taught one course: "U.S.-EU Relations and the Case of Greece, Turkey and Cyprus"
2000-2003 Political Counselor, U.S. Embassy Athens, Greece. Managed a Political Section of eight diplomats and local staff, reporting through the Deputy Chief of Mission to the Ambassador. Expertise: U.S.-Greek relations, Greek internal politics, counterterrorism, conflict management (Greece-Turkey-Cyprus, Balkans), human rights, and Greece's 2003 EU Presidency.
1999-2000 Deputy U.S. Special Negotiator for Nagorno-Karabakh, (OSCE Minsk Group), working with Russian and French counterparts in multilateral diplomacy involving Armenia, Azerbaijan, the World Bank, EU, and others. Expertise: post-conflict reconstruction, political economy of the South Caucasus.
1997-1999 Political/Economic Counselor, U.S. Embassy Yerevan, Armenia, supervising a staff of five. Expertise: democratic and free-market reforms, human rights, regional conflict resolution.
1994-1996 Senior India Desk Officer, U.S. Department of State. Expertise: nonproliferation, counterterrorism, Indo-Pakistan conflict resolution, intelligence coordination.
1992-1994 Romania Desk Officer, U.S. Department of State. Expertise: democracy-building, regional integration, minority rights.
1988-1992 Political Officer, U.S. Embassy Athens, Greece. Expertise: Human rights, the Balkans, Greek internal politics, counter-narcotics cooperation.
1985-1987 Economic Officer, U.S. Consulate General Casablanca, Morocco. Expertise: Fisheries, phosphates, local economic development, youth issues.
1983-1985 Vice Consul and Ambassador's Staff Aide, U.S. Embassy Tel Aviv, Israel.
Education: MA in Ancient History and Mediterranean Archaeology from U.C. Berkeley in 1983. Participated in U.C. Berkeley Nemea excavations (Greece) in 1981, and New York University's excavation in Aphrodisias (Turkey) in 1982.
Studied classical archaeology at the American School of Classical Studies in Athens, 1979-1980.
Graduated from Swarthmore College, Pennsylvania, in 1979 with a BA in Ancient Greek, with distinction, Phi Beta Kappa.
Graduated from Los Altos High School, California, in 1975, National Merit Scholar.
Working languages: Greek, French, Armenian (Eastern); reading knowledge of Ancient Greek, Latin, Spanish, Italian; some German, Turkish, Portuguese; vestigial Romanian, Russian, Hebrew and Arabic.
Awards: 1994 Rivkin Award (group award) given by the American Foreign Service Association for constructive dissent. Was member of a group of a dozen State Department officials that pushed for international intervention in Bosnia.
Two Sinclaire Awards for language learning (Greek, Armenian).
Group Superior Honor Award and miscellaneous Meritorious Honor and cash awards.
Personal: Born in Houston, Texas in 1957, raised in Palo Alto and Los Altos, California. Divorced. Daughter Lydia Kiesling, a recent graduate of Hamilton College in Clinton, New York, is teaching English in Istanbul.
Interests include archaeology, travel, bicycling, hiking, and the evolution of human political behavior.

Event Report

The writers of the following reports are graduate students in journalism at the Annenberg School.
Who's to Blame?
By Amanda Price
Anti-Americanism abroad has surged in response to foreign policy by the Bush administration and its predecessors, according to a trio of U.S. Foreign Service officers who resigned their posts in 2003 to protest the war in Iraq.
"We are now in a world where a lot of foreigners feel the most profound threat to their national identity, to their national dignity even to their national security is the United States of America," said Brady Kiesling, author of "Diplomacy Lessons" and one of three ex-diplomats who spoke at the forum.
Ann Wright, a 29-year veteran of the U.S. military and former deputy chief of mission at the U.S. Embassy in Mongolia, said such hostile attitudes abroad are in fact warranted. "There probably is some anti-American feeling in the world, and for good reason, because I dont think America is acting to . . . its highest level of morality by what has been going on in the war on terror and the war in Iraq," she said.
Criticizing the "parochialism" of the current administration, diplomat John Brown said American arrogance stems from the U.S. governments lack of interest in the outside world. "Is this the beginning of an anti-American century?" he asked. "That is, I think, such a key question."
Though the trend toward anti-Americanism began before the election of President Bush, the current administration's policies have been "catastrophically counterproductive" to American interests, said Kiesling. "The American people have caught on to the fact that it is not a good idea that so much of the world is mad at us," he said. Kiesling argued that the United States must use public diplomacy to elicit support for American policies from foreign leaders. Because cooperation with the United States amounts to bad domestic politics in other countries, "the United States, to get what it needs, has to find a way to reward politicians who do it," said Kiesling. In one such instance, gaining support from Russian leader Vladimir Putin required the ugly tradeoff of ignoring Russian violence against Chechnya. "It turns out that when you've made enough mistakes, you also have to pay for your sins by sacrificing your principles."
Wright argued that the war on terror and unjust detainment practices have complicated diplomatic messages. "You have treatment of people from all over the world who have been caught up in this great net that has been thrown out in the name of terror," she said.
President Bush has sullied the image America projects to the international community, according to Kiesling. "George W. Bush, for various reasons, is enormously effective with a large part of the American voting population. [But] because of the way they read his character in terms of a certain understanding of a dangerous world, foreigners almost universally read his character as insensitive to their concerns, cruel, and dangerous," he said.
According to Wright, exposing citizen's dissatisfaction with President Bush is an important means of combating anti-Americanism. "It's important that people around the world know that there are a lot of people in America who are fighting desperately against the excesses of this administration," she said. Wright, herself, has been arrested several times in the last year protesting U.S. policy on Iraq and terrorism.
"We have tended to take for granted that anyone who sees us will be impressed by us," said Kiesling. Its not quite true. Kiesling noted that though anti-American sentiment has crystallized under the leadership of the current administration, Congress and the public are finally beginning to take the issue seriously. "It's always been around, don't panic. But still, it has a cost, and you should deal with it sensibly."
Congress has renewed its commitment to sponsoring student exchanges, a program that will help combat anti-Americanism long-term, according to Kiesling. This effort should produce long-term effects, but there are no guarantees, said Kiesling. "What can a diplomat do to deal with anti-Americanism?" he asked. "In the short run, not a lot."
Wright argued that the media's failure to accurately depict the bloody impact of U.S.-led wars has placated citizens who might otherwise be mobilized to condemn the Bush administration's policy. "I think our press gets a royal F--an F-minus," she said. "There are things that are going on all over the world that we never hear about. We don't see what war really is all about."
Wright and Kiesling supported withdrawal from Iraq and joining the effort to combat global warming, respectively, as ways for the United States to begin regaining its status as a popular superpower. The process, however, will not be a quick one, according to Kiesling. "Public diplomacy, to be effective in dealing with anti-Americanism, has to think in terms of 20 years," he said. "It has to deal with generations; it has to use the good features of American society effectively."
* * *
Losing Leverage
By Andrew McGregor
Conducting U.S. policy without regard to considerations of public diplomacy curtails Americas ability to request assistance from foreign leaders because the domestic political cost to them of dealing with America becomes too high, former Foreign Service officer Brady Kiesling told the forum. "When the United States is a popular, respected superpower we can ask a foreign leader to do something and he can do it without paying much price. On the other hand, In domestic political competition you need some way of proving that you are the legitimate government. The easiest way to do that is by resisting outsiders very toughly," Kiesling said. It's not a novel tactic, he said: "President Bush does the same thing."
Kiesling spoke at the forum along with two other former Foreign Service officers who resigned in 2003 to protest the Bush administration's invasion of Iraq.
Kiesling noted that there is an innate human dualism that allows for political jingoism while maintaining generous hospitality on the individual level.
"Under ordinary circumstances ordinary people follow rules of behavior driven by a fundamental moral sense that says you are hospitable to foreigners. As an American diplomat in Greece and everywhere else I have always felt perfectly safe because I could always benefit from this human instinct." That does not prevent intense feelings of opposition to America on a policy level, however, he said.
Kiesling was optimistic for the future of American diplomacy when seen over a 20-year timeline. However, in the short term he predicted that American diplomatic efforts would be stymied.
As a possible solution, he suggested that more important than immediately altering American policy in Iraq is the need to "use a countervailing narrative of American character that is big, vivid, and plausible." He said that the current administration, while resonating successfully to many domestically, is perceived as being "cruel and dangerous" to most of the world. Thus, he predicted, anti-Americanism will continue to pose a major problem to the functional conduct of U.S. policy unless this perception is changed.
* * *
Stand and Be Counted
By Amanda Becker
Former U.S. diplomat Ann Wright told the forum of students, faculty and guests that clumsy policies of the Bush administration have contributed to anti-Americanism around the world, and emphasized that people need to know Americans are standing up to the actions of the U.S. government.
Wright, former deputy chief of mission at the U.S. Embassy in Mongolia, resigned in March 2003 over the administration's decision to invade Iraq without approval from the UN Security Council. In the week after her decision, over 400 fellow diplomats sent her e-mails and letters commending her decision, she said.
"By our policies we are creating more people who dont like America, Wright said. It is making our job as diplomats increasingly difficult."
Since her resignation, Wright has taken to campaigning actively against the war on terror, the treatment of prisoners at Guantanamo Bay and what she called the "prisons of horror" run by the CIA in Afghanistan.
Wright also blasted the media for limited coverage of both the war in Iraq and of Americans who want the war to end.
"Our press gets a royal F, an F-minus." She added, We've been taken to the cleaners. Coverage has been an abrogation of journalists responsibilities and obligations. It's a total disservice to the American people."
Despite five arrests over the past year at protests on Capitol Hill and outside the United Nations, she plans to continue her outspoken efforts to end the war on terror.
Wright remains hopeful that the United States can redeem its diplomatic reputation.
"I think there are ways to be a superpower and not be so arrogant," Wright said.
* * *
Where is the Outrage?
By Hanna Ingber
The "lack of outrage" at the Bush administration by the American people, particularly by young people, is upsetting and problematic, said former Foreign Service Officer John H. Brown at the forum. Brown is a senior fellow at the center and edits and publishes the centers regular online Public Diplomacy Press Review.
Brown contrasted how American youth today respond to the Iraq war to how youth responded in the 1960s, when people "went to the streets" to demand political changes. Brown hypothesized that the lack of action is because there is no military draft; because many students have debt and must find a job rather than "go out and raise hell"; because young people experienced 9/11 and accept the concept of the war on terror; and because of the rise of the blogosphere. "If you're angry these days," he said, "you start your own blog, and you're less angry. You got it all out!" Brown said there is what he called an "omnipresent fear" among the American people that somehow keeps them from protesting and rallying like people did during the Vietnam War.
"People were angry in the 60s but not fearful," he said.
Much of the anti-American sentiment in the international community is due to the provincial attitude of the United States, according to Brown. He said that the American "arrogance of parochialism" leads others to think Americans only care about themselves.
Brown tied in the parochialism to the U.S. news media as well. He said "it boggles the mind" how America-centric newspapers are.
The media received strong criticism during the talk, including Wright saying the media are failing to accomplish the objective of telling the American people what the war is really about, namely blood, mayhem and killings.
In order to improve the image of the United States abroad, Brown said the administration must deconstruct the notion of the war on terror.
Brown resigned on March 10, 2003, after 22 years in the Foreign Service. Kiesling resigned on February 25, 2003, after almost 20 years at the State Department. Wright resigned on March 19, 2003. She had acted as a diplomat for 15 years and served 29 years in the U.S. Army/ Army Reserves.


Visit CPD's Online Library
Explore CPD's vast online database featuring the latest books, articles, speeches and information on international organizations dedicated to public diplomacy.