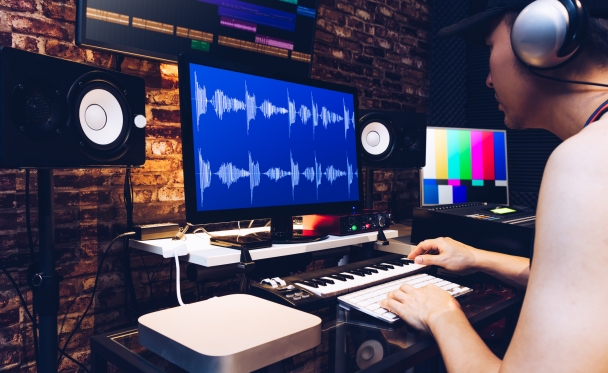 South Korea's Soft Power through Next-Generation Storytelling
The creative industries are powerful storytellers and form an essential part of the creative economy. From K-pop and K-drama to Parasite and Webtoons, South Korea has a burgeoning, dynamic creative sector that is gaining wider global attention and recognition. Join CPD for a conversation with our U.S.-South Korea NextGen Creative fellows to discuss the key trends in storytelling and content creation, and explore implications for engagement practices in public diplomacy.
This fall, with support from the Korea Foundation, CPD launched the fellowship program that aims to engage the creative sector in furthering professional networks and relationship-building between the United States and the Republic of Korea. The fellowship hosted two groups of U.S. practitioners who work in or report on the creative sector for exchanges with leading players in the Korean creative sector.
About Melissa Croteau
Melissa Croteau is Professor of Film Studies and Literature and Film Program Director at California Baptist University. Her research, teaching and publications center on global cinema, media adaptation, aesthetics, film theory and early modern British theater. She has published in Shakespeare Survey, Cahiers Élisabéthains, Shakespeare Bulletin and numerous other journals and edited volumes. Her books include the monograph Re-forming Shakespeare: Adaptations and Appropriations of the Bard in Millennial Film and Popular Culture (2013) and the co-edited volume Apocalyptic Shakespeare: Essays on Visions of Chaos and Revelation in Recent Film Adaptations (2009). Her book Transcendence and Spirituality in Japanese Cinema (Routledge, 2022) is forthcoming.
About Iris (Yi Youn) Kim
Iris (Yi Youn) Kim is a writer living in Los Angeles covering Asian American identity, politics, and culture. She also works in TV development on the HBO Max International Originals team. Her work has appeared in Salon, Slate, TIME, Delish, and Business Insider. She is a 2022 PEN America Emerging Voices Fellow.
About Amara Aguilar
Amara Aguilar is a professor of journalism at USC Annenberg School for Communication and Journalism. She teaches journalism for mobile/emerging platforms, social media storytelling for Latinx audiences, visual journalism, engaging diverse communities, public relations strategy, and interactive design, among other courses. 
At USC, she co-founded Annenberg Media's award-winning bilingual outlet, Dímelo, focused on serving Latinx audiences. Amara has written for the Los Angeles Times, CNN, NiemanLab, and other outlets. She has worked as a designer, visual journalist, reporter, social media engagement producer and consultant. She's conducted social media, data, and digital journalism training for the Associated Press, ABC News, the National Football League and other organizations. 
Amara earned a Online News Association Challenge Fund grant for Innovation in Education in 2020, was named a TOW Knight Disruptive Educator for innovation in 2018, MediaShift's top innovative journalism educator in 2018, a Scripps Howard Foundation-AEJMC visiting social media fellow in 2017, and an Apple Distinguished Educator in 2015. Her collaborations at USC include work with ABC7, L.A. TACO, NBC Latino, Snap Inc., Fusion, KPCC, NPR Next Generation Radio, Las Fotos Project, Azteca America, and others. She is also an SPJ trainer on Google News Initiative tools. 
At USC she is a regular collaborator and faculty fellow for the Center for Public Diplomacy and has also worked with the Center for Health Journalism. She earned her doctorate at USC's Rossier School of Education in Organizational Change and Leadership, where her research focused on converged newsrooms. Her new co-edited book, "Covering Latinx Communities: A Guide for Journalists" was released in summer 2022.
Register to attend online here.
Visit CPD's Online Library
Explore CPD's vast online database featuring the latest books, articles, speeches and information on international organizations dedicated to public diplomacy.