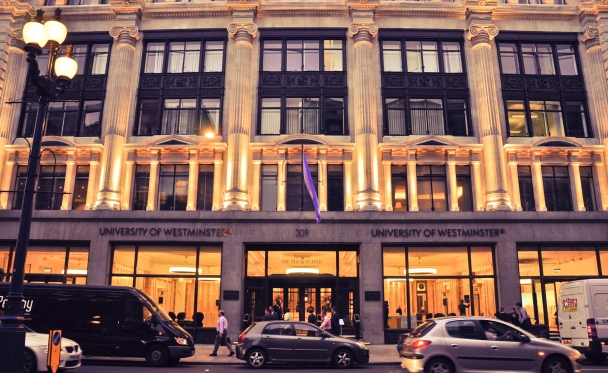 Transformational Public Diplomacy: The 16th International Symposium
Diplomatic Academy of London, University of Westminster; USC Center on Public Diplomacy
TheUSC Center on Public Diplomacy sponsored the 16th International Symposium on Transformational Public Diplomacy, which was organized by the Diplomatic Academy of London, University of Westminsterand co-sponsored by the United States Embassy in London.
The symposium examined the implications for modern diplomacy of current thinking on transformational diplomacy, with special emphasis on diplomacy in post-conflict situations and on cooperation between various national agencies, including the armed forces, and indeed non-governmental entities, in support of foreign policy. It will also discuss in detail how the practice of public diplomacy can be directed to bring about beneficial political transformation.
Professor Geoffrey Petts, Vice-Chancellor and Rector, University of Westminster, delivered the welcoming speech at the 16th International symposium in the series of Diplomacy in the 21st Century on: Transformational Diplomacy: Shaping the Future of International Relations.
Four main themes were covered during day 1 of the conference:
1. Transformational Diplomacy: the Sending State's perspective.
Re-allocation of resources to meet new challenges, enhanced public and cultural diplomacy and action with the media, competition for attention and credibility, expanded functions for consular posts, new patterns of representation. Trade-off between security and effectiveness of diplomatic presence. Single person posts, "Virtual presence" posts, role for regional centres. Recruitment of diplomats with needed skills and from more diverse cultural, ethnic, religious backgrounds. New diplomatic career patterns and training, to take account of dangerous postings, language training, programme administration. Enhanced use of locally engaged personnel. Innovation without "new wine in old bottles".
Nation/institution building. Consistent with non-interference? Risks: power vacuum, security breakdown, cultural/religious/professional backlash. Respective importance of constitutional infrastructure, rule of law, culture of scrutiny and transparency, media freedom. Problems of action against corruption.
Task forces to tackle specific problems (e.g. disease, drugs, natural disasters, infrastructure). Interagency co-operation/integration.
2. Transformational Diplomacy: the Receiving State's perspective.
Implications of re-ordered priorities. "Partnership" in practice. Consequences of pressure to embrace new values (human rights, democracy, gender, education, economy etc.). Control of foreign diplomatic travel, contact with non-governmental entities, minorities, intellectuals, journalists, opinion-formers, political opposition, subversives. What constitutes interference in the internal affairs of the receiving state? Distinction between espionage and collection/collation of unclassified material. Restrictions on media access/availability? Need for revisions to Vienna Convention on Diplomatic Relations? Restrictions on cultural diplomacy? Control of internet material, internet access? Control of nationals studying overseas.
3. The Diplomacy of Deeds: Public and private development assistance.
Implications of transformational diplomacy for development aid, capital flows and foreign investment. Neglect of long term development assistance in favour of short term foreign policy objectives?
Influence of Universities and research centres. Scholarships. Exchange programmes. Better targetted cultural diplomacy, more resources for broadcasting and news agencies, cultivation of the media, deployment of information technology.
4. Transformational Diplomacy and the Civil-Military relationship.
Meeting the new constellation of threats in the transformed international security environment. Management of asymmetrical relationships, conflicts. Declining credibility of deterrence. The limits of coercive diplomacy. Reconciliation of security interests, development policy and democratic ideals. Diplomacy in post conflict situations. Interaction between foreign and defence policy: public diplomacy for the Armed Forces, counter-insurgency programmes for diplomats. Preparation of teams to address reconstruction and stability. "Reservist" agronomists, city planners, lawyers, engineers, police advisers, health workers etc.
Supplementary themes were addressed on day 2:
• Ambassadors and public diplomacy
• Deployment of Technology for public diplomacy.
• Planning strategies and tactics for public diplomacy
• Assessment and measurement of success in public diplomacy.
• Advent of "Geodiplomatics" (Fresh concepts/practices resulting from interdependence and other contemporary constraints on traditional diplomacy).
For more information on the conference, including the conference program and photos from the conference, click here.
Visit CPD's Online Library
Explore CPD's vast online database featuring the latest books, articles, speeches and information on international organizations dedicated to public diplomacy.