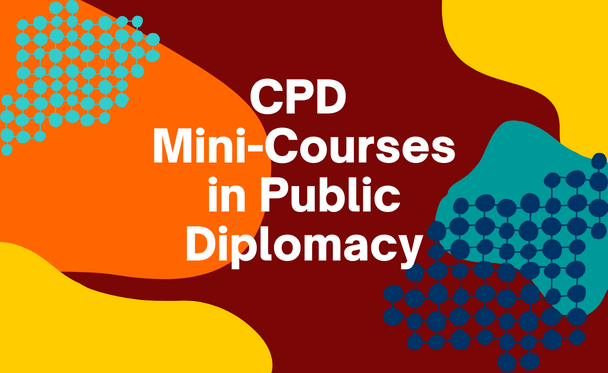 Winter 2023 CPD Public Diplomacy Training Is Here
CPD is pleased to announce its winter lineup for our professional education activities. This season we're offering a new CPD Mini-Course, "Effective Storytelling for Public Diplomacy," which will be offered in February 2023.
Effective Storytelling for Public Diplomacy
Dates: February 8 (9:00am to 4:30pm), 9 (9:00am to 4:45pm) and 10 (9:00am to 2:00pm), 2023
(ET; Time Zone Converter)
Application Deadline: January 20, 2023
This workshop explores content-creation strategies to spark conversations and drive engagement for greater public diplomacy impact. It focuses on adapting to changing media consumption behavior and narrative formats. Participants will develop skillsets in producing content in a variety of formats and channels. 
The CPD Advantage
CPD has been the innovative leader in training public diplomats, scholars and communication professionals for over 16 years. Our training utilizes the latest social science research and cutting-edge communication tools in real-time public diplomacy challenges. It provides a setting for practitioners to re-examine and refine their skills in a group of peers and to build an international network of colleagues. These programs are highly interactive, allow for collaborations with colleagues, and feature an engaging, forward-looking curriculum.
As usual, our workshops take a deep dive into some of the most critical issues in designing effective and sophisticated public diplomacy strategies with our leading scholars and experts. Sessions are fast-paced and also allow for personalization, as participants bring real-time projects to exercise their skills and problem-solve with faculty and peer participants.
With this Winter 2023 CPD Mini-Course offering, please note the ways in which our training differs from others:
Discounts for USC alumni (applicants must complete that section on the application form);
Discounts for organizations who send 3+ or more participants to a program;
Additional guest speakers added for additional feedback and insights;
Small group learning to allow for peer-to-peer networking and collaborations.
 
For more information on our upcoming programs, the curriculum, learning objectives, application deadlines and tuition costs, please click here.
Questions? Contact Renee Almassizadeh at almassiz@usc.edu for more information.
Visit CPD's Online Library
Explore CPD's vast online database featuring the latest books, articles, speeches and information on international organizations dedicated to public diplomacy.