Public Diplomacy Fall Speaker Series: Cory Doctorow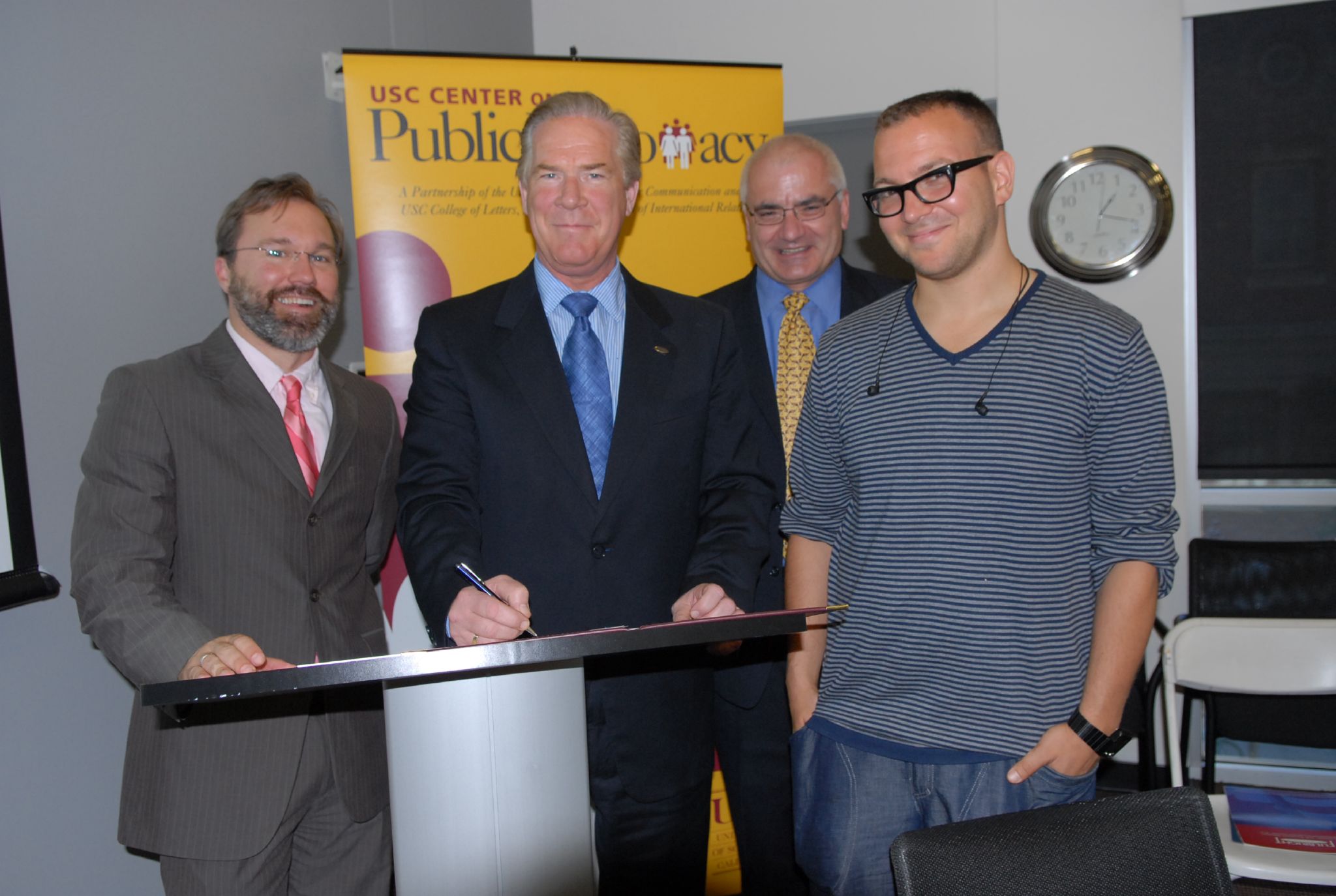 Cory Doctorow is recognized as a Canada - U.S. Fulbright Scholar.
With (l-r) USC Center on Public Diplomacy Director Joshua Fouts, Foundation for Educational Exchange Director Michael Hawes,
Integrated Media Systems Center Director Adam Clayton Powell III.
Click here to listen to audio of the event (28mb MP3, 1:09:50) |
Click here to download in iTunes.
The USC Center on Public Diplomacy as it kicked off its Fall Speaker Series with a welcome for new professors and a presentation by Cory Doctorow, co-editor of the widely read culture and tech blog BoingBoing and prominent science fiction author. In his presentation entitled "Set-Top Cop," he will discuss how user-controlling technology can create radical, negative outcomes. Doctorow is the first ever US-Canada Fulbright Visiting Research Chair, co-hosted by the USC Center on Public Diplomacy and the Integrated Media Systems Center. After his presentation, Doctorow participated in a signing ceremony to recognize and honor this new partnership between the US and Canada.

(l-r) Cory Doctorow, Joshua Fouts, Michael Hawes, Adam Clayton Powell III
Wednesday, August 30, 2006
12:00 PM
Annenberg, Room 207
Cory Doctorow
Doctorow is the co-editor of Boing Boing, a very popular weblog about technology, culture, and politics. He has written three science-fiction novels, all published by Tor Books (Down and Out in the Magic Kingdom, 2003, Eastern Standard Tribe, 2004, Someone Comes to Town, Someone Leaves Town, 2005), and a short story collection published by Avalon (A Place So Foreign and Eight More, 2003). He has also written for various publications including Wired, Popular Science and Salon.
Doctorow, a visiting professor at the USC Center on Public Diplomacy and Canadian Fulbright Chair in Public Diplomacy for 2006-2007, is an activist, a writer, a blogger, a public speaker, and a technology person.
From 2002-2006 Doctorow was the Director of European Affairs for the Electronic Frontier Foundation (EFF), a technology advocacy nonprofit that works to upload liberty in technology law, policy and standards, where he remains a Fellow. He has also worked at the United Nations, at standards bodies, at governments, and with universities and non-profits to agitate for a balanced approach to copyright that didn't trammel the public's fundamental rights to privacy, free speech, and due process.
Born in Toronto, Canada, on July 17, 1971 to Trotskyist schoolteachers, Doctorow was exposed to both science-fiction and computers at an early age by his father and has spent most of my life behind a keyboard.
Doctorow serves on a number of boards of directors and advisory boards, including those of the Participatory Culture Foundation, the Open Rights Group, the MetaBrainz Foundation, Technorati, Inc, Onion Networks, and others; as well as the confernece committee for the O'Reilly Emerging Technology Conference. He co-founded the open source P2P technology company OpenCola, which was sold to OpenText in 2003.
Visit CPD's Online Library
Explore CPD's vast online database featuring the latest books, articles, speeches and information on international organizations dedicated to public diplomacy.