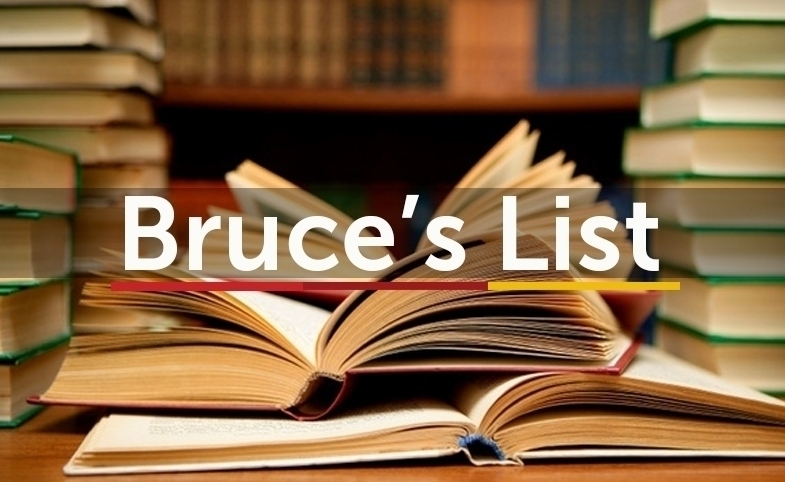 LATEST MUST-READS IN PUBLIC DIPLOMACY: May 2020
The 101st edition of CPD Faculty Fellow Bruce Gregory's public diplomacy reading list is now available. Known affectionately at CPD as "Bruce's List," this list is a compilation of books, journal articles, papers and blogs on a wide variety of PD topics and features a number of CPD scholars.
Highlights from this latest list include:
"James Carville on Why Foundation CEOs Need to Fund a 'Wartime Communications' Force,"  The Chronicle of Philanthropy, March 26, 2020.  Carville (political consultant, Louisiana State University) calls on risk takers and "our most talented communications minds" in the foundation community – a "Dream Team made up of top leaders from Hollywood, technology, advertising, public relations, polling, and behavioral psychology" – to stand up a war time strategy to convey messages about what to do and what not to do in the COVID-19 pandemic.  Carville's model is the World War I era Committee on Public Information led by George Creel.  Although the Creel Committee was "guilty of excesses," (on this he is informed by LSU journalism professor John Maxwell Hamilton), it was also highly successful in promoting war bonds, food conservation, and military enlistment.  It's a time for action, Carville writes energetically, in his appeal to ten of America's largest foundations across the political spectrum.  (Courtesy of Donna Oglesby)
Jan Melissen, "Diplomacy's First Challenge: Communicating Assistance to Nationals Abroad,"  Policy Forum Article, Asia & the Pacific Policy Studies, February 2020.  Melissen (Leiden University) examines the growing importance of consular diplomacy in the eyes of citizens and parliamentarians and the need for foreign ministries to develop a better understanding of increasingly intertwined "consular" and "diplomatic" spheres. They must break, he argues, from a tradition that compartmentalizes consular work and views it as "second rate."  His thinking is grounded in assumptions that there is "enormous scope for improvement" in government-society relations and that foreign ministries face greater challenges in communicating with their citizens abroad than in delivering services to them.  Middle power countries "with a decidedly global outlook," he contends, understand and articulate this view especially well.  The article develops three claims.  First, governments too often mistakenly treat consular work as marketing to product-oriented end users than providing services to citizens.  Second, foreign ministries struggling with digital technologies must adopt a coordinated multi-channel communications approach.  Third, they must show greater appreciation for how domestic and foreign dimensions of consular diplomacy are linked to so-called "big issues" in foreign and security policies.
Andrea J. Dew, Marc A. Genest, and S. C. M. Paine, eds., From Quills to Tweets: How America Communicates About War and Revolution,  (Georgetown University Press, 2020).  The editors (all associated with the US Naval War College) have compiled a welcome collection of case studies on how information, political narratives, media, and communication technologies have shaped the way Americans have communicated in wartime.  Essays by 17 contributors divide into five chronological sections arranged to reflect episodes of armed conflict, changes in technologies, and political context.  Many are by scholars ranging from Marc Genest's chapter on newspapers and Committees of Correspondence during the American Revolution to Steven Casey's (London School of Economics) chapter on the Korean War to Andrea Dew's chapter on communication in Iraq and Afghanistan.  Two are by former public diplomacy practitioners.  Martin Manning's chapter looks at the role of the press and the telegraph in the Civil War, and Judith Baroody examines communication strategies in the Persian Gulf War.  Without taking away from the wealth of useful analysis and historical evidence the authors provide from US history, the collection would have been strengthened by at least one chapter on relevant ways in which Europeans and Native Americans communicated in wartime during the century and a half that preceded the American Revolution.  
Kingsley Edney, Stanley Rosen, and Ying Zhu, eds., Soft Power With Chinese Characteristics: China's Campaign for Hearts and Minds,  (Routledge, 2020).  In this timely volume, Edney (University of Leeds), Rosen (University of Southern California), and Zhu (City University of New York) compile essays by scholars who examine how China has attempted to use soft power strategies since Xi Jinping came to power in 2012.  Part 1 contains chapters on the soft power debate in China, the ironies of soft power projection in the age of Donald Trump and Xi Jinping, and China's use of diasporic media, cultural diplomacy, Sino-Hollywood negotiation, branding, and Confucius Institutes.  Chapters in Part 2 include regional case studies of China's soft power strategies in Europe, the Americas, Africa, Japan and South Korea, Taiwan and Hong Kong.  A closing chapter looks at how East Asians view a rising China.  The volume includes a foreword by Joseph Nye who contends that "China now represents the most important test case for the practice of soft power."  He shares the authors' view on the need for a reappraisal of the soft power framework adopted in China's official doctrine more than a decade ago.  See also Martha Bayles, "Hard Truths About China's 'Soft Power,'" The American Interest, March 30, 2020.
The full list, including works by CPD Director Jay Wang, CPD Research Associate Sohaela Amiri, CPD Faculty Fellow Corneliu Bjola, CPD Research Fellows Diana Ingenhoff and Ilan Manor, CPD's first Senior Research Fellow Nancy Snow, and CPD's founder Geoff Cowan is available here.
Visit CPD's Online Library
Explore CPD's vast online database featuring the latest books, articles, speeches and information on international organizations dedicated to public diplomacy.