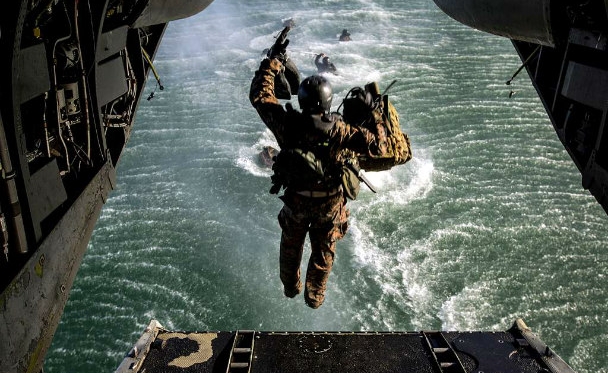 Accountability in National Security
When mistakes are made, people endure the consequences. This seems to be true for everyone but U.S. senior leadership and national security officials. On February 10th at 12:00pm (Pacific) / 3:00pm (Eastern), CPD hosts Michael Mazarr for a discussion on keeping the government accountable. Moderating this conversation is Caitlin Byrne, CPD Faculty Fellow and Director of the Griffith Asia Institute.
The issue of war and peace, and decisions made to undertake a war, are among the most profound decisions that confront any democracy. When those decisions are made poorly—with insufficient information, deliberation, or planning—they can produce tragedy. Yet there is still no clear way to hold senior officials accountable for the decisions they make about war and peace.
Michael Mazarr spent over a decade researching the decision to go to war in Iraq, including interviews with over 100 key participants, for his book Leap of Faith. Based on that case study he has suggested consideration of a "doctrine of policy negligence" for choices of war and peace—a demand that senior officials meet certain criteria for the quality and rigor of their decision process.
Join us for a reflection the lessons of the Iraq decision process and a description on the elements of such a potential doctrine and how it might be implemented in practice.
Register below to receive your log-in instructions for this online program.
About Michael J. Mazarr
Michael Mazarr is a senior political scientist at the RAND Corporation. Previously he worked at the U.S. National War College, where he was professor and associate dean of academics; as president of the Henry L. Stimson Center; senior fellow at the Center for Strategic and International Studies; senior defense aide on Capitol Hill; and as a special assistant to the Chairman of the Joint Chiefs of Staff. His primary interests are U.S. defense policy and force structure, East Asian security, nuclear weapons and deterrence, and judgment and decision making under uncertainty. Mazarr holds a Ph.D. in public policy from the University of Maryland.
About Caitlin Byrne
Caitlin Byrne is Director of the Griffith Asia Institute and a CPD Faculty Fellow. Prior to joining Griffith University, Caitlin was Assistant Professor of International Relations at Bond University, Gold Coast. Her teaching and research interests include contemporary and public diplomacy, with a special focus on Australia in the Asia-Pacific region, Korea and China. Caitlin is a former research fellow of the University of Southern California's Center for Public Diplomacy (CPD) and is currently associated with the Australian Studies program at Sun-Yat Sen University, Guangzhou.
Caitlin's research is published in a range of journals including the Hague Journal of Diplomacy, the Australian Journal of International Affairs, Sport in Society, Exchange: Journal on Public Diplomacy and CPD Perspectives. Prior to joining Bond University, Caitlin held a range of management and policy roles across government, including with the Australian Department of Foreign Affairs and Trade (1993-2001) and the Queensland Government's Office for Women (2003-2005). Caitlin consults on occasion, and is currently working with DFAT in the development of an Australian global alumni engagement strategy. Caitlin is deeply engaged in Queensland's international policy community, including the Australian Institute of International Affairs and has been recently appointed to the Fulbright Selection Committee for Queensland. Caitlin received both her LLB and Ph.D from Bond University. Caitlin's research project for the Center is titled 'Public Diplomacy and the United Nations Security Council: Securing a Seat at the Top Table'.
When
Wednesday, February 10, 2021 -

12:00pm

to

1:00pm
Add to Calendar
Visit CPD's Online Library
Explore CPD's vast online database featuring the latest books, articles, speeches and information on international organizations dedicated to public diplomacy.