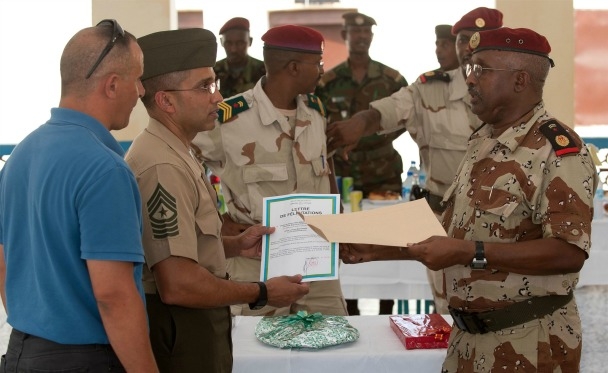 AFRICOM: The American Military and Public Diplomacy in Africa
The USC Center on Public Diplomacy at the Annenberg School and the USC Center for International Studies were pleased to host a conference entitled, AFRICOM: The American Military and Public Diplomacy in Africa. The first of a series of conferences on public diplomacy, this conference was held on Thursday, February 7 and Friday, February 8, 2008 at the University of Southern California in Los Angeles.
AFRICOM's Deputy to the Commander for Civil-Military Activities, Ambassador Mary Carlin Yates began the conference with a speech at the opening dinner on Thursday, February 7 at 6:00pm at USC's Town and Gown. The Friday conference featured panel sessions addressing U.S.-African relations, the State Department and Department of Defense concepts of public diplomacy in Africa, and African perspectives on the issue. Some questions discussed included how AFRICOM should be presented to African publics, to what extent African nations and regional organizations will be involved in shaping AFRICOM's role, and how AFRICOM will work with other developmental and humanitarian projects on the continent. The conference aimed to provide AFRICOM as a case study for a discussion of public diplomacy in a broader sense, considering who should conduct public diplomacy and how it can be better integrated into government policy.
Panelists included:
Ambassador Mary Carlin Yates, AFRICOM Deputy to the Commander for Civil-Military Activities
Major General Herbert L. Altshuler, AFRICOM Director of Strategy, Plans and Programs
Ambassador Mark Bellamy, Fellow at the Center for Strategic and International Studies
Amb. Brian Carlson, State-DoD Liaison in the Office of the Undersecretary of State for Public Diplomacy and Public Affairs
Mr. Ryan Henry, Principal Deputy Undersecretary of Defense
Ms. Nicole Lee, Executive Director of the TransAfrica Forum
Mr. Mark Malan, Peacebuilding Program Officer at Refugees International
Ambassador Charles A. Minor, Liberian Ambassador to the United States
Consul General Jeanette Ndhlovu, Consul General of South Africa
Dr. Abiodun Williams, Associate Dean of the Africa Center for Strategic Studies at the National Defense University
Click here to view the AFRICOM Conference Program.
The conference was recorded and was followed by publication of the transcript and briefing papers.
Annenberg Policy Briefing on AFRICOM
Assistant Secretary Jendayi Frazer's Opening Remarks
Click for More Photos from the Event
ASC News - Public diplomacy conference addresses evolving role of military
For more media coverage of AFRICOM, please see our AFRICOM Media Monitor page: CPD Media Monitor: AFRICOM
Visit CPD's Online Library
Explore CPD's vast online database featuring the latest books, articles, speeches and information on international organizations dedicated to public diplomacy.