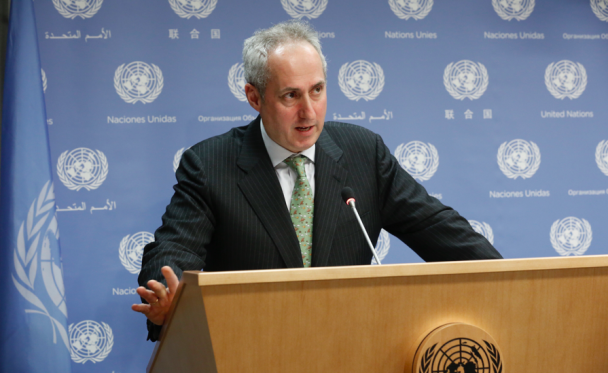 Behind the Scenes with UN Spokesperson Stéphane Dujarric
A special conversation with the Spokesperson for UN Secretary-General António Guterres
Want to know what happens behind the curtain at the UN from the spokesperson's vantage point?
CPD hosted Stéphane Dujarric, Spokesperson for the United Nations Secretary-General António Guterres, who discussed the UN's communication strategies during a session of the USC Master of Public Diplomacy class, "Public Diplomacy Evaluation."
Stéphane addressed how the UN communicates in today's political climate and evolving media landscape; strategic partnerships and media influencers; new types of journalism and communication strategy (advocacy, celebrity, hybrid, etc.) and more. Stéphane shared how the UN evaluates its own communication strategies and outputs, providing students firsthand with a current, real-world example of public diplomacy evaluation.
Moderating Stéphane's conversation was Robert Banks, CPD Faculty Fellow and Associate Professor in the USC Master of Public Diplomacy program.
About Stéphane Dujarric 
Mr. Stéphane Dujarric is the Spokesman for the United Nations Secretary-General Mr. António Guterres. He was appointed as Spokesman in February 2014 by then Secretary-General Ban Ki-moon. Dujarric had previously served as Spokesman for United Nations Secretary-General Kofi Annan from 2005 to 2006 and then Deputy Communications Director for Secretary-General Ban Ki-moon from 2006 to 2007.
Prior to his current appointment, Dujarric was Director of News and Media for the United Nations Department of Global Communications, a position that he held from 2011 to 2014. In that role, he oversaw all of the UN's television, radio and photo operations, and coordinated the work of the main United Nations news sites, operating in eight languages. His division was responsible for the international press corps, as well as coverage of official UN meetings, producing written coverage for the media, delegations and the general public. Prior to this assignment, Dujarric was Director of Communications for the United Nations Development Programme (UNDP).
Dujarric was named Chief Spokesman for United Nations Secretary-General Kofi Annan in 2005, after joining the United Nations in 2000 as an Associate Spokesman. Following Annan's departure, Dujarric worked as Deputy Communications Director for Secretary-General Ban Ki-moon.
Prior to joining the United Nations, Dujarric worked for ABC News television for close to ten years in various capacities in the network's New York City, London and Paris news bureaus. He traveled extensively on assignment to cover major stories throughout Europe, Africa and the Middle East. Born in France, Dujarric has been living in the United States for the most part of the last 40 years. He is a graduate of Georgetown University's School of Foreign Service and an alumnus of the CPD Summer Institute in Public Diplomacy (class of 2009).
About Robert Banks
Dr. Robert Banks joined the U.S. Foreign Service in 1983. During his 28-year career as a public diplomacy (PD) practitioner, he served as Assistant Executive Officer in Bonn, West Germany; Deputy Public Affairs Officer (PAO) in Nicosia, Cyprus; Assistant Press Attaché in Seoul, Korea; East Asia Policy Officer in the Worldnet Television and Film Service; Press Attaché in Managua, Nicaragua; Cultural Attaché in Seoul; Examiner for the Foreign Service oral entrance exam in the Bureau of Human Resources; Planning and Coordination Officer in the Office of Public Diplomacy in the Bureau of Western Hemisphere Affairs; PAO in Buenos Aires, Argentina; State Department Chair on the faculty of the Marine Corps War College in Quantico, VA., where he taught regional studies; and U.S. Public Diplomat in Residence at the University of Southern California's (USC) Center on Public Diplomacy. Following his retirement from the Foreign Service, he taught PD as an Adjunct Professor in USC's Master of Public Diplomacy Program. He is currently a Clinical Associate Professor of Public Diplomacy at the USC Annenberg School for Communication and Journalism and a CPD Faculty Fellow. Banks also authored an issue of CPD Perspectives, "A Resource Guide to Public Diplomacy Evaluation," in 2011.
Visit CPD's Online Library
Explore CPD's vast online database featuring the latest books, articles, speeches and information on international organizations dedicated to public diplomacy.