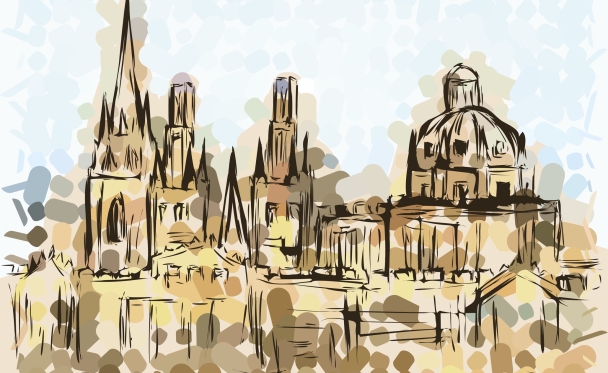 CPD-Oxford Doctoral Conference: Digital & Public Diplomacy
Recent years have seen the digitalization of diplomacy. Diplomats and diplomatic institutions throughout the world are embracing digital platforms to coordinate multi-lateral negotiations, foster ties with diasporas, deliver consular aid and create transnational advocacy campaigns. Notably, diplomatic institutions have also come to regard digital platforms as a medium for public diplomacy activities and the projection of soft power.
This has led to growing interest among young and emerging scholars in focusing on the fields of digital and public diplomacy. To recognize and support the work of doctoral students, and as part of their commitment to advance the study of digital and public diplomacy, the USC Center on Public Diplomacy (CPD) hosted the first Doctoral Conference on Public Diplomacy in October 2016.
To build upon the success of the inaugural conference, CPD and the Oxford Digital Diplomacy Research Group (DigDiploROx), will be co-hosting a Doctoral Conference on Public and Digital Diplomacy at the University of Oxford from June 2, 2017. For those interested in following along, we'll be using #OxfordCPD17 on Twitter.
A wide range of topics and methodological approaches under the broad rubric of digital and public diplomacy will be presented.
Conference Schedule
9:15 am - 9:30 am  
Welcome Remarks
Corneliu Bjola (University of Oxford) and Jay Wang (University of Southern California)
9:30am - 11:00am
Panel #1: New Approaches in Cultural Diplomacy
Chair: Jay Wang (University of Southern California)
Discussant: Fiona McConnell (University of Oxford)
Storytelling as an Engagement Strategy: Key Influencers in Online Educational and Cultural Exchange Communities
Kyung Sun (Karen) Lee (University of Texas at Austin)
The Pope's Touchdown:  Digital Diplomacy in the Vatican
Amanda Rodríguez Espínola (University of Colorado Boulder)
De-Centering Europe in the Euro-Mediterranean Partnership: A Dialogue-based Public Diplomacy Approach to Civil Society Engagement
Andrea Pavón-Guinea (University of Navarra)
Public Diplomacy Performance and Innovation In the Baltic States: Latvia, Lithuania, Estonia
Anastasija Baranovska (Latvian Academy of Culture)
11:15am - 12:45pm
Panel #2: Public Diplomacy in Times of Crisis
Chair: Corneliu Bjola (University of Oxford)
Discussant: Tristen Naylor (University of Oxford)
The Ukraine Crisis as an Unintended Consequence of the EU's Public Diplomacy
Molly Krasnodębska (University of Cambridge)
The Iconic FCO - On the Use of Images in British Strategic Narratives
Ilan Manor (University of Oxford)
The Use of Public Diplomacy and Digital Diplomacy by Companies as Part of Business Diplomacy
Shaun Riordan (University of Antwerp)
Measuring Effectiveness in Digital Diplomacy Initiatives: The Case of NATO's Return to Hope
Kalin Kalinov (Sofia University "St. Kliment Ohridski")
 
2:15pm - 3:45pm
Panel #3: Non-Western Approaches to Public Diplomacy
Chair: Tristen Naylor (University of Oxford)
Discussant: Corneliu Bjola (University of Oxford)
Eastern and Western Public Diplomacy through sub‐Saharan African radio
Valerie A. Cooper (Hong Kong Baptist University)
Digital Public Diplomacy in China: An Analysis of Foreign Embassies' International Communications on Weibo
Luwei Rose Luqui (Pennsylvania State University)
Beyond winning hearts and minds: Negotiating EU-China relations
Lucie Qian Xia (University of Oxford)
Africa: The 'market place of' cultures The Politics of identity and African Soft-Power
Pretty Segwai (Waseda University)
 
4:00pm - 5:30pm
Panel #4: New Actors in Public Diplomacy
Chair: Corneliu Bjola (University of Oxford)
Discussant: Jay Wang (University of Southern California)
Enmity of the Underling: Municipal Foreign Policy, World Society & Theorizing City Activism on Universal Values
Benjamin Leffel (University of California Irvine)
When Opportunities Converge? Practices of Digital Diplomacy and the New Global Strategy at the European External Action Service
Elsa Hedling (Lund University)
Soft Power in a Borderless Digiverse: The Issue of NGOs, Advocacy Groups, and Social Media Simplification
Philip C. Arceneaux (University of Florida)
The interplay of public and corporate diplomacy and the influence on the respective image
Sarah Marschlich (University of Fribourg)
 
5:30pm - 5:45pm
Closing Remarks
Corneliu Bjola (University of Oxford) and Jay Wang (University of Southern California)
To read the call for papers, please click here.
Visit CPD's Online Library
Explore CPD's vast online database featuring the latest books, articles, speeches and information on international organizations dedicated to public diplomacy.