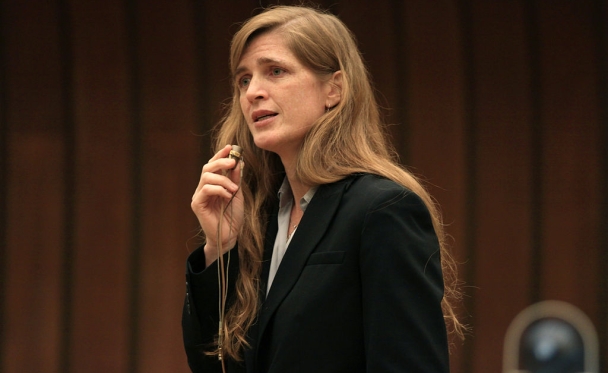 The Education of an Idealist: A Conversation with Samantha Power
Irish-American academic, author, and diplomat, Samantha Jane Power served as the 28th United States Ambassador to the United Nations and as a member of President Obama's cabinet. As the youngest ever U.N. Ambassador, Power dealt with a range of issues, working on United Nations reform, women's rights, LGBT rights, the global response to the refugee crisis, reducing human trafficking and promoting democracy.
Ambassador Power, a Pulitzer Prize–winning author, discussed her new memoir, The Education of an Idealist, with USC Center on Public Diplomacy Director, Jay Wang on October 8, 2019. The book chronicles her transition from outside activist to government insider and explores the impact one person can have on the world. All attendees received a FREE copy of The Education of an Idealist (while supplies last), and the event was immediately followed by a book signing.
Admission was for USC students, faculty and staff and one guest.
Presented by the USC Speakers Committee in collaboration with CPD, Academic Cultural Assembly, Student Assembly for Gender Empowerment, Political Student Assembly, Special Events Committee, the Shoah Foundation, Center for International Studies, Bedrosian Center and USC Visions and Voices.
Visit CPD's Online Library
Explore CPD's vast online database featuring the latest books, articles, speeches and information on international organizations dedicated to public diplomacy.