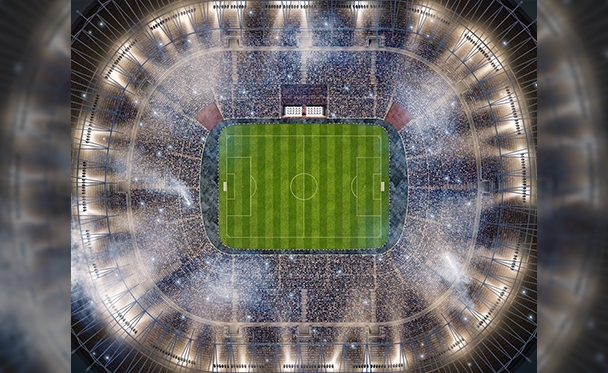 Global Mega-Events: From Expo Dubai to World Cup Qatar
On November 21, 2022, the 22nd FIFA World Cup began in Qatar. This is the first time the world's premier soccer event will take place in a Muslim country—and in the Arab world. More than one million visitors are expected for the month-long tournament, for which the host country has built several new football stadiums, renovated key cultural attractions and invested in municipal infrastructure. The World Cup is Qatar's first global mega-event and follows the UAE's hosting of Expo 2020 Dubai—the most recent World's Fair and first in the Middle East—and Japan's hosting of the 2020 Olympics. Both Expo 2020 Dubai and the Tokyo 2020 Summer Games were delayed one year due to the COVID pandemic.
In addition to seeing some great soccer—or "football," as the world knows it—what can a visitor expect to see while in Qatar? What was Dubai's experience as the UAE delivered the Expo during the pandemic? What was the experience of the United States' participation in Expo 2020 Dubai? What lessons might apply to Los Angeles and other North American cities as they prepare to host the 2026 FIFA World Cup and 2028 Summer Olympics?
Join Kevin Baxter (Staff Writer, Sports, Los Angeles Times) and Matthew Asada (Public Diplomat in Residence, CPD) on November 1 for a discussion and Q&A on how global mega-events, such as the World Cup, World's Fair and the Olympics, may be used by host and participating countries as part of their nation-branding efforts, as moments of national celebration, and as part of their long-term planning and development.
About Kevin Baxter
Kevin Baxter writes about soccer and Hispanic culture for the Los Angeles Times, where he has worked for 26 years. He has covered five World Cups, four Olympic Games, six World Series and a Super Bowl and has contributed to three Pulitzer Prize-winning series at The Times and Miami Herald. An essay he wrote in fifth grade was voted best in the class. He has a cool dog.
About Matthew Asada
Matthew Asada is a fourth-generation Japanese-American and third-generation public servant who has spent two decades with the U.S. Foreign Service. He is currently assigned as the Department of State's senior fellow at the University of Southern California's USC Center on Public Diplomacy. He has served abroad in Afghanistan, India, Pakistan and the United Arab Emirates, where he was most recently the Deputy Commissioner General of the USA Pavilion at Expo 2020 Dubai. He has served as a fellow in the U.S. and German parliaments; studied in Washington, D.C., London, Berlin and Philadelphia; and been elected by his peers to lead the American Foreign Service Association, the professional association and public sector union for America's diplomats, and the Asian American Foreign Affairs Association, the Asian American employee affinity group at the U.S. Department of State.
Visit CPD's Online Library
Explore CPD's vast online database featuring the latest books, articles, speeches and information on international organizations dedicated to public diplomacy.