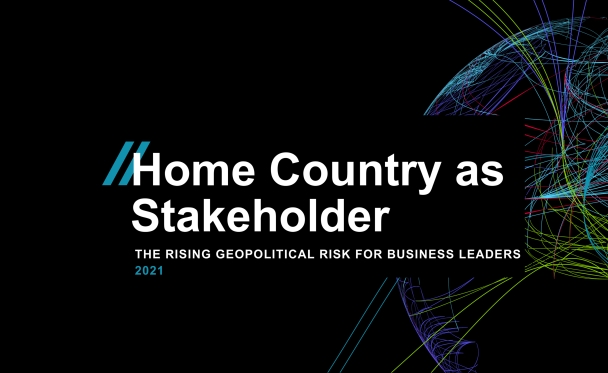 Home Country as Stakeholder
The Rising Geopolitical Risk for Business Leaders
COVID-19 super-charged conversations among corporate leaders about the role of business in the world. The global pandemic heightened corporate leaders' determination to solve global problems, rise to global challenges, unite around global values and deliver global value. At the same time, a rise in national agendas and priorities created new challenges business leaders could not ignore. How are these global and national forces intersecting—or rather colliding—to redefine the role of business in a new geopolitical era? If you're a "global" brand or business focused on serving all stakeholders who matter, what do you make of the rise of national interests? Is your company's home country a stakeholder, too?
Michelle S. Giuda, global head of Weber Shandwick's Geopolitical Strategy & Risk Group, will present "Home Country as Stakeholder: The Rising Geopolitical Risk for Business Leaders," a first-of-its-kind global study exploring executives' perceptions of the relationship between a multinational business and its home country. As businesses rethink, reevaluate and reassess their role in a post-COVID world and heightened geopolitical competition, Giuda will discuss key data and insights to inform how global business leaders effectively communicate their value and values to all relevant stakeholders. Joining Michelle is CPD Advisory Board Member, Gary E. Knell, who will be moderating this conversation. Gary just completed his tenure as president and CEO of National Geographic Partners.
About Michelle S. Giuda
Michelle Giuda is Executive Vice President of Geopolitical Strategy & Risk at Weber Shandwick, counseling clients to prepare for and address the impact of geopolitical issues on their business and reputation. From February 2018 to March 2020, Giuda served as Assistant Secretary of State for Global Public Affairs. In February 2019, Secretary of State Pompeo also delegated to Giuda the authorities of the Under Secretary of State for Public Diplomacy and Public Affairs. In this capacity, she served as a member of the Board of the U.S. Agency for Global Media. In May 2019, Giuda led the largest restructuring at the U.S. State Department in twenty years to modernize the Department's global public affairs and public diplomacy operations. Previously, Giuda was Senior Vice President of Global Corporate Communications at Weber Shandwick in New York, where she worked from 2013 to 2018. Prior to Weber Shandwick, Giuda was a political communications strategist in Washington, D.C., serving for five years as a lead member of former Speaker Newt Gingrich's communications team, including her role as National Deputy Press Secretary during the Speaker's 2012 presidential campaign. Giuda also served as Communications Director of GOPAC, working to elect and advance the country's next generation of top state and local leaders. In 2016, Giuda was honored with the Outstanding 50 Asian Americans in Business Award by the Asian American Business Development Center. Giuda received her Master's Degree in Political Management from George Washington University and earned a B.A. in Political Science from UCLA where she was an NCAA Champion and Team Captain of the UCLA Women's Gymnastics Team.
About Gary E. Knell
Gary Knell just completed his tenure as president and CEO of National Geographic Partners, where he oversaw the Society's vast nonprofit activities globally. He also served as chair of the board of National Geographic Partners, the Society's for-profit arm that oversees all of National Geographic's storytelling assets, including television, print and digital, and ancillary operations, which include travel expeditions. A member of the Society's board of trustees since April 2013, Knell also has served on the board of governors of the National Geographic Education Foundation since November 2003. Prior to his role at the Society, Knell served as president and CEO of National Public Radio from 2011 to 2013. His career in media spans more than three decades, including 22 years at Sesame Workshop, where he served as president and CEO for 12 years. Prior to Sesame Workshop, Knell was managing director of Manager Media International, a multimedia publishing company based in Bangkok, Hong Kong and Singapore. He also served as senior vice president at WNET/Channel 13 in New York, was counsel to the U.S. Senate Judiciary and Governmental Affairs Committees in Washington, D.C., and worked in the California State Legislature and Governor's Office. Knell is a member of the Council on Foreign Relations and serves on the boards of Heidrick & Struggles, an executive search firm, and Common Sense Media. He is an adviser to the Annenberg School for Communication and Journalism at the University of Southern California and to the Military Child Education Coalition. Knell has a B.A. in political science from UCLA and was editorial director of the UCLA Daily Bruin and a stringer for the Associated Press. He has a J.D. from Loyola University of Los Angeles. He has been awarded honorary doctorates from Kenyon College in Ohio and Mercy College in New York.
This program will take place online. 
Register here.
When
Wednesday, November 10, 2021 -

10:00am

to

11:00am
Add to Calendar
Visit CPD's Online Library
Explore CPD's vast online database featuring the latest books, articles, speeches and information on international organizations dedicated to public diplomacy.