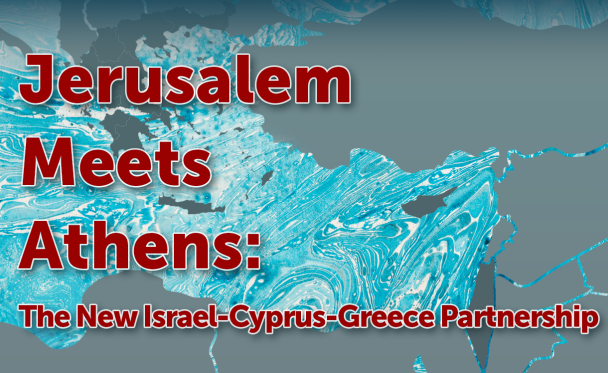 Jerusalem Meets Athens: The New Israel-Cyprus-Greece Partnership
Despite striking historical similarities among their peoples, Israel, Cyprus and Greece experienced mostly unfriendly relations for almost 60 years. This situation was radically altered during the past decade with the emergence of ever-widening cooperation among the three countries that has come to increasingly include the United States. On April 5, 2022, CPD Visiting Scholar Dr. Aristotle Tziampiris of the University of Piraeus discussed how and why these states decided to get so close creating a development contributing to stability in the Eastern Mediterranean; he placed this partnership within its contemporary context that includes a revisionist Turkey, Great Power competition and major decisions on regional energy infrastructure projects; and explored implications for public diplomacy in the region.
This event was co-organized by CPD and the Council for International Relations-Greece, in partnership with American Jewish Committee Los Angeles, The Jewish Federation of Greater Los Angeles, American Hellenic Council of California and the Hellenic American Leadership Council.
Dr. Aristotle Tziampiris
Dr. Tziampiris is Professor of International Relations at the University of Piraeus and currently President of the Council for International Relations-Greece. He has written widely about Greek history, international relations and energy diplomacy. His books include The New Eastern Mediterranean Transformed: Emerging Issues and New Actors, The New Eastern Mediterranean: Theory Politics and States in a Volatile Era, The Emergence of Israeli-Greek Cooperation, among others. Read his full bio here.
Visit CPD's Online Library
Explore CPD's vast online database featuring the latest books, articles, speeches and information on international organizations dedicated to public diplomacy.