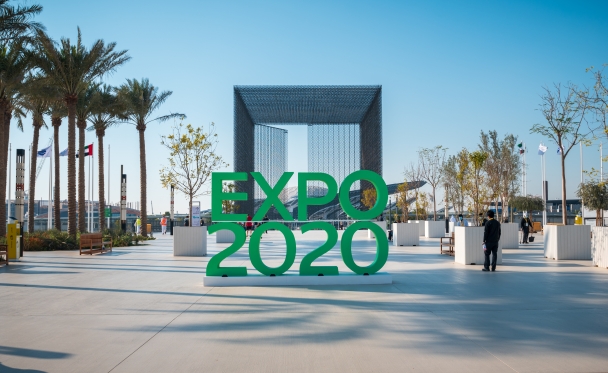 Mega-Events and Soft Power: Tech & Spectacle at World Expo
The World Expo is arguably the single biggest showcasing event of a nation outside of its own borders. The next Expo is set to take place in Dubai, the United Arab Emirates October 1, 2021–March 31, 2022, the first time in the Expo's 170-year history that the mega-event will be held in the Middle East.
National pavilions are the principal platform for nations to bring their cultures and innovations into direct contact with large numbers of people on the Expo ground. Increasingly, these efforts and outcomes are mediated by technology for pavilion organizers and visitors alike.
This program explored and unpacked how technological mediation can serve as a critical mechanism for public engagement at the Expo. For the Dubai Expo, technological affordances will be particularly salient, in the context of the restrictions on direct person-to-person contact against the ongoing COVID-19 pandemic. So how does digital technology facilitate a nation's storytelling at the Expo? How do visitors, empowered by mobile technology, experience and enjoy the event? What might be the social and cultural consequences of this place-based gathering of nations at a moment of the world in flux? 
On September 28, 2021, panelists included Jay Wang (CPD Director); Anne Balsamo, Professor and Distinguished University Chair, Arts and Humanities, University of Texas at Dallas; and Yoav Dubinsky, Instructor of Sports Business, Lundquist College of Business, University of Oregon, sat down for a lively conversation on the expanding role of technology in mega-events, using the the upcoming World Expo and recent Tokyo Olympics as reference points.
Need some background reading? Click here for a roundup of World Expo public diplomacy content.
Anne Balsamo
Anne Balsamo is a scholar, educator, entrepreneur and designer of new media who has published multiple works exploring the cultural possibilities of emergent media technologies. Previously, she served as Dean of the School of Media Studies at The New School in New York City. Balsamo has been a leader in the growth of digital humanities in the United States, having served on the board of HASTAC (Humanities, Arts, Science, and Technology Advanced Collaboratory) since its founding in 2003. Her most recent book, Designing Culture: The Technological Imagination at Work (Duke University Press, 2011), is a transmedia platform that addresses the role of culture in the process of technological innovation in the 21st century. Balsamo received her Ph.D. in Mass Communications at the University of Illinois at Urbana-Champaign. Read: "Public interactives, soft power, and China's future at and beyond the 2010 Shangai World Expo," co-authored by Cara Wallis (2016). 
Yoav Dubinsky
Yoav Dubinsky is a CPD Research Fellow (2021–2023) and an Instructor of Sports Business in the Lundquist College of Business at the University of Oregon, where he teaches courses on sports, business and society and on marketing. Dubinsky is a sports researcher and a former sports journalist with over 15 years of experience covering and researching sports around the world. His interdisciplinary scholarship focuses on sports, place branding, public diplomacy and country image. Dubinsky received a Ph.D. from the University of Tennessee, Knoxville, writing his dissertation on Israel's use of sports for nation branding and public diplomacy. Born and raised in Tel-Aviv, Israel, Dubinsky has published over a dozen peer-reviewed academic publications including in journals such as Place Branding & Public Diplomacy. As a journalist, Dubinsky covered hundreds of national and international sports events. Focusing on the Olympic Movement, Dubinsky covered or researched the Olympic Games from Beijing, London, Rio de Janeiro and Tokyo. Dubinsky has been involved with the International Olympic Academy in Olympia, Greece, using sports as a tool to promote inclusion in diverse international environments. His current research project, Sport-Tech Diplomacy in the Tokyo Olympic Games, focuses on the intersection of sports, technology and public diplomacy in the context of the 2020 Olympic Games that were held in 2021 amid the COVID-19 pandemic.
Jay Wang
Jay Wang is Director of the USC Center on Public Diplomacy and Associate Professor at the USC Annenberg School for Communication and Journalism. He previously worked for the international consulting firm McKinsey & Company, where he advised clients on matters of communication strategy and implementation across a variety of industries and sectors. Wang has written widely on the role of communication in the contemporary process of globalization. He is co-editor of the newly published book Debating Public Diplomacy: Now and Next. He is the author of Shaping China's Global Imagination: Nation Branding at the World Expo and several other books. He serves on the editorial board of the International Journal of Communication.
Visit CPD's Online Library
Explore CPD's vast online database featuring the latest books, articles, speeches and information on international organizations dedicated to public diplomacy.