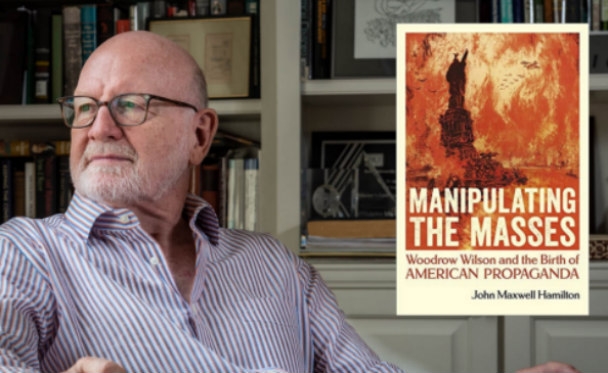 The Origin of American Government Propaganda: And the Lessons for Our Democracy Today
How well do you know the origin story of U.S. propaganda and its danger to U.S. public diplomacy? Register for our first virtual program of 2021 with noted scholar and historian, John Maxwell Hamilton on January 28 at 10:00am (Pacific) / 1:00pm (Eastern).
For history buffs and public diplomacy practitioners, just one week after the United States entered World War I, President Woodrow Wilson signed a brief executive order creating the Committee on Public Information (CPI). Over the next months the CPI would acquire unprecedented power to shape the views and attitudes of the citizens it was supposed to serve The CPI is the nation's only ministry of propaganda. It was dismantled at the end of the war. But the CPI's techniques and mindset established pervasive, systematic propaganda as an instrument of the state in times of peace as well as war.
The CPI story is one of well-meaning progressives who pioneered positive innovations, such as what is now called public diplomacy, but in the process also subverted American democratic processes. 
Join us for insight into this colorful, poignant saga, which sheds light on how easily modern presidents can abuse their propaganda power, is John Maxwell Hamilton, author of the new book Woodrow Wilson and the Birth of American Propaganda. Moderating this program is Kathy Fitzpatrick, CPD Faculty Fellow, professor and director of the Zimmerman School of Advertising and Mass Communications at University of South Florida.
READ MORE: Check out Jack's recent "Meet the Author" with CPD
Register below to receive your log-in instructions for this online program.
About John Maxwell Hamilton
John Hamilton is the Hopkins P. Breazeale Professor in Louisiana State University's Manship School of Mass Communication, a global scholar at the Woodrow Wilson International Center for Scholars, and a senior associate at the Center for Strategic & International Studies.
Hamilton is the founding dean of the Manship School and was LSU's executive vice-chancellor and provost. In addition to reporting for the Milwaukee Journal, the Christian Science Monitor, and others, he served at the Agency for International Development during the Carter Administration and on the staff of the House Foreign Relations Committee. He has authored or co-authored seven books, including Journalism's Roving Eye: A History of American Foreign Reporting, which won the Goldsmith Prize.
About Kathy Fitzpatrick
Kathy R. Fitzpatrick is professor and director of the University of South Florida Zimmerman School of Advertising & Mass Communications and a CPD Faculty Fellow. She is a senior public relations advisor, an attorney, and an internationally-recognized scholar whose research focuses on public relations and public diplomacy. Her books include The Future of U.S. Public Diplomacy: An Uncertain Fate and Responsible Advocacy: Ethics in Public Relations. CPD monographs include U.S. Public Diplomacy's Neglected Domestic Mandate and U.S. Public Diplomacy in a Post-9/11 World: From Messaging to Mutuality. Fitzpatrick is the co-editor of the Palgrave Macmillan Book Series on Global Public Diplomacy and serves on the international advisory board of PD Magazine.
When
Thursday, January 28, 2021 -

10:00am

to

11:00am
Add to Calendar
Visit CPD's Online Library
Explore CPD's vast online database featuring the latest books, articles, speeches and information on international organizations dedicated to public diplomacy.