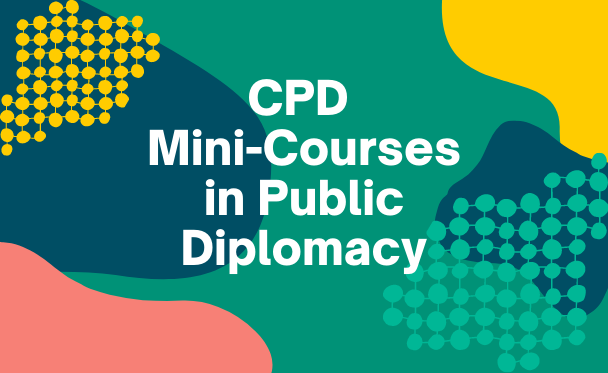 Plan your professional development with CPD Mini-Course: Data-Driven PD
Spring 2021 Professional Training Opportunities
Closing out the Spring semester is CPD's newest Mini-Course, "Data-Driven Public Diplomacy."  We have expanded our offerings Spring CPD Mini-Course training schedule with new programs and some fan favorites.
We are also offering a first public diplomacy course on the future-looking Data-driven Public Diplomacy, which will focus on leveraging data and artificial intelligence for today's public diplomat. Our one-of-a-kind professional training programs equip practitioners with key skills needed to deploy effective and impactful public diplomacy.
CPD has been the innovative leader in training public diplomats, scholars and communication professionals for over 15 years. Our training utilizes the latest social science research and cutting-edge communication tools in real-time public diplomacy challenges. It provides a setting for practitioners to re-examine and refine their skills in a group of peers and to build an international network of colleagues. These programs are highly interactive, allow for collaborations with colleagues, and feature an engaging, forward-looking curriculum.
As usual, our online workshops take a deep dive into some of the most critical issues in designing effective and sophisticated public diplomacy strategies with our leading scholars and experts. Sessions are fast-paced and also allow for personalization, as participants bring real-time projects to exercise their skills and problem-solve with faculty and peer participants.
With this Spring 2021 CPD Mini-Course lineup, please note the following new features:
Discounts for USC alumni (applicants must complete that section on the application form);
Trainings for most time zones with both morning and evening sessions;
Small group learning to allow for peer-2-peer networking and collaborations.
 
For more information on our upcoming programs, the curriculum, learning objectives, application deadlines and tuition costs, please click here.
Questions? Contact Stacy Ingber at cpdevent@usc.edu for more information.
Visit CPD's Online Library
Explore CPD's vast online database featuring the latest books, articles, speeches and information on international organizations dedicated to public diplomacy.