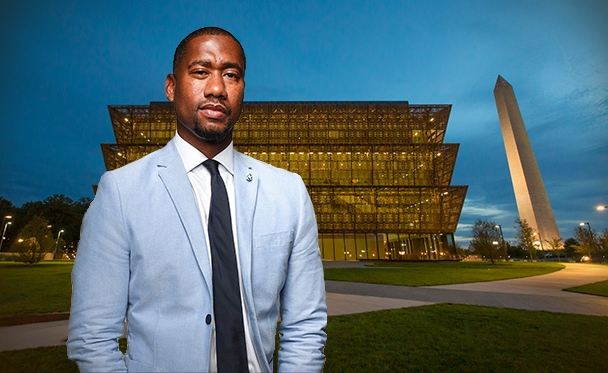 Telling the African American Story to the World
Museums are a vital cultural force to advance transcultural awareness and understanding. Historian and curator Dr. Damion L. Thomas of the Smithsonian National Museum of African American History and Culture joined CPD on September 17th and explored how museums shape the global conversation about Black America and examine the African American presence in sports and its social and geopolitical consequences. Professor Nicholas J. Cull moderated this discussion.
Want more? Watch the edited video below or on YouTube here.
About Damion L. Thomas
Damion L. Thomas is the museum curator of sports for the Smithsonian National Museum of African American History and Culture. He earned a Ph.D. in United States history at UCLA. Prior to joining the museum, he was an assistant professor at the University of Maryland—College Park and the University of Illinois—Urbana/Champaign, where he taught courses that focused on sports in U.S. history, sports and U.S. race relations, and sports and black masculinity. He is the author of Globetrotting: African American Athletes and Cold War Politics (2012).
About Nicholas J. Cull
Nicholas J. Cull is Professor of Public Diplomacy and Founding Director of the Master's Program in Public Diplomacy at USC, and a CPD Faculty Fellow. His research and teaching focus on the role of public engagement in foreign policy.  An acknowledged pioneer in Public Diplomacy teaching and research and its best-known historian, he is the author of The Cold War and the United States Information Agency: American Propaganda and Public Diplomacy, 1945-1989 (Cambridge, 2008); The Decline and Fall of the United States Information Agency: American Public Diplomacy, 1989-2001 (Palgrave, 2012) and the recently published Public Diplomacy: Foundations for Global Engagement in the Digital Age (Polity, 2019). He and his research were featured in the Peabody award-winning documentary film Jazz Ambassadors (PBS/BBC 2018).  His first book was Selling War (Oxford, 1995), a study of British information work in the United States before Pearl Harbor. More
Visit CPD's Online Library
Explore CPD's vast online database featuring the latest books, articles, speeches and information on international organizations dedicated to public diplomacy.