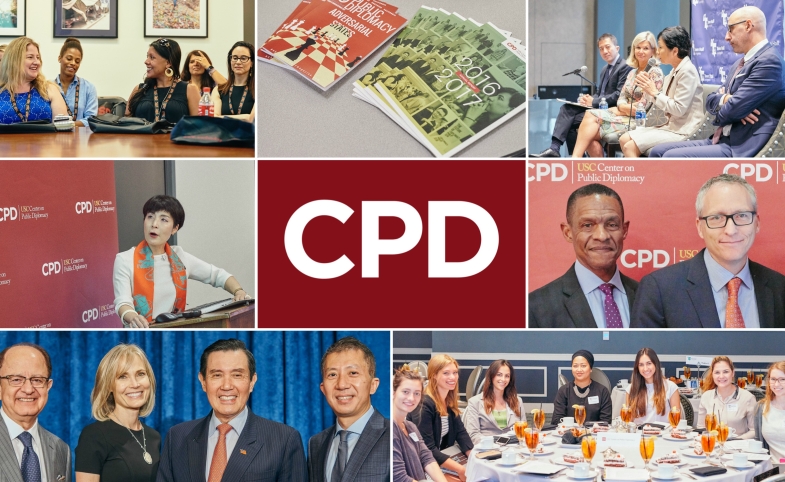 Contribute to CPD's Annual Fund and Step Into the Future
As always, CPD remains committed to expanding public diplomacy awareness and capacity in diverse communities across the globe, and to bolstering the field for optimal international engagement.
Over the past year, we've doubled our investment in research and analysis, built new partnerships with think tanks such as the Center for Strategic & International Studies in Washington, D.C. and academic institutions such as Oxford University in the UK. We've hosted world leaders, including the former president of the Republic of China (Taiwan) and attracted research fellows from Australia, Switzerland and the United States to conduct timely research on pressing topics. For a full overview of CPD by the Numbers, click here.
In the coming year, which will mark CPD's 15th anniversary, we intend to accomplish the following goals:
Strengthen CPD's intellectual capital by building on our track record of original research and analysis and launching new initiatives in City Diplomacy and Public Diplomacy in the Digital Economy with partners in LA, Silicon Valley and beyond 
 
Increase CPD's visibility in Los Angeles and across the world through high-impact events, many of which will be livestreamed
 
Enhance content creation via more engaging, cross-platform, interactive storytelling that is of optimal benefit to practitioners and scholars alike
 
Invest in training and empowering the next generation of public diplomacy leaders through our innovative professional training curriculum and research support for emerging scholars
We are really excited to forge ahead with these plans, but we need your help to bring them all to fruition.
We've heard from so many of you that you've benefited from our research, events, training and the CPD website. Now's your chance to help to us reach our year-end goal of $15,000.
Donate $50, $100 or $250 by December 31 to help CPD continue to provide programs for the public diplomacy community and expand unique learning opportunities for future generations of PD scholars and practitioners.
Please follow this link to make a generous contribution to CPD and to help us meet our year-end goal and step into the future.
Thank you for your support!
Donations made to the USC Center on Public Diplomacy are tax deductible within the United States.
Visit CPD's Online Library
Explore CPD's vast online database featuring the latest books, articles, speeches and information on international organizations dedicated to public diplomacy.