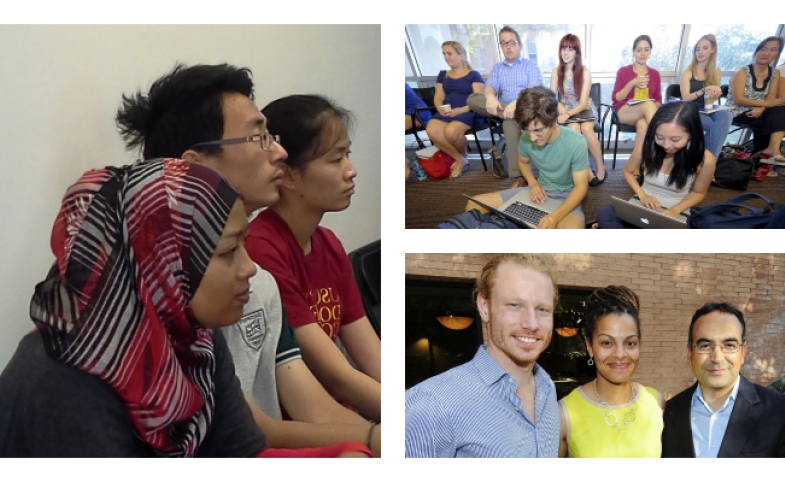 Invest in Public Diplomacy's Next Generation
The future of public diplomacy is dependent on the next generation of scholars and practitioners, many of whom pass through CPD at one stage or another. As students in the USC Master of Public Diplomacy program, participants in the Summer Institute in Public Diplomacy, Research Fellows or Contributing Scholars, they will all find a dynamic, welcoming academic base at our Center.
We've outlined some of the ways CPD has supported students elsewhere, and we have since established a Next Generation Initiative which seeks to promote and support the study of public diplomacy among the younger generation through research, learning and engagement. Here are just a few of the ways CPD is doing this:
Research
We are exploring global youth and the next generation of U.S. public diplomacy through a rigorous research project. Stay tuned for a report on our findings. And in an effort to support emerging scholars around the world, this spring CPD launched the first-ever Doctoral Dissertation Award program. Award winners will be announced this fall.
Learning
CPD is committed to developing innovative teaching methods through new tools including our all-new, interactive website which was recently redesigned to distribute knowledge in the easiest way possible. Look out for the launch of PD Hub, a fully searchable database of PD scholarship and information.
Engagement
This coming year, CPD will actively reach out to local and international youth communities to raise awareness of international issues and the role public diplomacy can play. And as always, we intend to host thoughtful public events to help build connections between current and future practitioners and scholars. Want to stay in the know about all these activities? Sign up for event updates here.  
How Can You Help?
If you care as deeply as we do about equipping the next generation of public diplomacy practitioners, we ask you to please support CPD's Next Generation Initiative by making a donation to CPD's Annual Fund today. A handy guide of giving opportunities appears below. However, gifts in any amount are welcome.  
Direct your tax-deductible gift to CPD by clicking on the link above and selecting "USC Center on Public Diplomacy" as the designated recipient. Or you can mail your check to:
The USC Center on Public Diplomacy 
Attention: CPD Annual Fund - Spring 2014
3502 Watt Way, G4 
Los Angeles, CA 90089-0281 
Thank you for your support!
All gifts directed to support the USC Center on Public Diplomacy also count toward The Campaign for USC.
Visit CPD's Online Library
Explore CPD's vast online database featuring the latest books, articles, speeches and information on international organizations dedicated to public diplomacy.