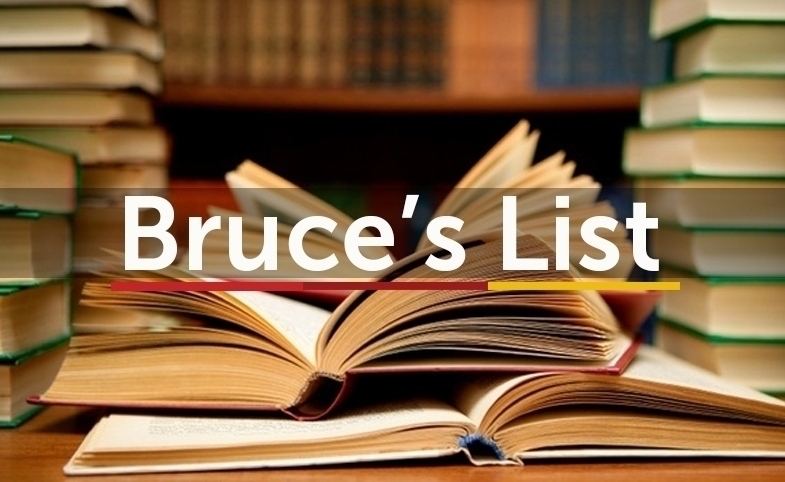 Latest Must-Reads in Public Diplomacy: March 2023
CPD Faculty Fellow Bruce Gregory has compiled a list of the latest must-reads in public diplomacy. Known affectionately at CPD as "Bruce's List," this list is a compilation of books, journal articles, papers and blog posts on a wide variety of PD topics.
Highlights from the latest list include publications on the role of digital technologies  in public diplomacy as well as a new PD bibliography.
Rebecca Adler-Nissen and Kristin Anabel Eggeling, "Blended Diplomacy: The Entanglement and Contestation of Digital Technologies in Everyday Diplomatic Practice,"  European Journal of International Relations 28, no. 3(2022): 640-666.  In this powerful article, Adler-Nissen and Eggeling (University of Copenhagen) question a hard distinction between "traditional diplomacy" and "digital diplomacy." Drawing on fieldwork with EU diplomats, they first provide ten vignettes that combine demonstrations of lived experiences and the authors' interpretations of how diplomats experience digitalization. The remainder of the article structures a theory of blended diplomacy. It stretches a traditional focus on intentional and strategic uses of digital and media technologies to an exploration of how they are "deeply intertwined in everyday diplomatic life." Blended diplomacy, in their account, first involves entanglement, meaning that analog and digital ways of doing things have become deeply integrated in ordinary diplomatic practice. Second, blended diplomacy manifests contestation, understood as "new tensions in diplomatic identities and relations" that affect diplomatic life. Building on these characteristics, the authors examine two boundary distinctions within diplomacy: horizontal boundaries between what diplomats "see as 'real' diplomatic work and other types of activities," and vertical boundaries "between themselves and other diplomatic actors, ranking people around status and skills." Adler-Nissen and Eggeling demonstrate the growing value of practice theory and provide a generative roadmap for further research on use patterns of digital technologies, normative disagreements, and external boundaries that circumscribe diplomacy and diplomatic practice. The entire article is available online with useful links to the literature throughout. (Courtesy of Geoffrey Wiseman)
Corneliu Bjola and Ilan Manor, "The Rise of Hybrid Diplomacy: From Digital Adaptation to Digital Adoption," International Affairs, 98, no. 2(2022): 471-491. Building on a survey of 105 diplomats serving during the first two years of the Covid-19 pandemic, Bjola (Oxford University) and Manor (Ben-Gurion University of the Negev) argue diplomacy is entering a new phase of digital transformation. Hybrid diplomacy, which they describe as a successor to waves of social media and strategic communication, is framed as integration of the physical and the virtual in a "more deliberative, strategic, and systematic manner." Their article divides into four parts. A review of earlier studies of digital technologies and diplomacy. Discussion of concepts of digital adaptation and adoption—and their evolution in ministries of foreign affairs. Their methodology and survey findings. And analysis of technological and social dimensions of digital adoption that could facilitate or hinder hybrid diplomacy. The authors contend foreign ministries embrace digital technologies unevenly and have yet to "tame" disruption through "adoption" of new routines, skills, and structures. Their scholarship remains a primary source of knowledge on these issues and further evidence of the value of practice-based theory.
Jan Melissen, Shangbie Du, and Abhiraj Goswami, Public Diplomacy,  Oxford Bibliographies, February 2023. The compilers (Leiden University) of this latest edition of Oxford Bibliographies' online collection of public diplomacy literature concentrate on resources published since 2010. It contains more than 100 works annotated and divided into categories. They include a general overview, soft power, new century/new public diplomacy, beyond the new public diplomacy, diplomacy's public dimension, science diplomacy, digital diplomacy, consular diplomacy, corporate diplomacy, city diplomacy, celebrity diplomacy, public diplomacy worldwide, sections that focus on North America, China, India, and European Union, and leading book series and journals. Particularly useful is the way the compilers position these resources in the arc of rapidly changing multidisciplinary approaches in diplomatic studies. This indispensable resource can be accessed online at many universities worldwide. The compilers welcome suggestions for additional categories that would make this periodically updated bibliography more comprehensive.
Nick Cull and Simon Anholt, "The Verdict? The Nation Brands Index 2022 and Russia's Fall From Grace,"  Episode 48, January 2023, People, Places, and Power Podcast; "Season 2, Episode 48," January 8, 2023, CPD Blog, USC Center on Public Diplomacy.
Kyle Long, "Introducing Global American Higher Education: A New Public Diplomacy Resource,"  January 31, 2023, CPD Blog, USC Center on Public Diplomacy.
The full list for this edition of Bruce's List can be found here.
Visit CPD's Online Library
Explore CPD's vast online database featuring the latest books, articles, speeches and information on international organizations dedicated to public diplomacy.