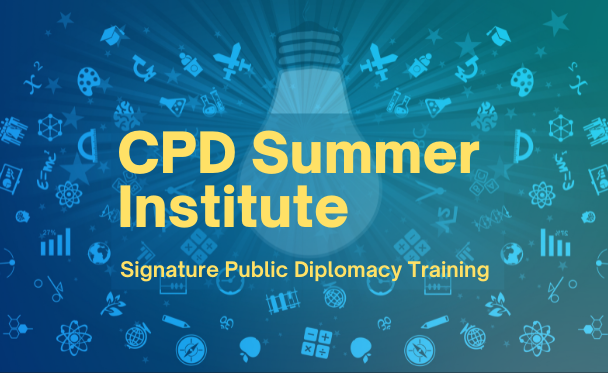 2022 CPD Summer Institute: In-Person at USC
Public Diplomacy Professional Education
We are pleased to announce the 2022 CPD Summer Institute. This year, we return to in-person professional training for global public diplomacy practitioners and scholars. Now in its 16th year, CPD Summer Institute equips public diplomacy practitioners and scholars to participate in a forward-looking, hands-on learning environment and to create a collaborative strategy toward a robust and impactful public diplomacy practice.
From July 10–22, 2022 we look forward to hosting participants in-person on the USC campus. The classes will take place Monday through Friday each week from 9:00am–5:00pm.
Our signature public diplomacy training program allows for practitioners and scholars alike to develop a robust toolkit for audience analysis as the basis of public diplomacy engagement; learn from a rich combination of social science research and practice; understand AI and data; interpret analytics; and explore next-generation content creation strategies and tactics for greater impact.
KEY BENEFITS & THE CPD ADVANTAGE
Learn and design strategies based on data, analysis and case studies;
Gain more experience sharing through our newly designed "Practice Insights;"
Explore the latest research and cutting-edge communication tools to address real-time public diplomacy challenges;
Develop and refine skills in a group of peers through working on real-time projects and exchanging experiences and best practices;
Access personalized consulting sessions with program faculty, in which participants will work one-on-one with faculty to identify opportunities for enhanced public diplomacy impact;
Be part of an international peer network of over 1,500 training alumni to build relationships for insights and feedback; and
Immediately apply lessons learned from our time-tested professional education within your post or organization.  
WHO SHOULD APPLY
CPD Summer Institute in Public Diplomacy is geared toward mid-career professionals posted in ministries including foreign affairs; defense and homeland security; trade and economics agencies; non-governmental organizations; international organizations; communication consultancies; and private-sector companies. In addition to innovative instruction, the program provides a setting for mid-career professionals to exercise their evaluation and decision-making skills in a group of their peers and to contribute their own ideas and perspectives while building their professional networks.
Applications for the 2022 CPD Summer Institute cohort were accepted through May 1, 2022.
PROGRAM FEES
Single participant (tuition only): $7,250 USD
Multiple participant (tuition only, 3+ from same organization): $6,050 USD
Non-Refundable Deposit (applied to tuition): $500 USD
ANSWERING YOUR QUESTIONS
CPD's Assistant Director for Engaement, César Corona, is available to you at any stage of the admissions process. Contact César at coronaco@usc.edu. 
OTHER CPD TRAINING
You may also be interested in related CPD training programs that are currently scheduled for virtual learning but shorter in duration. Learn about CPD Mini-Courses here.
To read more about CPD Summer Institute in Public Diplomacy and learn where some of our alumni are today, click here.
Visit CPD's Online Library
Explore CPD's vast online database featuring the latest books, articles, speeches and information on international organizations dedicated to public diplomacy.