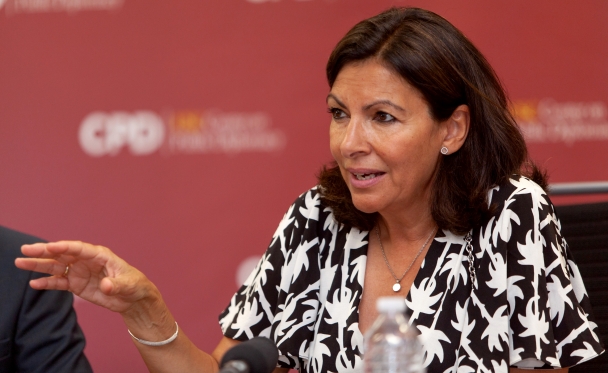 A Conversation with Anne Hidalgo, Mayor of Paris
CPD was pleased to host Anne Hidalgo, Mayor of Paris, for a private conversation with 20 USC students on cities' global role and impact at a time of great change.
Students hailed from USC Annenberg School for Communication and Journalism, USC Dana and David Dornsife College of Letters, Arts and Sciences and USC Price School of Public Policy for the invitation-only roundtable that covered climate change, the state of city diplomacy, Paris 2024 Summer Olympics, and what's next for the City of Lights. 
Read feature articles about the event from the Daily Trojan here and from USC Annenberg Media here.
Click here to view photos from the event. Photos by Brett Van Ort; Emily Smith, Daily Trojan; and Consulate General of France in Los Angeles.
About Anne Hidalgo
The first woman to be elected Mayor of Paris, Hidalgo took office in April 2014. Her agenda is focused on social inclusion, sustainable development, solidarity, citizen participation and innovation, essential topics in building the Paris of tomorrow.
After co-hosting the Climate Summit for Local Leaders in December 2015 with Michael Bloomberg, the UN Secretary-General's Special Envoy for Cities and Climate Change, she was elected as the new Chair of C40 Cities, the leading network of the 90 most important cities in the world committed to addressing climate change.
Born in Spain, she is the mother of three children and married to Jean-Marc Germain, a Member of Parliament. Former Labour inspector, she has occupied several positions in national and international organizations before becoming First Deputy Mayor of Paris (2001- 14), in charge of gender equality and later in charge of urban planning and architecture. She holds a Master's degree in Labour law from the Labour and Social Security Institute of Paris. 
This program was part of CPD's City Diplomacy initiative.
Visit CPD's Online Library
Explore CPD's vast online database featuring the latest books, articles, speeches and information on international organizations dedicated to public diplomacy.