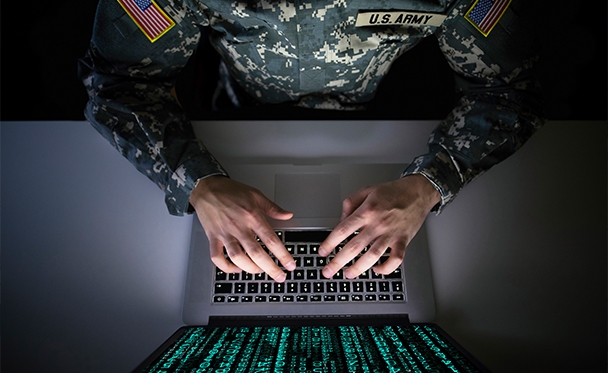 Information Capability and Defense
The dynamism of today's global information environment underscores an essential role of strategic communication for government agencies with international concerns, including the military. Although the U.S. Department of Defense established Cyber Command and encouraged the armed forces to expand their Information Operations capabilities, the military culture continues to look at the information domain as a sphere to influence only during hostilities. So what does information capability mean in this context? How should the efforts be aligned with the other agencies and partners?
Lt. Col. Gregory M. Tomlin discussed his proposal of an expansion of the military definition of "engagement" that currently is restricted to striking targets with lethal force. During his remarks, he explained the limitations of applying the Joint Targeting Cycle to all military efforts in the information domain. Additionally, Lt. Col. Tomlin asks us to conceptualize a new methodology—the Global Engagement Cycle—to identify audiences, develop messages and select the best information-related capabilities to influence audiences during peacetime. Moderating this timely conversation was Marie Royce, CPD Advisory Board Member and former Assistant Secretary of State, Educational and Cultural Affairs (ECA) (2018-2021). 
Read Lt. Col. Tomlin's recent article from the September-October 2021 Military Review magazine here.
About Lt. Col. Gregory M. Tomlin:
Lt. Col. Gregory M. Tomlin, Ph.D. is a U.S. Army officer presently assigned to the Army Staff in the Pentagon.  Throughout his military career, Greg has written articles about Information Operations, strategic communications and public diplomacy. He has spoken about these topics at the U.S. State Department, think tanks and universities. He is co-author of The Gods of Diyala: Transfer of Command in Iraq and author of Murrow's Cold War: Public Diplomacy for the Kennedy Administration. In addition to deployments to Iraq and Kosovo and assignments in Germany and Korea, he has served in the White House, on the Joint Staff in the Pentagon and as assistant professor of history at the U.S. Military Academy. He holds a B.A. in government and history from the College of William and Mary in Virginia, and an M.A., M.Phil. and Ph.D. in history from George Washington University.
About Marie Royce:
Marie Royce is a businesswoman, diplomat and educator. Royce is the CEO of Marie Royce LLC (www.MarieRoyce.com) and serves on the Board of CPD and Cognito Health. She was a Fortune 500 Executive for 25+ years at The Procter & Gamble Company, Marriott International and Nokia/Alcatel-Lucent. Marie Royce was unanimously confirmed by the United States Senate and sworn in as Assistant Secretary of State, Educational and Cultural Affairs (ECA) on March 30, 2018 and served until January 20, 2021. In her role she managed the Bureau's highest budget: $760 million, 674 employees and a wide range of global programs to advance U.S. foreign policy objectives through educational, professional, cultural and sports exchanges that promote mutual understanding between the people of the United States and people of other nations. She oversaw the Presidentially-appointed Fulbright Foreign Scholarship Board and the Presidentially-appointed Cultural Property Advisory Committee (CPAC). The Academy of Women Entrepreneur's (AWE) was created and launched in 80 countries by Royce. Learn more about Royce here.
Visit CPD's Online Library
Explore CPD's vast online database featuring the latest books, articles, speeches and information on international organizations dedicated to public diplomacy.