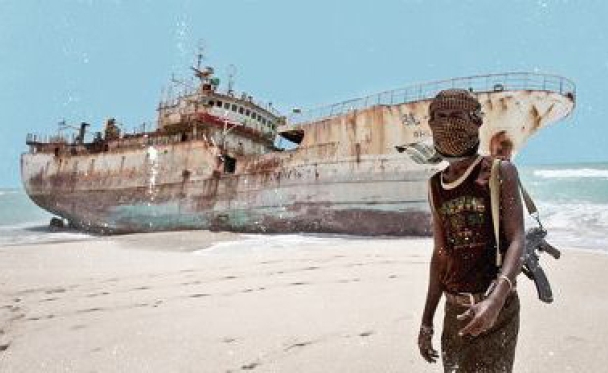 Rethinking Somali Pirates and Global Affairs
Book talk with journalist Michael Scott Moore
The emergence of Somali piracy in the early 2000s was the first major, visible outbreak of an ancient crime on the world's oceans in more than two centuries. Its roots lie in illegal fishing: foreign trawlers steal fish up and down the African coast, wherever natives aren't strong enough to defend their waters. By 2005, organized pirate gangs had moved on to capturing cargo ships, tankers and, eventually, individuals on land who had nothing to do with illegal fishing.
Michael Scott Moore was kidnapped by pirates in 2012 on a reporting trip to Somalia and held hostage for two and a half years. His book about the ordeal, The Desert and the Sea, was published in July. During our first fall event, Moore discussed widely held beliefs—some which are untrue—surrounding Somali pirates. Beyond illegal fishing, we were able to learn what Moore gleaned about Islam and U.S. hostage policy. In conversation with Michael was Salpi Ghazarian the director for USC Institute of Armenian Studies.
Watch an exclusive post-event discussion with Moore:
Music: "Epílogo" by The Satellite via Sweet Tiger Records
Click here to view photos from the event. Photo credit: Olivia Mowry
About Michael Scott Moore
Moore is a literary journalist and novelist. His works include a comic novel about Los Angeles, Too Much of Nothing, and a travel book about surfing, Sweetness and Blood, which was named a best book of 2010 by The Economist and Popmatters. He has covered the European migration crisis for Businessweek and politics, travel and literature for The Atlantic, Der Spiegel, The New Republic, The New York Times and The L.A. Review of Books. Michael has recently been on "The Daily Show" with Trevor Noah and on "Fresh Air" with Terry Gross.
Twitter: @MichaelSctMoore
Instagram: @michaelscottmoore1
Web: www.radiofreemike.net.
About Salpi Ghazarian
Salpi Ghazarian joined the USC Institute of Armenian Studies in 2014 after returning to Los Angeles from Yerevan, Armenia, where she co-founded and directed the Civilitas Foundation, a think tank and advocacy organization. Civilitas and its media program, CivilNet, pioneered a new culture of responsible journalism through online television and data-based reporting. Salpi's previous posts include Special Assistant to the Foreign Minister of Armenia, head of research for the Zoryan Institute, and editor and publisher of Armenian International Magazine. Salpi is a USC Alumna.
Watch the full Facebook video here.
Visit CPD's Online Library
Explore CPD's vast online database featuring the latest books, articles, speeches and information on international organizations dedicated to public diplomacy.