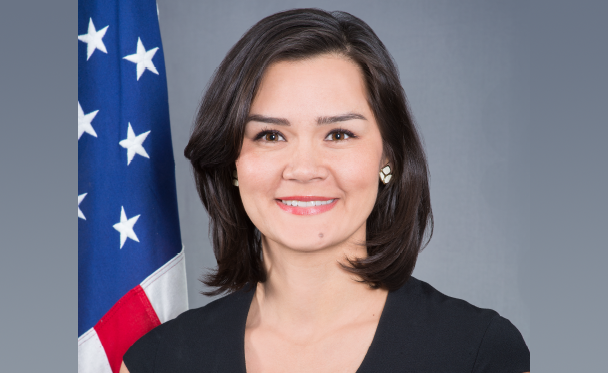 The Role of PD in the New Era of Great Power Competition
A special event with Michelle Giuda, Assistant Secretary for Public Diplomacy
On January 23rd, CPD hosted a conversation with Michelle Giuda, Assistant Secretary and Senior Official for Public Diplomacy and Public Affairs at the U.S. Department of State. As technology provides an ever-increasing array of channels and platforms for people to engage with ideas and information, adversaries use these same tools to sow confusion, cynicism, apathy, and division. In the context of today's increasingly complex information environment, Giuda discussed how global audiences discern fact from fiction, and innovative ways the U.S. aims to engage them through the ideals of truth, freedom and human dignity. This program was moderated by Phil Seib, Professor of Journalism, Public Diplomacy, and International Relations.
This event allowed attendees an opportunity to learn directly from Assistant Secretary Giuda on U.S. public diplomacy strategies in this new era of great-power competition.
About Michelle Giuda
In May 2019, Ms. Giuda led the largest restructuring at the State Department in 20 years, merging the Bureaus of Public Affairs and International Information Programs to modernize communications and create the Bureau of Global Public Affairs, of which she serves as head.
Ms. Giuda brings a wealth of global strategic communications experience to the Department, having served as senior vice president of Global Corporate Communications and managing strategy across 81 countries for Weber Shandwick in New York until January 2018. Prior to Weber Shandwick, Ms. Giuda was a political communications strategist in Washington, DC, serving for five years as a lead member of former Speaker Newt Gingrich's communications team, including her role as National Deputy Press Secretary during the Speaker's 2012 presidential campaign. Ms. Giuda also served as Communications Director of GOPAC, working to elect and advance the country's next generation of top state and local leaders.
Ms. Giuda received her Master's Degree in Political Management from George Washington University and earned a B.A. in Political Science from UCLA where she was an NCAA Champion and Team Captain of the UCLA Women's Gymnastics Team.
Visit CPD's Online Library
Explore CPD's vast online database featuring the latest books, articles, speeches and information on international organizations dedicated to public diplomacy.