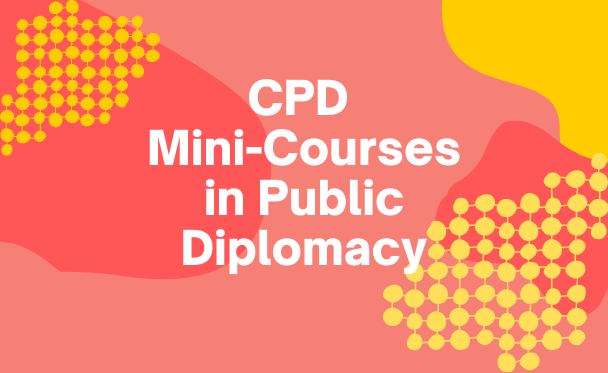 Application
Each workshop takes place over online with lecture, group work between sessions, and assigned self-directed learning. All scheduled meeting times will be in PT. Program dates and application deadlines for these two workshops are as follows:
Cultural Diplomacy for the Post-pandemic World
Application Deadline: September 3, 2021
Dates: September 21, 23, 28, and 30, 2021 
Data-driven Public Diplomacy
Application Deadline: September 7, 2021
Dates: October 6, 8, 11, and 13, 2021
Using Audio for Public Diplomacy
Application Deadline: September 20, 2021
Dates: October 19, 21, and 25, 2021 
Upon submission of your application, you will receive notification of receipt and a general time frame of the decision process. All fields must be completed, or your application will not be considered. This is a rolling admissions process, and applicants will be notified as soon as a decision is made. Once accepted, participants will receive deadlines for submitting the non-refundable deposit, campaign submission requirements, and final payment instructions.  
For more information please e-mail cpdevent@usc.edu.
If you are having trouble submitting the form below on this page, please complete and submit via this link.