Public Diplomacy and the BRICS: Spotlight on Brazil and China
As the BRICS become more active international players—both individually and collectively—they rely on a growing repertoire of public diplomacy initiatives. In some countries, these efforts have been formulated as explicit PD strategies, while in others, they are more diffuse practices and discourses that emerge alongside efforts to boost influence abroad and expand access to foreign markets and natural resources.  The heterogeneity of PD styles among the individual BRICS—a potential hurdle to effective PD by the grouping as a whole—is apparent, for instance, in how differently China and Brazil have adopted PD over the past decade.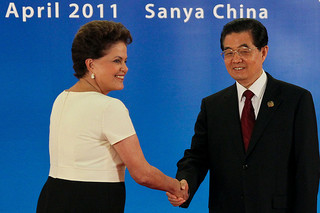 Dilma Rousseff and Hu Jintao shake hands, April 2011.
© Flickr, 2011
Chinese and Brazilian PD have two key differences: the degree to which PD is externally (versus domestically) oriented, and the extent to which it relies on presidential diplomacy.
In China, concern with negativity surrounding the country's growing presence abroad has led part of the government to work towards minimizing the perception of China as an aggressive rising power. At the level of rhetoric, phrases such as "soft power" and "public diplomacy" have become part of the official foreign policy discourse through debate and adaptation of Joseph Nye's ideas, and in the case of PD, through its championing by key individuals such as Zhao Qizheng, the spokesman for the Chinese People's Political Consultative Conference.
The shift towards a more self-conscious PD is not restricted to rhetoric; it also translates into concrete initiatives such as media events, information dissemination drives, and institutional network building efforts. In addition to the rapid expansion of Confucius Institutes abroad, the Chinese government regularly organizes "informational visits" to China by foreign researchers. China has also sought to stress its cooperation projects in Africa as a way to counteract negative public opinion about predatory practices in the region. All of these PD initiatives target not only foreign audiences but also (and sometimes, primarily) the Chinese public as an effort to diminish skepticism and—to borrow the words of President Hu—boost "national cohesion."
Brazil, on the other hand, has been less concerned with domestic public opinion–which historically has played little role in the formulation of Brazilian foreign policy–and instead has focused on winning over foreign audiences aligned with Brazil's foreign policy priority areas. In contrast to China, Brazil has developed a more narrow presidential style of PD, anchored at first in the public intellectual style of Fernando Henrique Cardoso and later in the personal charisma of Luiz Inácio Lula da Silva. The latter attempted to shift PD away from American and European audiences and toward other developing countries–including Cuba and Iran–as part of an effort to launch a purportedly more independent foreign policy (this trend appears to have been toned down under the current administration of President Dilma Rousseff).
In order to increase Brazil's influence in Latin America and Africa, Brazil has coupled presidential PD with a growing roster of development projects abroad (all framed in the language of 'horizontal cooperation') designed to cement ties with countries and constituencies in South America and Lusophone Africa. At times these strategies overlap, such as when President Lula personally announced, with great media fanfare, the installation of an anti-retroviral plant project (meant to produce generic drugs) in Mozambique during a trip to the country. These PD initiatives are not coordinated, but rather appear highly fragmented. For instance, although the Ministry of Foreign Relations has both cultural and cooperation initiatives, several other ministries and agencies carry out their own international cooperation and information programs—many of which are designed to "export" Brazilian policy models such as Bolsa Familia, the government's conditional cash transfer program.
As members of the BRICS grouping, Brazil and China also increasingly face the challenge of overcoming skepticism generated by the joint drives to reform global governance and boost South-South cooperation. So far, the BRICS' only concrete PD moves have been to hold meetings of government think tanks and to sponsor joint statistical publications. However, any effective PD drive by the grouping will have to overcome the diversity of its individual members' PD styles and objectives—both external and domestic.
Visit CPD's Online Library
Explore CPD's vast online database featuring the latest books, articles, speeches and information on international organizations dedicated to public diplomacy.