The USA Pavilion's Human Element
The USA Pavilion at the 2010 Shanghai World Expo has a thick skin. While critics have taken shots at its uninspired design and the politics behind its construction, the curiously overlooked question is how the Pavilion experience fares in the minds of visitors. Unlike any other Pavilion at the Expo, the U.S. has brought in 160 Mandarin-speaking American students to run the show. These Student Ambassadors have become the "highlight at the Pavilion," with guests entranced by their language abilities and youthful approach. While the shows inside push a message of individual initiative and creativity, the young Ambassadors put that spirit front and center for the 35,000 daily guests. The Ambassadors add an incredible human element to the U.S.'s public diplomacy efforts at the Expo, a crucial detail absent from most other Pavilions. And the Chinese guests recognize it - real interaction with real Americans. While the ends cannot always justify the means, critics of the USA Pavilion are missing a crucial point—it is effective.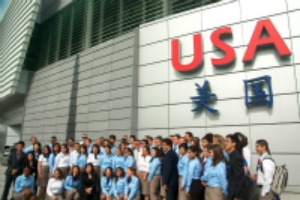 Student Ambassadors in front of the USA Pavilion at the 2010 Shanghai Expo.
Photo courtesy of Peter Winter © 2010
Visit CPD's Online Library
Explore CPD's vast online database featuring the latest books, articles, speeches and information on international organizations dedicated to public diplomacy.