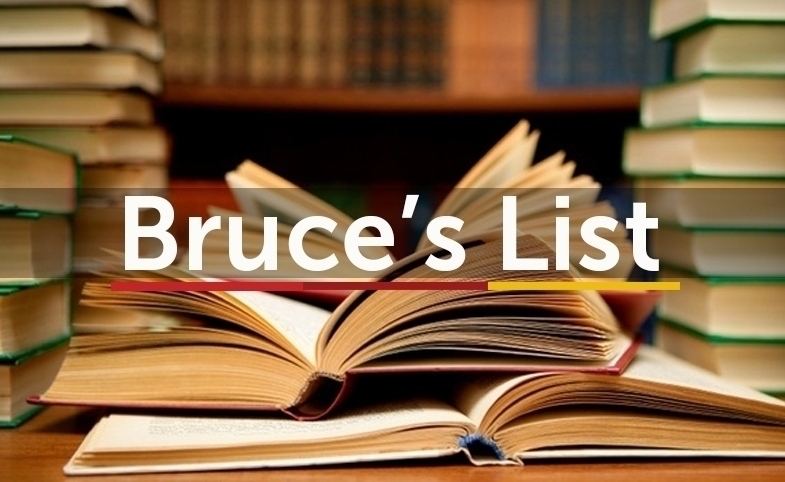 Latest Must-Reads in Public Diplomacy: October 2021
CPD Faculty Fellow Bruce Gregory has compiled a list of the latest must-reads in public diplomacy. Known affectionately at CPD as "Bruce's List," this list is a compilation of books, journal articles, papers and blog posts on a wide variety of PD topics.
Highlights from the latest list include:
Marta Churella, Wren Elhai, Amirah Ismail, Naima Green-Riley, Graham Lampa, Molly Moran, Jeff Ridenour, Dan Spokojny, and Megan Tetrick, "Upgrading US public diplomacy: A new approach for the age of memes and disinformation," Atlantic Council, September 15, 2021. The authors of this excellent report, published in collaboration with the think tank fp21, are current and former State Department practitioners. They begin with three assumptions. New global threats and challenges are creating confusion about public diplomacy's mission. Public diplomacy is a vital capability spread too thin. Doing better means listening more to practitioners in the field. Their recommendations, general and specific, traditional and innovative, divide into four categories. (1) Appoint and empower leadership that sets a clear strategic direction, leads on diversity and inclusion, and matches resources to priorities. (2) Build campaign design and evaluation capacity based on evidence-based learning, digital analytics, ready-made audience listening tools, and incentivized honest reporting when programs fall short of objectives. (3) Enhance capacity of overseas staffs through upgrades for American Spaces, programs for exchanges alumni, and spokespeople with foreign language and on-camera media skills. (4) Build public diplomacy's domestic dimension through increased outreach, virtual programs, and expanded university partnerships. A report that conflates US public diplomacy with State's public diplomacy, however, raises a central question. Today's foreign ministries are important, but they are far from the only actors in whole of government diplomacy. Strong recommendations about what the State Department can do and do better are well taken, but its diplomats must do more to convene and connect – and leverage to diplomatic advantage what others (in government agencies, cities, civil society, and corporations) often can do better.
Dan Lips, "A New Strategy for Public Diplomacy: Using Virtual Education and Incentives to Promote Understanding of American Values," Lincoln Network, June 2, 2021. Lips, Director of Cyber and National Security Policy at the Lincoln Network, profiles in broad brush strokes US public diplomacy's history since the early Cold War, outlines current challenges, and offers recommendations for using digital technologies to promote American values. They include: (1) use digital learning and incentives, such as prioritization or reduced fees for student visas, to encourage students to learn about the US and democracy; (2) leverage USAID's international education programs to incorporate digital instruction to promote US values; (3) encourage the National Endowment for Democracy and its grantees to use digital learning and incentives to promote learning about the US and democracy; and (4) pass legislation to require the NSC or the State Department to prepare a national strategy for virtual education programs. Lip concludes by raising and answering anticipated criticism of his proposals. 
Michael McFaul, "The Biden Administration Needs to Up Its Game on Public Diplomacy," October 11, 2021, The Washington Post. Stanford University professor and former US Ambassador to Russia McFaul summarizes his public diplomacy reform agenda published in several articles earlier this year. His central argument: President Biden and his team need to "take public diplomacy and global communications far more seriously." He proposes the following. (1) Nominate an undersecretary for public diplomacy and public affairs and a new chief executive for the US Agency for Global Media (USAGM). (2) Radically restructure and upgrade USAGM's funding. (3) Make all USAGM broadcasting entities independent of the executive branch with Congressional funding and oversight from nonpartisan boards. (4) Make the Open Technology Fund an independent organization. (5) Pledge massive resources to the Independent Fund for Public Interest Media at the Summit for Democracy in December. (6) Put the parts of VOA that broadcast news into counterpart and independent regional organizations; reform the rest of VOA to more effectively explain US foreign policy. (7) Reconstitute a more nimble and flexible US Information Agency. (8) Elevate public diplomacy within the State Department. (9) Massively increase funding for educational and cultural exchanges. 
U.S. Department of State, "Enterprise Data Strategy: Empowering Data Informed Diplomacy," September 2021. The goal of State's first data strategy is to empower "its world-class global workforce" with the "skills and tools to derive actionable mission insights from data," secure and effectively manage data assets, and equip the Department to "lead America's foreign policy in the 21st century." The report frames four goals: cultivate a data culture, accelerate decisions through analytics, establish mission-driven data management, and enhance data governance. It discusses supporting objectives and a set of guiding principles. The well-intended strategy is full of generalities. It offers a broad orientation to an "evolving global landscape" and the essential need to make data a critical instrument of diplomacy. It falls short, however, in several respects. First, strategies involve real choices (cost/benefit tradeoffs) in a roadmap for moving realistically to the next stage, not just statements of goals and a desired end state. Second, it could have made clear that qualitative analysis and judgments also are essential in diplomacy. Third, it could usefully have provided examples of what data-informed diplomacy means operationally for specific diplomacy functions, e.g., knowledge management, consular affairs, public diplomacy, understanding cultures, diplomatic security. See also Dan Spokojny, "State's New Data Strategy: A (potentially) historic step," fp21, September 2021. His constructive critique points to other limitations of the strategy, such as the potential for turf battles within State over access to information and treatment of data as a "product rather than central to the policy process."
The full list for this edition of Bruce's List can be found here.
Visit CPD's Online Library
Explore CPD's vast online database featuring the latest books, articles, speeches and information on international organizations dedicated to public diplomacy.